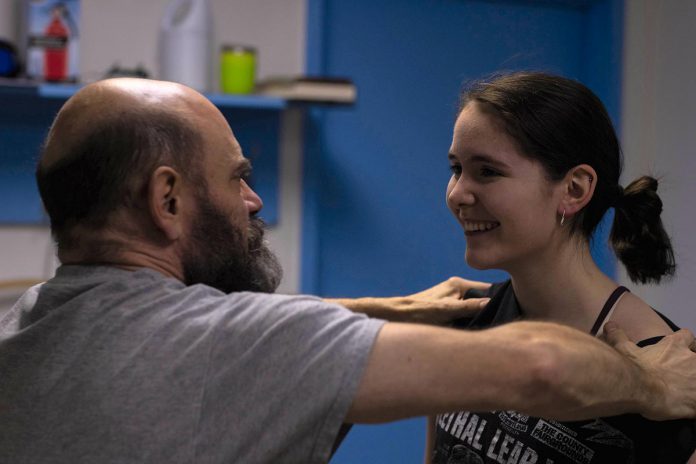 For the first time since the pandemic began, Planet 12 Productions is returning to the stage with the new original play Ring Rats, which runs for four performances from February 22 to 25 at The Theatre on King in downtown Peterborough.
Written and directed by Planet 12 Productions artistic producer Derek Weatherdon, Ring Rats tells the story of Waldo Breen (Brad Brackenridge), a broken-down former professional wrestler who spent his 30-year career at the very bottom end of the industry, and Larissa Greenwood (Samuelle "Sam" Weatherdon), the daughter of a pair of wrestling superfans who want Waldo to train her for a life in "the business." As Waldo and Larissa work together, they learn about each other, themselves, and the cost of following your dreams.
"In this intense brisk two-hander, fans of Planet 12's previous shows will see all the things they have come to expect and enjoy — off-beat subject matter, an emotional storyline that measures the value of an individual and their role within a group, dark humour, and great performances," Derek tells kawarthaNOW.
Advertisement - content continues below
Ring Rats is the fourth original play created by Planet 12 Productions, which was founded in 2017 by Derek and Nicole Roy along with Heather Ross and Amy Keller to give children and youth between the ages of 11 and 13 opportunities to enter the theatrical world.
Planet 12 Productions is best known for its debut production, 2017's Boy Wonders, which explored what it's like to be a teen superhero sidekick. Written and directed by Derek, the play was restaged in 2018 before going on to the Toronto Fringe Festival. It was followed by the thriller Incident on Gun Mountain in 2017 and the supernatural play Tex in 2019 — both written and directed by Derek.
Planet 12 Productions also staged a rewrite of The Reluctant Dragon for local schools in 2017, the four-episode Space Academy in 2018 that recreated episodes of an obscure live-action kids' TV series from 1977, and a stage version of the cult 1964 movie Santa Claus Conquers The Martians in early 2019, just before the pandemic hit.
In fact, the pandemic nearly scuttled Ring Rats, which was originally scheduled to be staged in June 2020. A second attempt to launch the play in February 2022 was prevented by restrictions brought by the omicron wave.
"Internally, we considered the project dead, prior to a series of meetings over the summer of 2022 that found a way to bring new life and energy to the production," Derek recalls.
As for the actors in Ring Rats, Peterborough audiences will be very familiar with Brad Brackenridge and Sam Weatherdon.
Advertisement - content continues below
Brackenridge is an award-winning actor, puppeteer, and artist who is well known for his breadth of work in the local performing arts scene. He has been a performer and designer in theatre and film for over 30 years, with his work far too extensive to list here. He was the recipient of the 2018 Peterborough Arts Award for Outstanding Mid-Career Artist, and was selected as the 2021 artist in residence at Artspace in Peterborough.
In 2022, he collaborated with dance-theatre artist Dreda Blow to create The Lear Project, an innovative tribute to the 19th-century English author and poet Edward Lear. Featuring a giant, animated puppet of Edward Lear's head, the performance premiered last May at Public Energy Performing Arts' multi-arts festival Erring at King George.
Sam Weatherdon, the daughter of Derek and Nicole Roy, has been performing since she was six years old, when she appeared in a school production of The Wizard of Oz. She made her debut at The Theatre On King at the age of 11 and has appeared in many productions there as well as at the Arbor Theatre, the Peterborough Theatre Guild, and 4th Line Theatre in Millbrook.
VIDEO: Staples ad featuring Sam Weatherdon with Howie Mandel

Advertisement - content continues below
More recently, she was part of a national ad campaign with Staples, appearing in a "Let's Find Out" commercial with Howie Mandel.
Ring Rats is not the first time Brackenridge and Sam have performed together, having appeared in many shows including Waiting for Godot, Boy Wonders, four episodes of Space Academy, Young Frankenstein, and Tex.
"The two have an undeniable chemistry together and are a great stage pair," Derek says.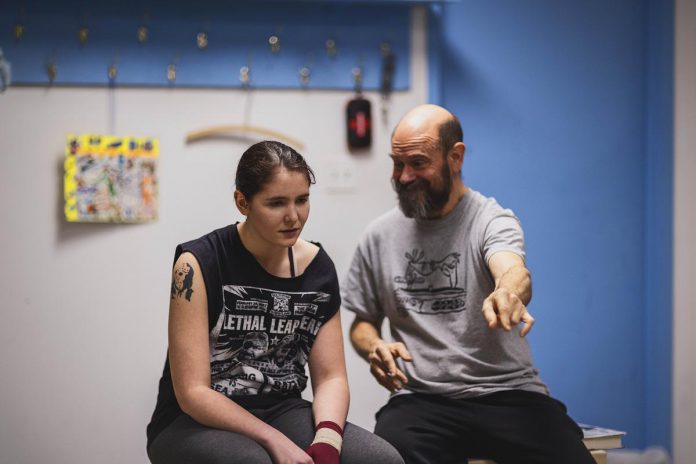 Advertisement - content continues below
Ring Rats will be performed at The Theatre On King (171 King St., Peterborough) at 8 p.m. from Wednesday, February 22nd until Saturday, February 25th. Tickets are $20 (plus fees) in advance, or $20 or pay what you can at the door.
Advance tickets are available now at eventbrite.ca/e/50402519191.
Supported by Theatre Trent, Ring Rats is stage managed by Nicole Roy, with costumes by Kathryn Bahun and fight scenes choreographed by Josh Butcher.