Much has changed since Benj Rowland was named the winner of the fourth round of the Don Skuce Memorial Music Collective songwriting contest, not the least being that the subject of his winning song entry has been resurrected under new ownership.
"Ballad Of The Pig's Ear," Rowland's love-hate ode to the historic Brock Street pub that closed its doors in April 2017, invokes memories of the iconic watering hole. Now set to re-open this summer under new ownership, The Pig's Ear has again been very much in the news.
"It's kind of strange," says Rowland of the pub's second coming.
"A friend of mine had an idea for a video for the song that kind of prophesied what has happened. She was like 'We're going to re-create The Pig's Ear and all the pieces are going to come back together.' Now it seems that is what is actually happening in real life."
Advertisement - content continues below
Just weeks after receiving word of the Don Skuce honour last February, the singer-songwriter and multi-instrumentalist released his debut solo album Community Garden.
Produced by Juno award-winning singer-songwriter Joel Plaskett, the album's 10 tracks include his nod to The Pig's Ear along with, as Rowland put it at the time, "a collection of songs that speak to small-town Ontario and tell stories about the life of an independent Canadian musician."
Now, after a busy time showcasing the album across Canada, Rowland is back home, preparing for a return on Saturday, April 1st to the Gordon Best Theatre where he first presented the album's release.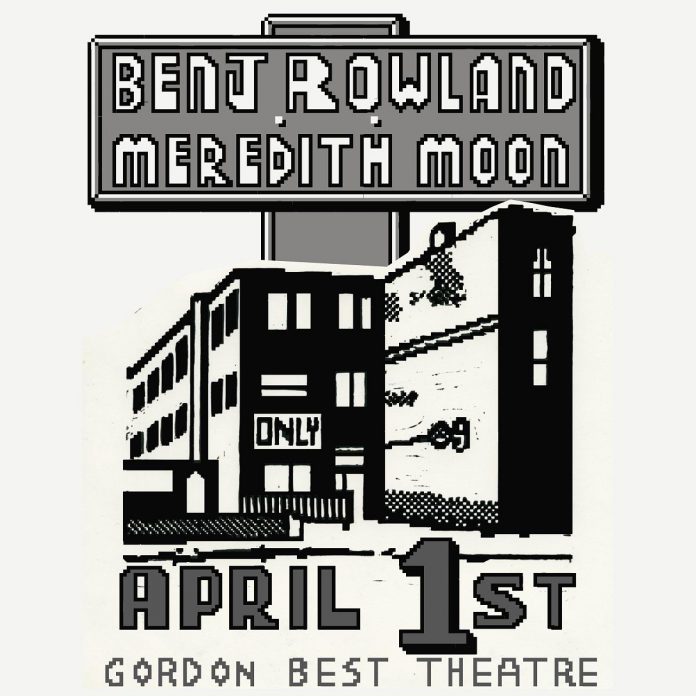 Advance tickets to the 8 p.m. concert, which will be opened by singer-songwriter and and multi-instrumentalist Meredith Moon, cost $20 and are available to purchase online at square.link/u/2yyoACOw.
"When I released the album, we were just coming out of the pandemic so there had been no live performances," recalls Rowland. "They are a pretty big tool that I use for developing stuff — you find out some things don't work live and you find out quickly. Heading into this show, the songs are fundamentally the same but the presentation of those songs is, I feel, more honed and figured out."
A big part of that April 1st show will be video projections featured on a large stage screen.
Advertisement - content continues below
"During the pandemic, I got into streaming and things that computers could do," explains Rowland.
"Your instrument is like a video game controller telling these animations to do certain things. I play bass pedals with my feet. The bass pedals themselves don't make a sound, but they send a signal to a synthesizer that makes the sound. But then you also send those signals through the synthesizer into a computer and you can control the animations as well. I took that on the road out west in the fall. I thought it was pretty fun and people enjoyed it. I'm excited to present that. I don't know who else is doing that."
The pandemic, reflects Rowland, offered "the gift of time" to work on new music and presentation concepts.
VIDEO: "Ballad of The Pig's Ear" – Benj Rowland

VIDEO: "Accident" – Benj Rowland

Advertisement - content continues below
"All my (live) work had been cancelled but I'm pretty good at occupying myself … I can find projects and dive into them," he says. "I've always been into visual art, even probably before music. It's fun to incorporate visual elements into music. It has more creativity, more interest, more fun."
Meredith Moon, says Rowland, is someone he has wanted to collaborate on a show with for quite awhile now. She will open for him at the April 1st show.
Originally from Toronto and now living in Peterborough, Moon has spent several years touring worldwide, banjo in hand, performing her refreshing non-traditional versions of traditional songs for new audiences.
The daughter of famed Canadian musician Gordon Lightfoot, Moon has been a solid fixture on the Canadian folk festival circuit for several years. She incorporates folk-punk influences with a more traditional Appalachian sound. She released her debut album Forest Far Away in 2018.
Her follow-up album, Constellations, is scheduled for release in March just prior to her Gordon Best Theatre appearance.
"It's a great room," raves Rowland of the storied Hunter Street West venue above The Only Café. "I've been watching shows there since I was allowed to get in. It's a place close to my heart for sure."
VIDEO: "Constellations" – Meredith Moon

Advertisement - content continues below
Describing Community Garden as "very Peterborough-centric," Rowland admits to "a certain specialness" playing his music here.
"I like to perform songs that are place specific," he says. "Peterborough has been the sort of a thing that I write about a lot. I guess you write what you know. But it's interesting to people in other parts of Canada too. People see Peterborough as a place where a lot of musicians have come from. It has a bit of a mystique that way."
Looking past his Gordon Best Theatre return, Rowland is planning to head back on tour down east in June and is now booking dates for the summer. You can find out more about Rowland and his upcoming shows at www.benjrowland.com.