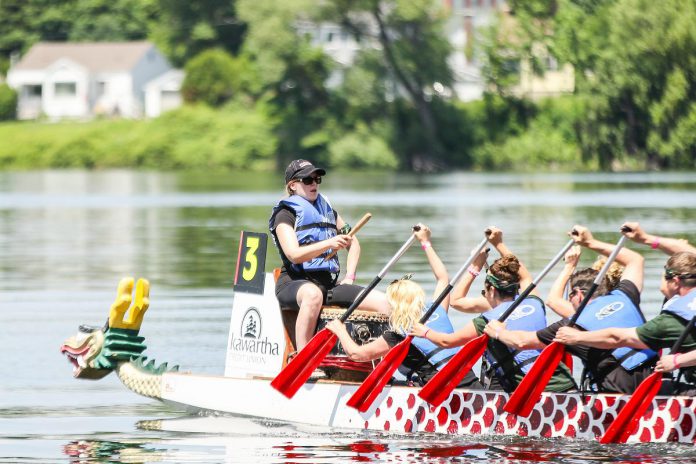 Registration for this year's Peterborough's Dragon Boat Festival will open this Wednesday (March 1) at ptbodragonboat.ca, organizers announced on Monday, with the first three teams to register winning a free bonus lake practice.
The 22nd annual festival will take place on Saturday, June 10th at Del Crary Park and will once again feature dragon boat races, artisan and food vendors, a family fun zone, a beer garden, and more.
This year's fundraising goal is $205,000.18 — an amount that reflects the estimated two out of five Canadians who will be diagnosed with some form of cancer in their lifetime and the one in eight women will develop breast cancer, according to festival chair Michelle Thornton in a media release.
Advertisement - story continues below
"We continue to work hard to fulfill our motto of 'making a difference one race at a time' by raising money to help fund world-class breast and other cancer screening, diagnosis, and treatment at Peterborough Regional Health Centre," Thornton says.
Peterborough's Dragon Boat Festival returned as an in-person event at Del Crary Park last June for the first time since the pandemic began, setting a fundraising goal of $180,000 and raising $202,268.41 for the Peterborough Regional Health Centre (PRHC) Foundation.
Since the festival was first launched in June 2001 as Liberty Mutual's "Day on the Water", becoming Peterborough's Dragon Boat Festival the following year, it has raised more than $3.9 million for PRHC. The event is hosted every year by Survivors Abreast, a group of breast cancer survivors from the Peterborough area in various stages of treatment and recovery.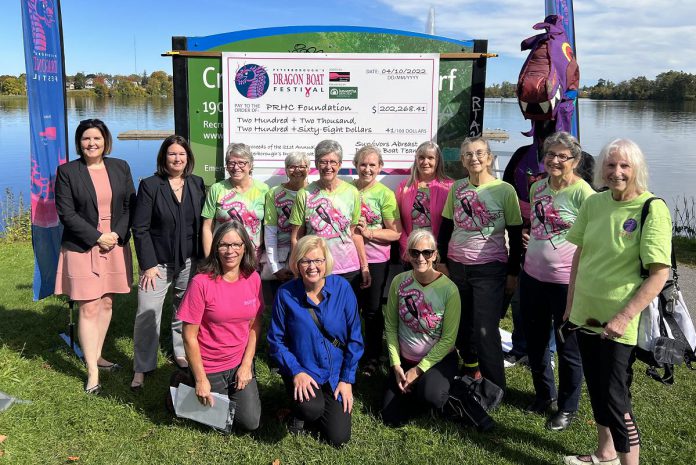 Tweet this quote
"We know first hand the importance of PRHC's continuing mission to bring the best cancer care the world has to offer, right here to our hospital," says team president Ann Stabler. "With community support, the hospital will be able to serve more patients, support earlier cancer diagnosis, and ensure safer, more effective treatment, close to home."
Proceeds of the 2023 festival will allow PRHC to invest in the equipment and technology that makes cancer care possible, including minimally invasive surgical tools and a second cutting-edge MRI machine, while attracting and retaining the best and brightest health care professionals.
"Cancer volumes are on the rise and the number of patients from Peterborough and the surrounding area who receive treatment at PRHC has grown significantly," says PRHC Foundation president and CEO Lesley Heighway. "PRHC's ability to provide expert, compassionate cancer treatment depends on having state-of-the-art equipment and technology. But the government doesn't fund equipment, so our hospital counts on donations to purchase the tools. That's why Peterborough's Dragon Boat festival is such a vital fundraiser for our community. The festival helps save lives."
Advertisement - story continues below
Along with community members pledging to support the dragon boat teams racing on Little Lake, the festival relies on the support of local businesses and organizations to cover expenses and provide the best experience possible for participants. Kawartha Credit Union, which has been the festival's presenting sponsor every year since 2001, is returning to support the festival for their 22nd year.
"At Kawartha Credit Union, 'care for others' is one of our core values and we are passionate about contributing to the well-being of the communities we serve," says Kawartha Credit Union president and CEO Norah McCarthy. "Being the platinum sponsor of Peterborough's Dragon Boat Festival allows us to provide financial support while also participating in a fun event that unites Peterborough and our surrounding areas in a common goal to improve local health care resources."
Registration for the 22nd edition of Peterborough's Dragon Boat Festival opens at midnight on Wednesday, March 1st at ptbodragonboat.ca. The first three teams to register will win a free extra practice in a dragon boat on Little Lake.