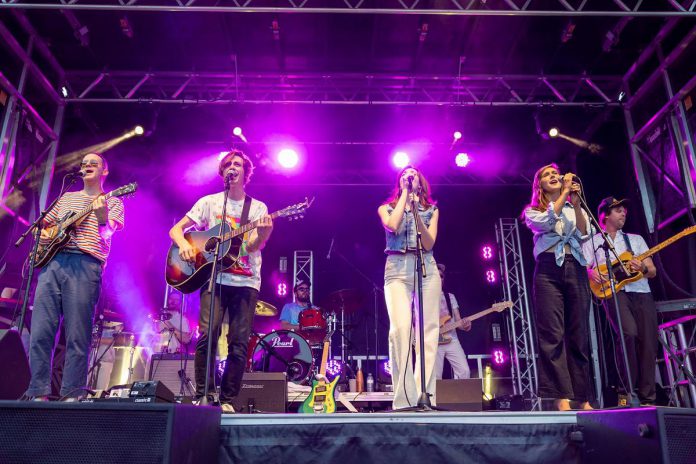 Peterborough Musicfest has announced another free-admission concert for its 36th summer season, welcoming the popular Toronto-based music collective Dwayne Gretzky back to Del Crary Park for the fourth time on Wednesday, July 5th.
Described as "a curated nostalgia trip," Dwayne Gretzky breathes new life into classic pop and rock hits, drawing from a repertoire of more than 700 songs by pretty much every musical act you can name over the last seven decades — and performing them with infectious enthusiasm and theatrical flair that makes the band as fun to watch as it is to hear.
Since the band's inception in 2011, the nine-member ensemble has attracted thousands of fans based solely on the strength of their live performances. Dwayne Gretzky first headlined Peterborough Musicfest in 2018, and performed last year on July 16. You can expect a lot of singing and dancing in the crowd this year on July 5 when the band takes to the Fred Anderson Stage at Del Crary Park.
VIDEO: "Once In A Lifetime" by Talking Heads performed by Dwayne Gretzy

Advertisement - story continues below
VIDEO: "Under Pressure" by Queen & David Bowie performed by Dwayne Gretzy

This is the second concert Peterborough Musicfest has announced for its 2023 season, with Little River Band performing on Wednesday, July 26th.
To help raise funds for the 36th summer season, Peterborough Musicfest is hosting Juno award-winning musician Joel Plaskett at Market Hall Performing Arts Centre on Wednesday, March 22nd (the concert was rescheduled from February 23 due to inclement weather). General admission tickets are $45, with all proceeds supporting Musicfest.
Tickets are available in person at the Market Hall box office at 140 Charlotte Street from 12 to 5 p.m. Monday to Friday or online anytime at markethall.org.
Advertisement - story continues below
Launched on July 1, 1987 under the name Peterborough Festival of Lights with concert series founder Fred Anderson at the helm, Peterborough Musicfest is Canada's longest-running free-admission outdoor summer concert series. Dallas Green, Our Lady Peace, Serena Ryder, Gordon Lightfoot, 54-40, and Blue Rodeo are just a few of the many musical acts that have performed over the years.
Overseen by general manager Tracey Randall and a board of directors, Peterborough Musicfest is able to offer free-admission concerts thanks to corporate sponsorships (most of whom, including kawarthaNOW, are locally owned businesses) along with multiple levels of government funding, fundraising initiatives, and private donations.
Individuals and businesses interested in sponsoring the festival can email sales@ptbomusicfest.ca or call 705-755-1111.