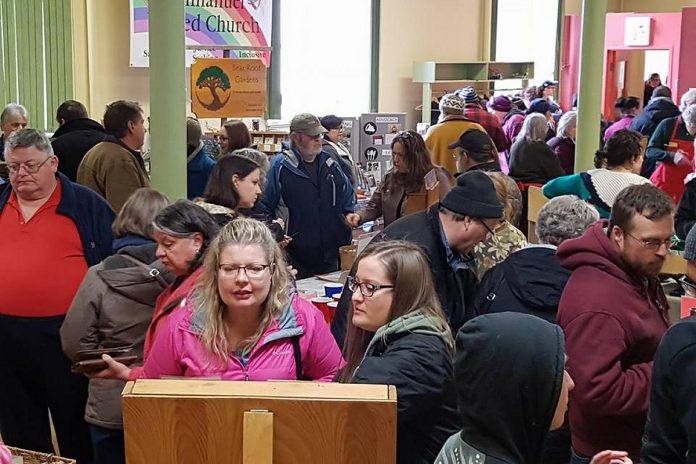 Peterborough-area gardeners will be happy to know that Peterborough Seedy Sunday is returning as an in-person event for the first time since the pandemic began.
Organized by volunteers led by Jillian Bishop of Urban Tomato, the 15th annual event takes place next Sunday (March 12) from 11 a.m. to 3 p.m. at a new location. Instead of the Emmanuel United Church, this year's event has moved to a larger space, in the lower level of Peterborough Square (where the Saturday regional farmers' market is held).
As always, there will be a huge diversity of locally grown heirloom vegetable, flower and herb seeds, vermicomposting supplies, and bulbs available for purchase from local vendors.
Advertisement - content continues below
Vendors at this year's event include Annapolis Seeds, Urban Harvest, Terra Edibles, Bear Root Gardens, Cathy's Crawlers Composters, Muscott Seeds, Robin Tench – Earthworks, Cedar Grove Farms, Blossom Hill Nursery, Gaia Organics, Irene's Dahlia Bulbs, Heritage Seed & Produce, Urban Tomato, Matchbox Seeds, Summer Roads Flower Co., and Seed of Creation.
Community groups will also be displaying information about their work and providing visitors opportunities to get involved with local food, farming, water, and environmental programs.
Participating groups include Nourish, Seeds of Diversity Canada, Peterborough GreenUP, Transition Town, USC/Bauta Seed Security Initiative, Peterborough Master Gardeners, Peterborough Horticultural Society, Farms at Work, Peterborough Pollinators, and Alderville First Nation Black Oak Savanna Ecology Centre.
VIDEO: Peterborough Seed Savers Collective (2015)

Educational hands-on workshops will be offered throughout the afternoon.
The event also features the popular Seed Exchange Area, where you can swap seeds with other growers, pick up some new and unique seed varieties, and chat with other seed savers. If you are bringing seeds to trade, divide them up in advance if possible into small packages of around 25 seeds each. If you don't have your own seeds to trade, you can take seeds home in exchange for a small donation. All proceeds will go to help Seedy Sunday continue to be a free event and to purchase high-quality seeds.
Everyone is welcome to attend this free-admission event, which is supported by Nourish, the Peterborough Horticultural Society, and Peterborough Master Gardeners along with volunteers.
Advertisement - content continues below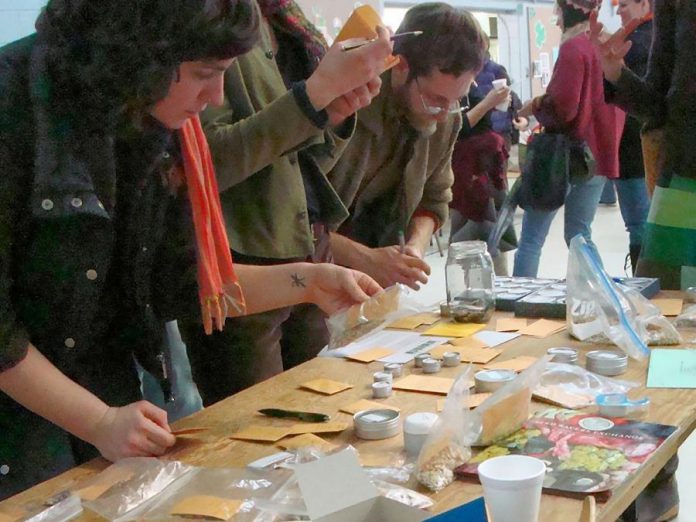 Seedy Sunday (and Saturday) events originated in 1988, when British Columbia resident Sharon Rempel wanted to find period-appropriate heritage vegetables, flowers, and wheat for the 1880s heritage gardens she was creating at the Keremeos Grist Mill museum. She organized the first Seedy Saturday at VanDusen Botanical Garden in Vancouver in 1990.
Since then, there have been well over a thousand Seedy Saturday and Sunday events events held in communities across Canada, and they now also take place in other countries including the U.K. and Australia.
For more information about Peterborough Seedy Sunday, visit urbantomato.ca/learn/seedy-sunday-peterborough/ or the Seedy Sunday Peterborough Facebook group.