The Kawartha World Issues Centre and the Kawartha Sexual Assault Centre will be marking International Women's Day in Peterborough with two free community events, including a noon-hour rally in downtown Peterborough on Wednesday (March 8) and a hybrid in-person and virtual evening event at the Peterborough Lions Community Centre on Thursday (March 9) featuring a young Black woman who is revolutionizing who can be a farmer.
First taking place in 1911, International Women's Day has become a global day celebrating the social, economic, cultural, and political achievements of women. The day also marks a call to action for accelerating gender parity.
The theme for 2023 is "Embrace Equity", asking people to imagine a gender-equal world free of bias, stereotypes, and discrimination, where difference is valued and celebrated.
Advertisement - content continues below
The noon-hour rally on Wednesday begins at 12 p.m. at the Peterborough Square courtyard at Water and Charlotte streets, where participants will walk north along the sidewalks of George Street to Confederation Park, across from Peterborough City Hall. Once there, Town Ward city councillor Joy Lachica will speak and local poet Emily Clarey will do a short reading.
While not required to participate in the rally, registration at eventbrite.ca/e/539285496437 is requested in case organizers need to communicate with participants before the rally.
The free evening event on Thursday will be hosted in a hybrid format, online via Zoom and in person at the Peterborough Lions Community Centre at 347 Burnham Street just south of Hunter Street West in East City.
Doors will open at 5:30 p.m. so attendees can participate in a banner-making activity with Niijkiwendidaa Anishnaabekwewag Services Circle and also view the 16 Days of Activism Quilt from Fleming College.
Emcee Czarina Garcia of the Community Race Relations Committee will officially open the event at 6 p.m., when Anne Taylor of Curve Lake First Nation will give a territorial welcome and Curve Lake First Nation poet Sarah Lewis will share an original poem she has written for the event.
At 6:40 p.m., guest speaker Cheyenne Sundance will speak for around 30 minutes on the topic 'Diverse Youth Voices in Leadership', based on her experiences in agriculture and food justice.
Advertisement - content continues below
Sundance is a 25-year-old farmer and owner and executive director of Sundance Harvest, an incubator farm and distribution hub with three locations in southwestern Ontario where more than 20 farmers grow produce, chickens, herbs, cut flowers, fruits, and mushrooms for a community supported agriculture initiative.
She began Sundance Harvest in 2019 at the age of 22, having never had any prior agricultural or educational experience, to address a diversity of concerns of equality in agriculture through the lens of workers, youth, BIPOC, and women. The inaugural president of the National Farmers Union BIPOC caucus, she successfully launched the Sundance Harvest Black Business and Farm Incubator Program, which is fully subsidized for new Black farmers.
Sundance has a deep interest in workers' rights, community land trusts, and the idea of the commons for the betterment of all. She has been featured in The Toronto Star, The Globe and Mail, NOW Toronto, CBC Radio Canada, Greenpeace, The Food Network, The Narwhal, Chatelaine, and more.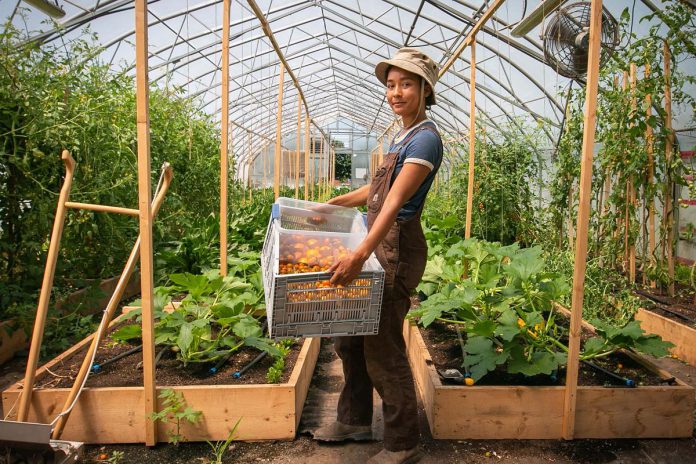 After Sundance speaks, there will be a short intermission and then an opportunity for attendees — both in-person and virtual — to ask questions, with the event wrapping up by 8 p.m.
Light refreshments will be available during the evening event. Masks are strongly encouraged and will be provided at the door. While the event is free, registration is required at eventbrite.ca/e/531994880007 .
The rally and evening event are supported by the Canadian Women for Women in Afghanistan Peterborough Chapter, Champlain College, Community Race Relations Committee of Peterborough, Diverse Nature Collective, Fleming College, Lady Eaton College, New Canadians Centre, OPIRG Peterborough, Professor Stephen Hill, Soroptimist International Peterborough, The Centre for Women and Trans People, The Seasoned Spoon, The Sustainable Agriculture and Food Systems Society, Trent Oxfam, Trent University School of the Environment, and Trent Wrold University Services Canada Student Refugee Program.
This story has been updated with corrections to the date for the evening community event, which takes place on March 9 and not March 8.