For its spring production, the Peterborough Theatre Guild is bringing the hit musical farce Something Rotten! to the Guild Hall stage for 10 performances in April and May.
A love letter to musical theatre and a satirical spectacle that pokes fun both at Shakespeare and everything audiences adore about Broadway, Something Rotten! features show-stopping song and dance, a wacky cast of over-the-top characters, and gut-busting comedy. Time Out New York called it "The funniest musical comedy in at least 400 years!"
Set in 1595 during the English Renaissance, the story follows brothers Nick and Nigel Bottom, who are struggling to find success in the theatrical world as they compete with the wild popularity of their contemporary William Shakespeare. A soothsayer named Thomas Nostradamus (the nephew of the famous soothsayer Nostradamus) tells the brothers the next big thing in theatre will be "a musical" — where "an actor is saying his lines, and out of nowhere he just starts singing."
Advertisement - story continues below
Determined to outdo Shakespeare by writing the world's first musical, Nigel asks Nostradamus what Shakespeare's next hit is going to be called. After the soothsayer misinterprets "Hamlet" as "Omelette", the brothers name their new play Omelette: The Musical.
The play's musical numbers include "Welcome to the Renaissance", "God, I Hate Shakespeare", "The Black Death", "Hard to Be the Bard", "It's Eggs!", "Something Rotten!", and more.
With music and lyrics by brothers Karey and Wayne Kirkpatrick and a book by John O'Farrell and Karey Kirkpatrick, Smething Rotten! opened on Broadway in 2015 where it played for 708 performances. It was nominated for 10 Tony Awards, including best musical, and won for best featured actor in a musical.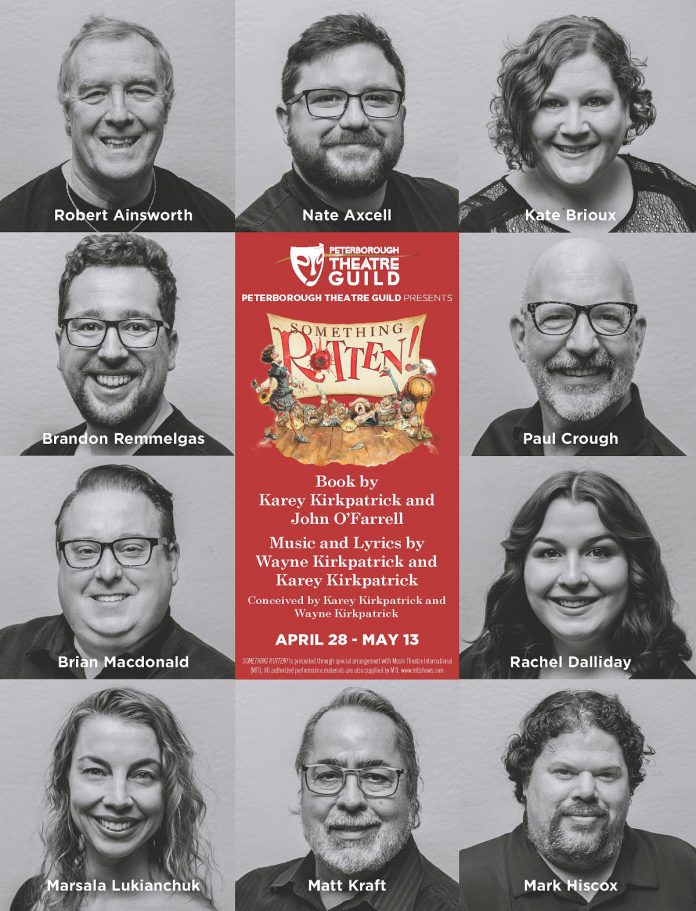 Directed and choreographed by Elizabeth Moody, the Peterborough Theatre Guild production features Robert Ainsworth, Nate Axcell, Kate Brioux, Paul Crough, Rachel Dalliday, Mark Hiscox, Matt Kraft, Marsala Lukianchuk, Brian MacDonald, and Brandon Remmelgas.
The crew includes production manager Margaret Pieper, musical director Justin Hiscox, assistant musical director and vocal director Dustin Bowers, music and vocal consultant Kate Suhr, and choreography consultant Julie Fallis.
Performances at the Guild Hall at 364 Rogers Street in Peterborough's East City take place at 7:30 p.m. on April 28 and 29, May 4 to 6, and May 11 to 13, with 2 p.m. matinee performances on April 30 and May 7. Tickets are $32 for adults, $28 for seniors, and $20 for students and are available online at peterboroughtheatreguild.com or by calling 705-745-4211.
kawarthaNOW is proud to be a media sponsor of the Peterborough Theatre Guild's 2022-23 season.