A fir tree rocking its lullaby,
Swings, swings,
Its emerald wings,
Swelling the song that my paddle sings.
– "The Song My Paddle Sings" (Emily Pauline Johnson)
Paddle Song, a one-woman musical starring Cheri Maracle that tells the story of the celebrated late 19th-century trailblazing Mohawk poet and performer Emily Pauline Johnson, is coming to Nnogojiwanong-Peterborough for three performances only on March 24 and 25.
Presented by Public Energy Performing Arts and Nozhem First Peoples Performance Space, Paddle Song was co-written by Dinah Christie and Tom Hill, with music by Tom Hill. Since its world premiere in 2016, the show has toured across Canada and the world, including in New Delhi and Norway.
Although she was famous in her day, many modern-day Canadians may be unfamiliar with Emily Pauline Johnson. The daughter of a respected Six Nations Mohawk chief and his English wife, she was born in 1861 at Chiefswood, an imposing residence (now a national historic site) built by her father at Six Nations of the Grand River near Brantford. Raised in a privileged middle-class family, Johnson was mainly tutored as a young child, where she learned to embrace her Indigenous heritage and culture. She began composing poems at the age of 10.
Advertisement - story continues below
At the age of 22, Johnson published her first full-length poem in a magazine. After her father died the following year, the family moved out of Chiefswood for financial reasons and Johnson turned to writing as a means of supporting herself. But it was not until 1892, when the 31-year-old Johnson was invited to participate in an evening of poetry at the Young Men's Liberal Club in Toronto, that she found success. Over the next seven months, she performed around 125 times in 50 towns and villages across Ontario.
She soon adopted her stage persona of "Tekahionwake" — her great-grandfather's Mohawk name which means "double wampum" or "double life" — and would wear traditional Mohawk dress during the first act of her performance before changing into Victorian women's clothing for the second act. Her shows became wildly popular, and she went on multiple tours in Canada, the U.S., and England for over 30 years.
She continued writing poems and published various poetry collections, including The White Wampum in 1895, Canadian Born in 1903 and Flint and Feather in 1912, along with her collections of stories Legends of Vancouver in 1911 and The Shagganappi and The Moccasin Maker in 1913.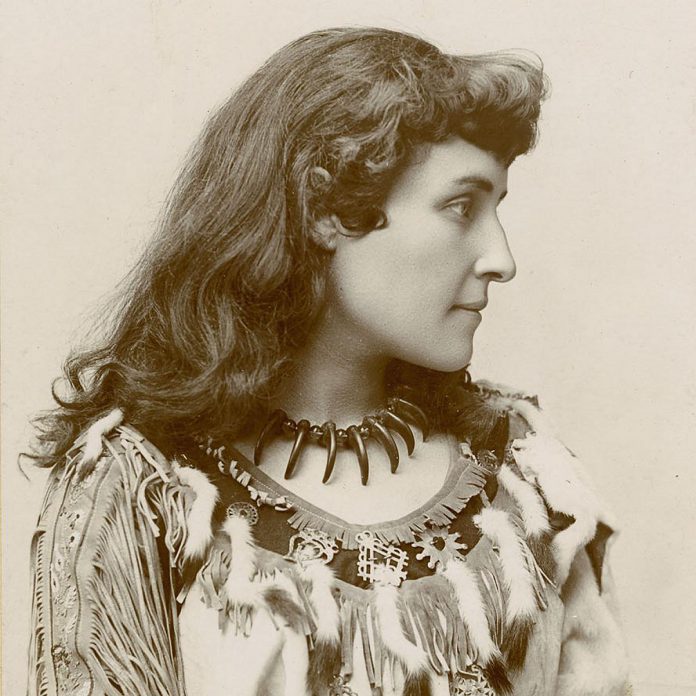 Acclaimed by audiences and literary critics alike, Johnson was dubbed the 'Poetic Princess of the Mohawks'. Through her poetry, she brought attention to the struggles of women and First Nations people. Johnson died of breast cancer in 1913 at the age of 51.
In Paddle Song, Johnson's story is brought to life by veteran Indigenous actor and musician Cheri Maracle, who is also a member of Six Nations and, like Johnson, has a Mohawk father and European mother.
"She spoke for Indigenous rights, women's rights, children's rights," Maracle said in a 2021 interview with the Aboriginal Peoples Television Network (APTN). "She was a trailblazer, she was enigmatic, she was gutsy. She traversed this countryside over and over again, just she and her stage partner, which back then was really rare. She was a household name in her time."
Advertisement - story continues below
Maracle is best known for her roles in the television series Blackfly (Global), Moccasin Flats (APTN), The Coroner (CBC), Tribal (APTN), and Degrassi: Next Class (Netflix, Epitome). She has also appeared in various stage productions including Ernestine Shuswap Gets Her Trout (Western Canada Theatre), The Unnatural and Accidental Women (The National Arts Centre), The Rez Sisters (Belfry Theatre), and The Road to Paradise (Crow's Theatre).
She performed in the world premiere production of Paddle Song at Calgary's High Performance Rodeo in 2016, where she was nominated for Best Solo Performance. She also performed Paddle Song in 2021 at the Firehall Arts Centre in Vancouver, where Gail Johnson of Stir praised Maracle's portrayal.
"Maracle keenly conveys Johnson's vulnerability, courage, and confidence as her career starts to take off," Johnson said. "With heart, she exudes the hope and hurt Johnson experienced, whether buoyed by glowing reviews by even the toughest critics or heartbroken by the humiliation her one love imposed on her. Maracle's performance is emotional without being melodramatic, gentle but assertive. Hers is a powerful and beautiful portrayal of an extraordinary individual whose story needs to be told anew — and shared with this kind of care."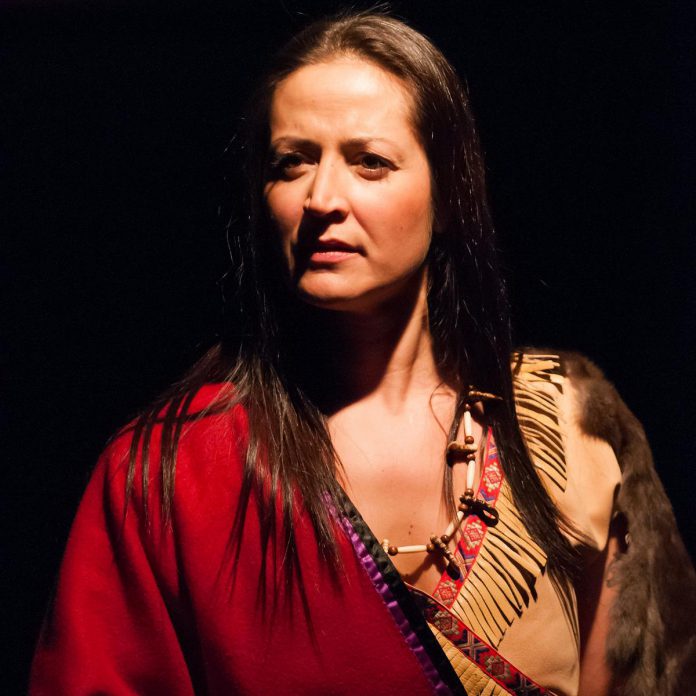 Maracle will perform Paddle Song at Nozhem First Peoples Performance Space at Trent University for three shows only, at 7 p.m. on Friday, March 24th and Saturday, March 25th with a 2 p.m. matinee performance on Saturday. The all-ages show runs for 75 minutes, including a 15-minute intermission.
Tickets are available at the door, cash only, on a sliding pay what you can scale from $5 to $25. To reserve seats, visit eventbrite.ca/e/512021820047. You can also reserve seats by emailing admin@publicenergy.ca or calling 705-745-1788.
For more information about Paddle Song and Nozhem First Peoples Performance Space, visit publicenergy.ca/performance/paddle-song/.
kawarthaNOW is proud to be a long-time media sponsor of Public Energy Performing Arts.