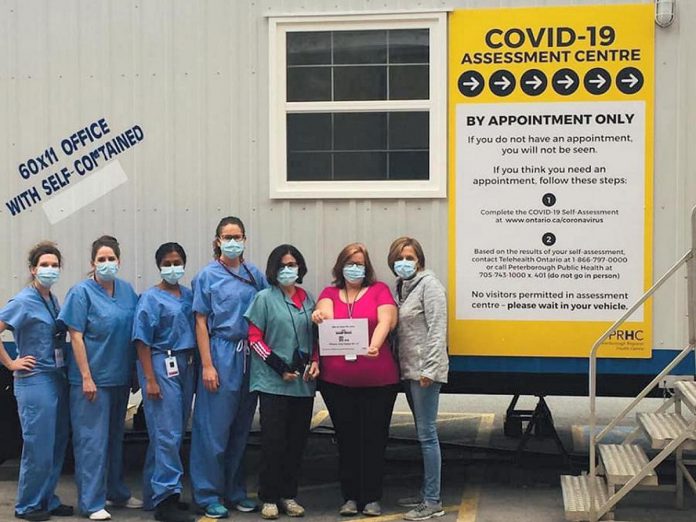 Peterborough Regional Health Centre (PRHC) has announced the closing of its COVID-19, cold, and flu clinic, two days after Ross Memorial Hospital in Lindsay did the same.
PRHC's clinic will close at the end of next Friday (March 31), with Ross Memorial Hospital's clinic closing this Friday. Both clinics are closing due to declining patient volumes.
Both clinics were previously known as COVID-19 assessment centres, with PRHC's opening in April 2020 to respond to the community need for COVID-19 assessment and testing. In December 2022, the clinic expanded its services to provide assessment, testing, and treatment for patients with respiratory symptoms from colds and flu as well as COVID-19.
Advertisement - content continues below
"The work done to launch and operate PRHC's COVID, Cold and Flu Clinic over the last three years represents a truly community effort, with a number of health care partners coming together to make this service possible for patients," says Dr. Lynn Mikula, PRHC's chief of staff and incoming president and CEO, in a media release.
"I am incredibly proud of the work of this clinic, and I want to thank everyone who has been involved in its success, including every physician and staff member who stepped forward to provide their service and support at a very challenging and uncertain time for all of us."
Ross Memorial Hospital's COVID-19 assessment centre originally opened in March 2020 offering drive-through COVID-19 testing in the hospital's ambulance bay. Later that month, it moved to the Lindsay Exhibition Fairgrounds until October 2020, when it was relocated to its current location in the former admitting department inside the hospital. It also spent a month at the Victoria Park Armoury in early 2022.
Advertisement - content continues below
Over the course of three years, the Ross Memorial Hospital clinic conducted more than 70,000 PCR tests and over 10,000 clinical assessments.
"RMH's COVID-19 Assessment Centre and Cold, COVID-19 and Flu Care Clinic played a significant role in our community's response to the global COVID-19 pandemic by helping limit exposure to the virus and providing access to timely care during a period of great uncertainty and concern for many," says Kelly Isfan, Ross Memorial Hospital's president and CEO, in a media release. "That is something we are truly proud of. The hospital thanks all of our staff and physicians whose dedication and commitment helped navigate the clinic's success."
With the closure of both clinics, residents requiring assessment and treatment for respiratory symptoms can contact their family doctor, attend a clinic for unattached patients, or call 811 or visit the Health811 website to connect with a registered nurse day or night for free, secure and confidential health advice. Many local pharmacies also offer onsite PCR and rapid testing and prescribe and dispense Paxlovid, an anti-viral medication for the treatment of COVID-19 symptoms.