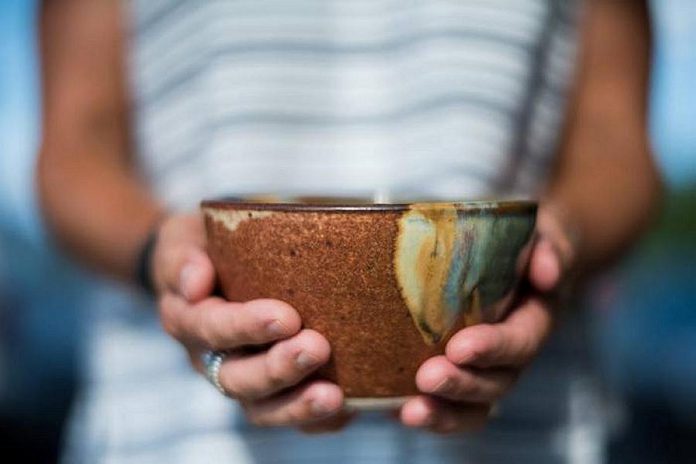 YWCA Peterborough Haliburton's annual Empty Bowls event has raised over $33,000 to help address food insecurity in the Peterborough area.
The 19th annual event was held February 25 at The Venue in downtown Peterborough at a cost of $50 per ticket. Ticket holders received a handcrafted ceramic or wooden bowl and a restaurant coupon card featuring discounts from participating local restaurants.
Proceeds from the fundraiser, which raised $31,000 last year, will support YWCA Nourish Food programs to prevent and relieve hunger in the city and county of Peterborough.
Advertisement - content continues below
Tweet this quote
"Our hearts are so full," says YWCA Peterborough Halliburton executive director Kim Dolan in a media release. "When I pause to think about all the people and all the time that goes into making this event possible year after year, I'm overwhelmed by the good in our community."
"Thank you to everyone who carved, created, sponsored, donated, attended, or lent a hand in order to help folks experiencing food insecurity. Your support of Nourish means so much to the hundreds of people in our community who access our healthy food workshops, advocacy training, community gardens, and food boxes every month."
YWCA Peterborough Haliburton is encouraging everyone to support the restaurants that participated in this year's event, including Amandala's, Baked 4U, Black Honey, Central Smith, Fresh Dreams, Naked Chocolate, Pastry Peddler, Sam's Place, That's a Wrap, and The Cheesy Fromage.
This year's event was supported by members of the Kawartha Potters Guild and Kawartha Woodturners Guild, and sponsored by Kawartha Cardiology, Cornerstone Family Dentistry, The Venue, kawarthaNOW, Pure Country 105, Move 99.7, The Peterborough Examiner, Peterborough This Week, The Wolf 101.5 FM, Global Peterborough, and Fresh 100.5.