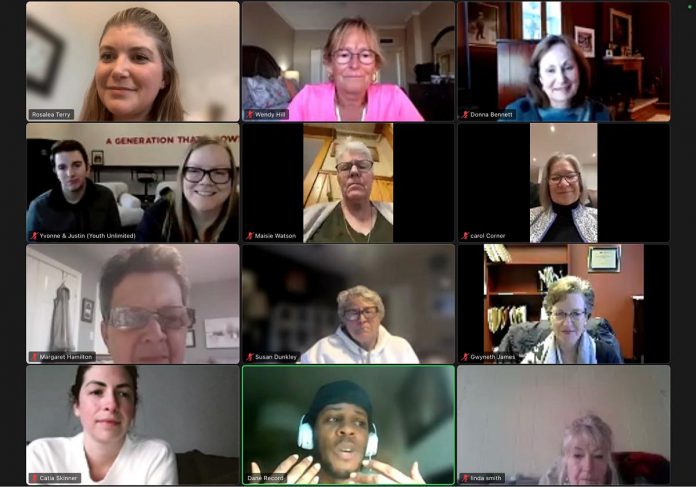 At its first meeting this year, 100 Women Peterborough has chosen PARN – Your Community AIDS Resource Network to receive $10,000.
The collective philanthropy group met virtually last Tuesday (March 21) to raise funds for an organization in need. The group hears presentations from three organizations randomly drawn from a larger list of organizations nominated by the group's members. The organization receiving the most votes from members receives the donations contributed by the group's members.
The three organizations that presented to 100 Women Peterborough at Tuesday's virtual meeting were PARN, Youth Unlimited, and the Westben Centre for Connection & Creativity, with PARN chosen by majority vote to receive the funds.
Advertisement - content continues below
PARN provides support and health promotion for people who are living with, affected by, or at-risk for HIV in the four counties of Peterborough, Kawartha Lakes, Northumberland, and Haliburton. The organization also provides education and equipment for people at risk for HIV, hepatitis C, and other sexually transmitted and blood-borne infections.
PARN has been serving the community with both outreach and programming for LGBTQ+ youth and women who are living with, affected by, or at-risk for HIV and continues to hold community capacity building projects, workshops, and awareness to the broader community.
"All donations received will be going to women actively involved with our organization by compensating their time and contribution toward continuously improving the services they want to receive," said PARN's executive director Dane Record. "The Women's Advisory and Women In Action committees are two of the most passionate, hardworking committees that show up frequently to lead our community work and continue our mission to prevent new HIV transmissions and promote HIV/AIDS awareness in Peterborough City and County."
PARN provides a variety of services in the community including counselling, workshops , and information on progression and treatment of HIV/AIDS for those affected and their families. The organization also provides referrals to service providers, basic necessities to those in need, and assistance with other health issues.
Advertisement - content continues below
"Our philosophy at 100 Women Peterborough is to come together as a group to make a big impact," says Rose Terry, one of the founding members of 100 Women Peterborough. "Through our giving group we not only empower women to engage in philanthropy in a meaningful way that is budget friendly, but we also provide a quick, easy and transparent way for the charities to access donors and funding. We are providing a space for the collective voice to be heard."
The collective philanthropy movement began in the United States in November 2006, when Karen Dunigan of Michigan formed the "100 Women Who Care" group. After their first meeting, the women raised over $10,000 for the purchase of 300 new baby cribs for a local organization. The movement has grown over the past 17 years to include groups of men, women, youth, and children around the world, with more than 230 chapters in Canada alone.
Since its formation, 100 Women Peterborough has collectively donated more than $164,000 to 20 local organizations: Hospice Peterborough, Peterborough Youth Unlimited, One Roof Warming Room, New Canadians Centre, Cameron House, Five Counties Children's Centre, Casa De Angelae, Lakefield Animal Welfare Society, Community Care Peterborough, Kawartha Sexual Assault Centre, Community Counselling and Resource Centre, Peterborough Pregnancy Support Services, Heads Up for Inclusion, Kawartha Youth Orchestra, Peterborough GreenUP, Bridges Peterborough, YMCA Strong Communities, Homeward Bound Peterborough, Good Neighbours Care Centre and Food Bank, and PARN.
Women interested in joining 100 Women Peterborough should visit www.100womenptbo.ca for more information.