Public Energy Performing Arts in Peterborough has announced the 2023-24 recipients of its new Creative Generator Program, designed to support artistic creativity in Peterborough-Nogjiwanong.
Four artists and an artist collective — Lindy Finlan, Jon Hedderwick, Eryn Lidster, Sarah McNeilly, and Fleshy Thud — will receive a range of supports including a financial contribution of $2,000 toward the costs associated with creating a new work, a $500 fee to hire a mentor or collaborator on the project, and administrative and mentoring support from Public Energy.
The Creative Generator Program is an outgrowth of Public Energy's local artist-in-residence program, which has supported eight artists and one collective since 2020. The program is open to all professional artists or collectives working in the disciplines of dance, theatre, or multidisciplinary performance, and living in Peterborough-Nogojiwanong. This includes the city and county of Peterborough and Curve Lake and Hiawatha First Nations.
Advertisement - story continues below
In addition to working on their creation, each participant in the Creative Generator Program is expected to deliver at least one public engagement activity, either in person or online. These activities, which could include an open rehearsal, a work-in-progress showing, or an artist talk, will be delivered over the course of Public Energy's 2023-2024 season.
Lindy Finlan, an up-and-coming playwright whose previous plays include 2015's Ruse of the Romantic, 2019's The Fool of Cavan: A Christmas Caper for 4th Line Theatre, and 2020's Bedtime Stories & Other Horrifying Tales co-written with Kim Blackwell for 4th Line Theatre, will be using her residency to complete a script for a full-length production entitled Take this, My Body. Set in late 19th-century Canada, the play explores the state of womanhood as experienced by the 'fallen women' of the bawdy house and the feminist social reformers who seek to 'save' them.
Jon Hedderwick is a professional spoken word poet and performance artist, media artist, and educator of mixed Ashkenazi Jewish and Scottish heritage. During the Precarious3 Festival in 2021, Hedderwick performed his one-person show Bubbie's Tapes, based on found cassette tapes of Hedderwick's great-grandmother Sarah Mandel telling a story of antisemitism in a small town in Poland at end of the First World War. He will use his residency to continue his work on Bubbie's Tapes, which explores the history and ongoing impacts of antisemitism in Canada.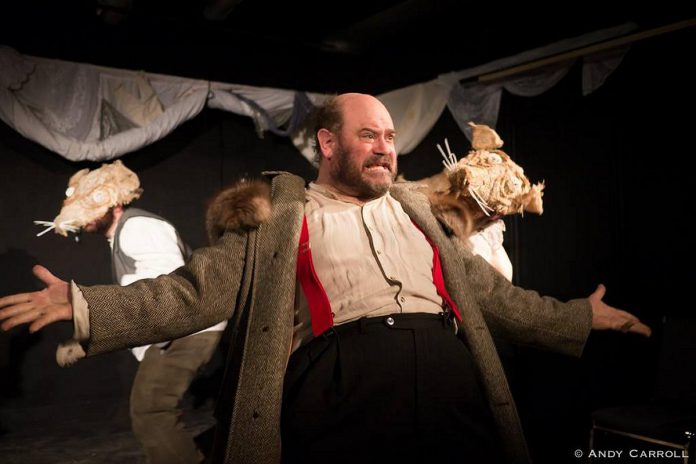 Eryn Lidster, a multidisciplinary artist and administrator, has supported the production of over 40 performance works since 2016 including the original works Invisible and Rejoinder. In their residency, Lidster will explore various forms of animation, including rotoscoping and puppetry, using Isadora projection mapping software. The work will be grounded in science fiction narratives and examine digital video's material and performative nature, with a focus on the three-dimensional and malleable potential of projections.
Multidisciplinary artist Sarah McNeilly performed her debut solo work Titty Cakes: A Recipe for Radical Acceptance, based on her experiences as a two-time breast cancer survivor and sexual assault survivor, to sold-out audiences at The Theatre On King last October. During her residency, McNeilly plans to research and develop a largely autobiographical solo show with the working title One Rogue Cell. An investigation of singularities, this work explores black holes, the very first cave painter, and cancer while searching for the possibility of futurity in total collapse.
Advertisement - story continues below
Fleshy Thud, a performance collective founded by Ryan Kerr in 2008 to support experimental work by regional artists, has produced more than 40 site-specific dance and theatre works, including the annual Precarious festivals and Kerr's own solo show Unexploded Ordnance.
In their residency, artists Ryan Kerr, Kate Story, Sarah McNeilly, Brad Brackenridge, Niambi Tree, Benj Rowland, Lindsay Unterlander, Matt Gilbert, Naomi Duvall, Shannon McKenzie LeBlanc, Daniel Smith, Justin Million, Nikki Weatherdon, Victoria Ward, and Gary Blundell will collaborate on a performance piece with the working title Baroness.
Inspired by the life of Baroness Elsa, a figure in the New York Dada scene known for her poetry, art, and unconventional life, the performance work will explore the parallels between Elsa's time and today, including questioning of gender and sexuality, artistic innovation, and dangerous political movements.