Habitat for Humanity Peterborough and Kawartha Region has partnered with Peterborough Action for Tiny Homes (PATH), giving new life to a vacant Lansdowne Street East building while providing real hope for the unhoused.
On Tuesday (April 25) outside Habitat for Humanity's office location on Milroy Drive, representatives of both organizations revealed an ambitious plan that checks major boxes for both.
With its pending purchase of the former Peterborough Humane Society building at 385 Lansdowne Street East, Habitat for Humanity will lease the building to PATH for three years for the purpose of providing transitional shelter support. In addition, the property will be home to 15 sleeping cabins, their occupants able to access shower and bathroom facilities in the main building.
Advertisement - content continues below
Tweet this quote
At the end of the three-year lease, the hope is that PATH will have secured property — at a location still to be determined — for a community that can accommodate 30 tiny homes. Habitat for Humanity, meanwhile, will move ahead with plans to develop affordable condo units at the site of the now-vacated building.
"Habitat for Humanity has just made it possible for PATH's dream to become a reality," said PATH chair Trish Campbell, adding "This is the birth of a creative relationship to respond to Peterborough's housing and homelessness crisis."
Habitat for Humanity CEO Susan Zambonin noted the partnership speaks directly to the agency's mission.
"Our vision is a world where everyone has a safe and decent place to live," she said. "This partnership will allow Habitat for Humanity to give a hand up to PATH and unhoused members of our community by providing them with a safe place where they can connect, heal, and build community."
Later, Zambonin termed the collaboration "a real win-win."
"This (unhoused people) is a population we don't serve, so it's an ideal opportunity for us to partner with PATH. We had been trying to help PATH find some land for awhile but they found this all on their own. We're just happy they included us to help them with the purchase."
While PATH awaits word on a temporary use rezoning application required to use the space for transitional shelter support, Habitat for Humanity has a long road ahead in terms of getting approvals for its intended use of he property.
Advertisement - content continues below
Tweet this quote
"We will be purchasing the property at the end of June — we have an accepted offer (to purchase)," Zambonin said. "PATH will start renting it at that point and doing some renovations inside the building to meet their needs for three years. At that point, we're hoping that we'll have the by-law amendment that we need in order to then move forward with our proposal."
"We still have to have a meeting with our architect to see how many units he thinks the site will support. We're thinking commercial (units) on the bottom and condos second floor and above, however many stories that happens to be. We'll have to see what the site can support in terms of parking."
With the mission is to provide homes to individuals experiencing chronic homelessness, PATH formed in 2021.
While some tiny homes have been constructed, finding a location for them has proven elusive, including a proposal to locate them on a vacant property at Park and Lansdowne streets that was denied by city council following lengthy and, at times, heated debate.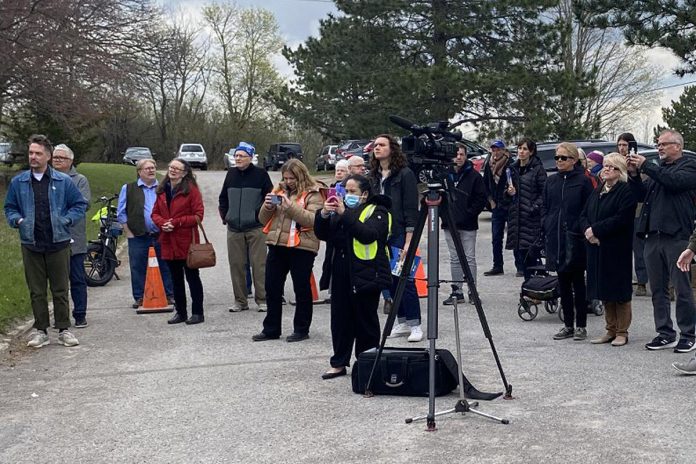 On Tuesday, Town Ward councillors Alex Bierk and Joy Lachica — both staunch supports of the tiny homes model — were on hand.
"It's such a joy to have conversations this morning with those on the ground who have spearheaded this from the beginning," said Lachica.
"There have been obstacles but they (PATH) stayed the course and here we are. Partnership has been found and, together, there's a vision for something bigger. Something that Peterborough hasn't experienced yet; something that we're seeing in other cities that has been successful."
Advertisement - content continues below
Tweet this quote
For his part, Bierk summed up his feelings in just a few words — "This is a good day," adding "We need to listen to the needs of people that are unhoused. They're telling us that the current system in place is not working for them. We need to start building systems and supports that are going to meet the needs of individuals who are unhoused."
Bierk added a report coming before council in early May will be related to "what we're hearing today. I just came from a homelessness meeting. There's a lot in the works that hopefully is going to finally start to address the issue in a meaningful way and we're going to start to work toward some change."
According to PATH land acquisition working group lead Keith Dalton, with the announcement of the partnership made, "We can now move forward on the many pledges of financial and in-kind support" received from the community.
"The missing piece has been land," added Dalton.
Advertisement - content continues below
Tweet this quote
Meanwhile, Zambonin, while stopping short of saying other Habitat for Humanity agencies should take note of this partnership and follow accordingly, did note "there's an excellent opportunity for other Habitat affiliates to help tiny homes across the country."
A media release states the project "is in the early development stages" and that an open house will be scheduled in the coming weeks to give neighbouring residents an opportunity to learn more and provide feedback.
In the interim, residents who have any questions or comments or who would like to submit statements of support can email pathadm22@gmail.com.
This story has been updated with complete coverage of today's announcement by Paul Rellinger.