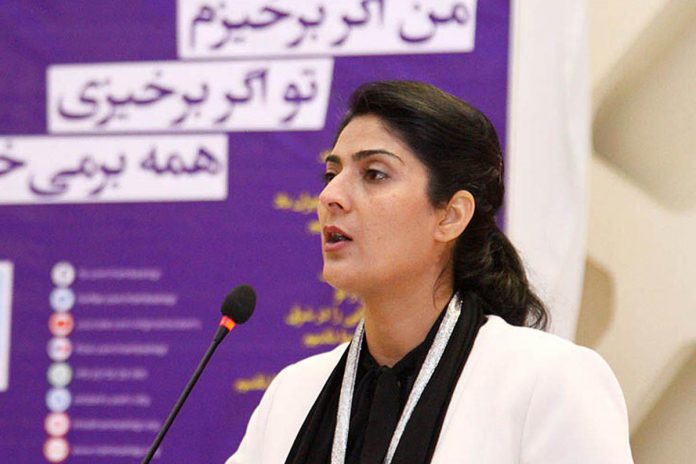 Prominent female Afghan activist Selay Ghaffar will be the guest speaker at the 13th annual Red Pashmina Walk on Sunday (April 30), which begins at 1:30 p.m. at Emmanuel United Church in Peterborough.
The Red Pashmina Walk is hosted by the Peterborough chapter of Canadian Women for Women in Afghanistan and Red Pashmina Inc., which was founded as the Red Pashmima Campaign in 2009 by Afghan Canadian and former Peterborough-Kawartha MP Maryam Monsef (then a Trent University student in Peterborough) and her friend and fellow Trent University graduate Jessica Melnik.
Both organizations raise money for literacy and humanitarian aid in Afghanistan, and funds raised from the walk will support online education materials and courses as well as humanitarian baskets which include food, hygiene products and learning materials.
Advertisement - content continues below
Registration begins at 1:30 p.m. at Emmanuel United Church (534 George Street North, at the corner of George and McDonnell Streets), followed by a welcome by Maryam Monsef and a talk by Selay Ghaffar at 2 p.m.
Born in 1983 to a progressive family in Afghanistan, Ghaffar spent her entire childhood at refugee camps in Iran and Pakistan. When she was only 13, she set up home-based classes for young girls in refugee camps and soon became the public face for Afghan refugees. During the Taliban's first rise to power in Afghanistan, she rose to prominence in the country's civil society as a critical voice for women's rights.
In 2015, she joined the Solidarity Party of Afghanistan and became its spokesperson. Her televised interviews and debates with other politicians were watched by millions in Afghanistan. Despite receiving death threats from the Taliban and Jehadi warlords, she continued fighting the religious extremists. Fearing for her life, Ghaffar fled Afghanistan after the Taliban seized power again in 2021. She is portrayed in Bernedetta Argentieri's 2018 documentary I am the Revolution.
VIDEO: "I Am The Revolution" trailer

Advertisement - content continues below
Everyone is welcome to attend to hear Ghaffar speak. Following her talk, the Red Pashmina Walk will depart the church at 3 p.m. and continue around East City, with a shorter walk for those who prefer it, returning to the church where cookies and lemonade will be waiting for walkers. Red pashminas, natural stone earrings, and other items will also be available for purchase for $20.
For more information about Canadian Women for Women in Afghanistan and the Red Pashmina Walk, including how to register for the walk and how to donate, visit cw4wafghan.ca/event/peterborough-red-pashmina-walk/.
For more information about Red Pashmina Inc. and to donate, visit redpashmina.org.