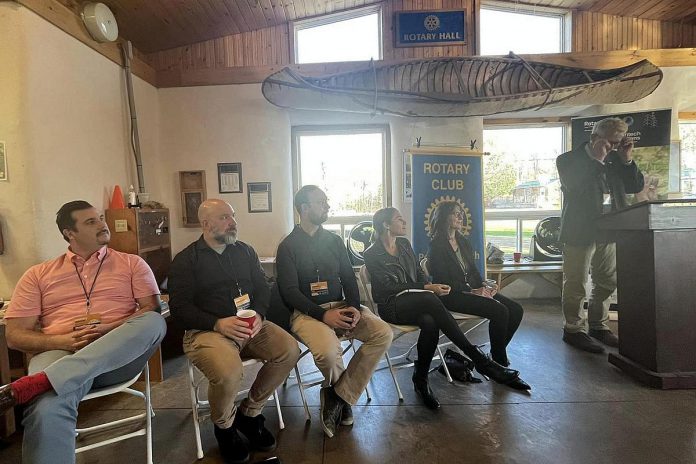 The Rotary Club of Peterborough and Cleantech Commons announced the winners of the inaugural Rotary Environmental Innovators Award at an event on Thursday evening (April 27) at Camp Kawartha in Douro-Dummer, with almost $10,000 in funding awarded to five finalists.
Funding from the awards comes from the Rotary Environmentalist Innovators Fund (REIF), launched last fall by the Rotary Club of Peterborough with a goal to promote environmental awareness, sustainability, and remediation by supporting new environmental initiatives in the Peterborough area. The initiative raised $10,000 through corporate and individual donors known as "environmental champions."
A panel of environmental science and technology experts selected five finalists from a pool of applications, with the top three receiving a prize of $3,000 each and the other two receiving $300 each.
Advertisement - content continues below
"The response to our call for environmental champions has been phenomenal," says Rotarian Graham Wilkins, who is leading the REIF initiative, in a media release. "The high-calibre applications we received are a testament to the environmental leadership and collaboration within our community. We look forward to bolstering our support for initiatives to address society's most pressing environmental challenges in new, innovative ways."
The following three environmental innovators have each been awarded $3,000:
Carlotta James, Monarch Ultra
Co-founded by Peterborough pollinator advocate and ultra-runner Carlotta James, the Monarch Ultra raises awareness about the decline of monarch butterfly populations through its long-distance running events, social media channels, the media, and partnerships with schools, non-profits, and municipalities.
In 2023, Monarch Ultra is planning Peterborough's first-ever Monarch Butterfly Festival and Race to bolster monarch butterfly conservation efforts. The organization is also planning festivals and races in the U.S. and Mexico.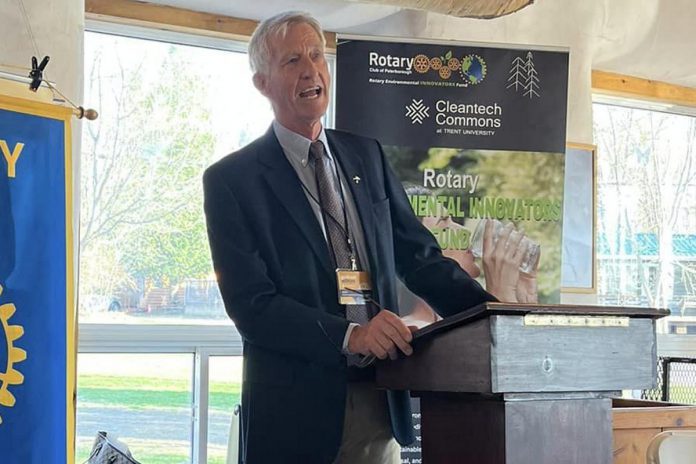 Tweet this quote
Craig Onafrychuk, Baxter Creek Watershed Alliance
A collaborative community initiative, the Baxter Creek Watershed Alliance is dedicated to conserving and enhancing the local watershed.
The alliance is working with community stakeholders and government to monitor ecological systems in the Baxter Creek watershed, educate the broader community, and implement innovative conservation initiatives to protect the natural heritage through landowner stewardship plans and conservation agreements.
Dylan Radcliffe
A Peterborough naturalist, environmental activist, and scientist, Dylan Radcliffe has created a drone for large-scale environmental restoration projects. The drone broadcasts high-value tree and tallgrass seed with precision over large areas to help restore essential ecosystems.
The drone operates autonomously with limited operator intervention and can be constructed with tools commonly available in school or library makerspaces. The intention is to release the project as an open-source design, which is a relatively new concept in the environmental sector.
Advertisement - content continues below
The following two environmental innovators have each been awarded $300:
Zachary McCue, REPWR
REPWR designs and builds renewable energy systems for the intermodal shipping network, which provide clean power for the shipping industry and lower greenhouse gas emissions and environmental impact.
Christa Plumley, Ava&Ziva
As a sustainable clothing brand, Ava&Ziva strives to reduce the environmental impact of the clothing industry by using deadstock fabric for its high-quality, small-batch garments.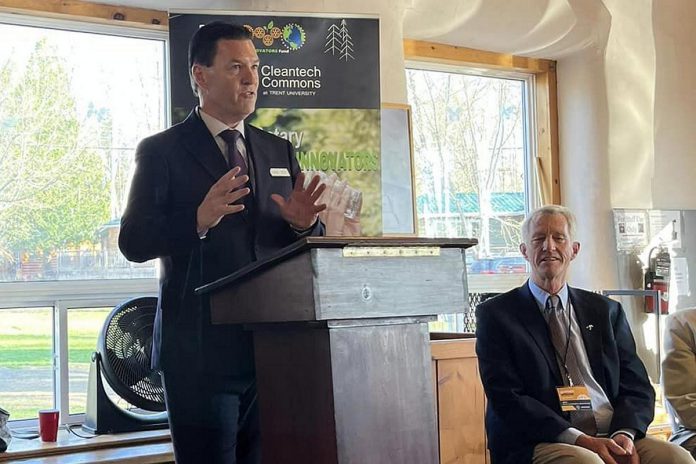 Tweet this quote
"Helping start-ups and entrepreneurs bring their innovative green technologies to the market is at the heart of Cleantech Commons," says Martin Yuill, executive director of Cleantech Commons at Trent University, which partnered with the Rotary Club of Peterborough earlier this year in support of REIF. "Initiatives such as REIF are the launchpad for many high-impact advances that will move society forward while protecting the environment."
In addition to receiving the Rotary Environmental Innovators Award, each recipient has been pre-approved by Community Futures Peterborough for micro-loans of up to $20,000 so they can continue to develop and grow their environmental solutions.
Rotary Club of Peterborough and Cleantech Commons have additional plans for REIF in the coming months, including additional fundraising efforts, networking, mentorship opportunities for applicants, and the introduction of a youth award.