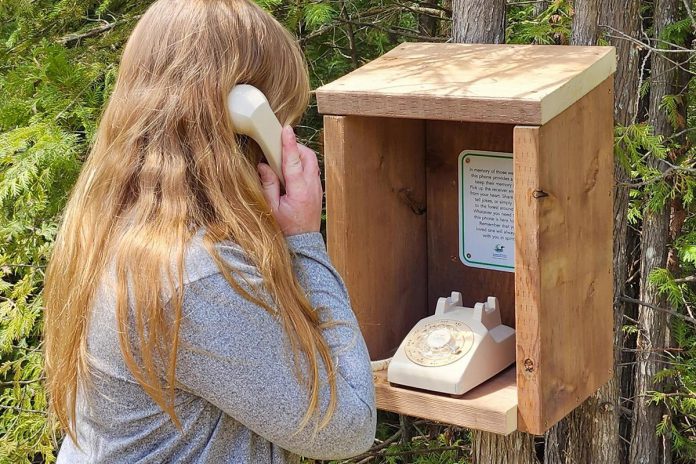 With Mental Health Week (May 1 to 7) underway, Kawartha Conservation has announced a new feature at Ken Reid Conservation Area in Lindsay intended to help people deal with the grief of losing a loved one.
As part of the non-profit organization's ongoing efforts to promote mental health awareness and to provide a space for visitors to connect with nature, Kawartha Conservation is installing two 'wind phones' on the Dragon Fly Trail and along the Point Loop.
The concept behind the wind phone, a disconnected telephone allowing people to have one-way conversations with loved ones who have passed away, began in Otsuchi, Japan in 2010 after garden designer Itaru Sasaki learned his cousin had terminal cancer with three months to live.
Advertisement - content continues below
When his cousin died, Sasaki set up an old telephone booth with a disconnected rotary dial phone in his garden so he could continue to feel connected to his cousin by "talking" to him on the phone. He called the telephone kaze no denwa (Japanese for "phone of the wind").
"Because my thoughts couldn't be relayed over a regular phone line, I wanted them to be carried on the wind," Sasaki explained in an interview on Japanese television.
After the 2011 Tohoku earthquake caused a tsunami that killed more than 15,500 people, including over 1,200 people in Otsuchi, Sasaki opened his wind phone to the public so visitors could speak with their loved ones who had died in the disaster. Since then, more than 30,000 people have visited the wind phone and other wind phones have been installed around the world, including in Europe, the U.S., and Canada. The wind phone has also inspired books and films.
VIDEO: The phone booth that allows you to call lost relatives

The two wind phones at Ken Reid Conservation Area will be available for use year-round during regular park hours.
"We recognize the importance of mental health and the healing power of nature," says Kristie Virgoe, Kawartha Conservation's director of stewardship and conservation land, in a media release. "The wind phones provide a unique opportunity for visitors to connect with the natural world, reflect on their thoughts and feelings, and find solace in the wind."
Jack Veitch, manager of community engagement and education for the Canadian Mental Health Association, Haliburton, Kawartha, Pine Ridge, says the association is "delighted" to see wind phones introduced at Ken Reid Conservation Area.
Advertisement - content continues below
"Connecting with nature has been shown to have a positive impact on mental health, and the wind phones offer a unique way to do so," Vietch says. "We commend Kawartha Conservation for their commitment to promoting mental health and wellness."
In addition to the wind phones, Kawartha Conservation offers monthly forest therapy sessions at Ken Reid Conservation Area led by Virgoe, who is also a certified forest therapy guide. Studies have found that being in nature reduces stress and improves mood as well as cognitive function.
For more information about Kawartha Conservation, including upcoming forest therapy events at Ken Reid Conservation Area, visit www.kawarthaconservation.com.
VIDEO: Wind phone helps those who are grieving