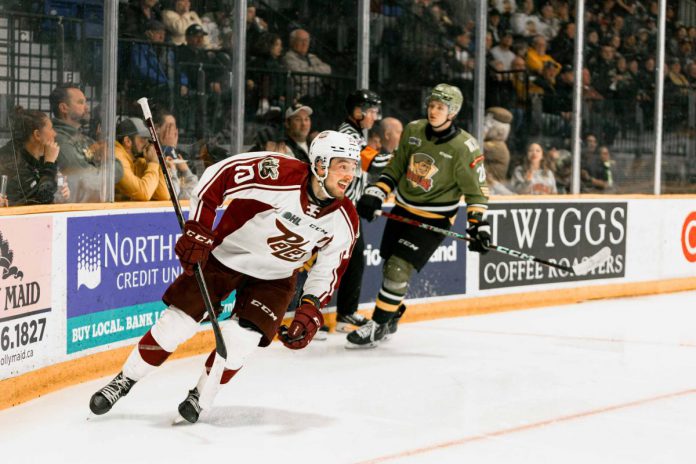 The Peterborough Petes captured the Eastern Conference championship in seven games on Monday night (May 8), defeating the North Bay Battalion 3-2 on their home turf in a closely fought match.
The Bobby Orr Trophy winners advance to the OHL final for the first time in 17 years to take on the London Knights — the same opponent the Petes swept in the 2006 OHL final to take home the J. Ross Robertson Cup.
At Monday night's game at North Bay Memorial Gardens, the Batallion's Josh Bloom opened the scoring in the first period. Owen Beck of the Petes tied it up in the second period before teammate Brennan Othmann also scored to gave the Petes a 2-1 lead, with a goal by North Bay's Liam Arnsby ending the second period in a tie.
Advertisement - content continues below
Selwyn native J.R. Avon broke the tie early in the third period to give the Petes a 3-2 lead, which they held to defeat North Bay. Goalie Michael Simpson stopped 22 of 24 shots for his 12th win of the playoffs.
The OHL final begins in London at 7 p.m. on Thursday (May 11) when the Petes face off against the Western Conference champion Knights.
Game two of the best-of-seven series will also take place in London on Saturday, with home games at the Peterborough Memorial Centre next Monday and Wednesday.
Your 2023 #OHL Eastern Conference Champions: the @PetesOHLhockey ?? pic.twitter.com/j9TAHbxTHc

— Ontario Hockey League (@OHLHockey) May 9, 2023