Looking up on a rainy day, you may see a blanket of grey enveloping Peterborough. From a cloud, a single raindrop can travel for kilometres before ending up somewhere familiar like our tap, garden hose, or laundry machine.
While the water cycle may be something that we learned at school, many of us forget about the vast and incredible journey each drop of water takes again and again.
As the GreenUP team finalized programming at the Peterborough Children's Water Festival, which returned this week to the Riverview Park and Zoo as an in-person festival for the first time since 2019, we have been thinking about water in creative ways that may even captivate your own inner child.
Advertisement - content continues below
Let's use our imagination to pretend we are single drops of water, travelling through the cycle. Where do we begin?
We are formed in that same grey cloud, a nimbus cloud, a cloud created through the process of condensation when water vapour, primarily from the oceans, rises into the atmosphere. We see more and more droplets just like us joining the cloud, making it bigger and bigger, until the prospect of precipitation is near.
Suddenly, without warning, we fall. As we parachute through the atmosphere, we look towards our destination: Nogojiwanong/Peterborough, the place at the end of the rapids.
Our excitement increases as we realize that the City of Peterborough and Peterborough County have over 15 watersheds that make up the greater water system. Where will we land? The Jackson watershed, perhaps, or the Harper Creek watershed? Or the Otonabee catchment?
We watch some of our droplet peers land, on farmland, on asphalt, some in wonderfully biodiverse pollinator gardens. Water droplets that land in areas without trees and root systems know they might end up as part of a flood. The droplets that land near a road accidentally pick up hitch-hiking pollutants like fertilizers and road salt. Together these droplets and their undesirable companions find their way into the watershed as we watch on.
We, however, are lucky enough to land as surface water in the Otonabee catchment, somewhere north of the Otonabee dam. Fortunately, we land directly in a rain garden! This garden was built by an empowered Peterborough resident specifically to absorb and naturally filter water. We are lucky to avoid collecting any runoff and sediment hitchhikers like our peers. We droplets are experts at carrying whatever we find through city storm sewer systems to local waterways.
Advertisement - content continues below
Flowing on, we absorb into the soil of the rain garden and slowly make our way into and down the Odenabe/Otonabee River. We pass threatened and endangered species such as brook trout, northern map turtles, and monarch butterflies. We pass more native species like shrubby red osier dogwood, ebony jewelwing damselfies, and amphibians like spring peepers, all of which are more common to us. We even pass a gaggling loon, laughing in joy at the sparkling river system!
As we approach the calm shoreline near the Riverview Park and Zoo, sheltered by willows and red cedar, we see some of our droplet peers collected by the Peterborough Water Treatment Plant, ready to flow out of community member's sprinklers, dishwashers, and showers.
It looks like we've reached our destination: the riverside home of a turtle nesting area near Riverview Park and Zoo. We are just within reach of the Peterborough Children's Water Festival, an annual celebration of all things water.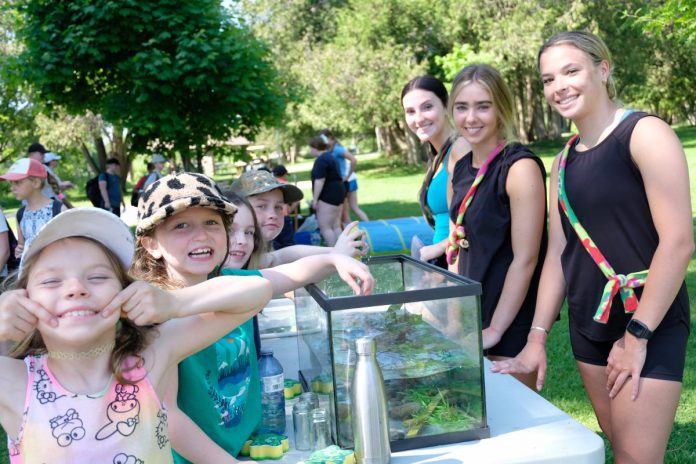 Around us, children are learning about cultural perspectives of water, or nibi in Anishinaabemowan.
As a water droplet, we feel celebrated and honoured.
At the festival, knowledge about water flows freely. Nibi is celebrated in all forms as children (and their trusted adults) learn about the human impact on water, whether it is through cultural perspectives, science and technology, and themes of protection and conservation.
Advertisement - content continues below
Soon, we droplets feel the pull of the warm weather and know that evaporation is coming. As we look up, we see a cloud forming, and know that we'll travel this journey again.
We water droplets grew old a long time ago, and have travelled this journey many times over, growing accustomed to the changes in health of the water system.
Fortunately, for the sake of the next generation, the community members of Peterborough, and the health of our waterways, we won't take for granted how precious the route of a water droplet is and know we will tell our tale for many more cycles.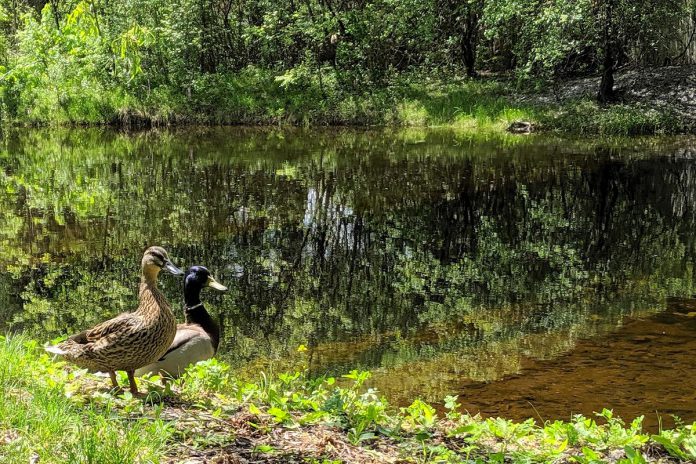 The Peterborough Children's Water Festival is a long-running event for students in Grades 2 to 5. This year, in 2023, the festival took place on May 30 and 31, with over 1,300 students participating from more than 45 classes at over 20 different schools. The festival works in partnership with educators, water quality and quantity specialists, community volunteers, conservation groups, industry, and government to inspire understanding and connection to water.
Member agencies of the festival's organizing committee include Peterborough Utilities Group, Riverview Park and Zoo, City of Peterborough, GreenUP, Otonabee Conservation, Trent University, Kawartha Pine Ridge District School Board, and Peterborough Northumberland Clarington Catholic District School Board, and Wayne Stiver. For more information, check out pcwf.net or contact Natalie Stephenson, Director of Programs at GreenUP at natalie.stephenson@greenup.on.ca.