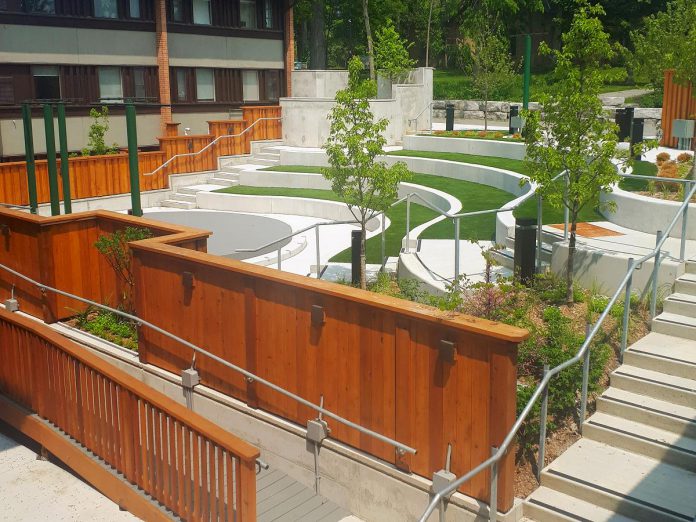 Peterborough's downtown has a new outdoor venue for performing arts as the Jalynn Bennett Amphitheatre officially opened on Wednesday (May 31) in the centre of Trent University's Catharine Parr Traill College.
The spirit of the venue is to bolster the relationship between the university and the City of Peterborough through increased collaborations and programming that brings local performers to the new stage.
With Traill College the only remaining original downtown college of Trent University, the amphitheatre's location symbolizes the original founding vision of Trent as a space for community building beyond the classroom.
Advertisement - content continues below
Tweet this quote
At Wednesday's grand opening celebration attended by around 100 people, Traill College principal Dr. Michael Eamon expanded on the significance of this symbolism and the history of Trent and the Traill campus.
"Almost 60 years ago, this is where Trent began, and it began because you the community wanted an institution of higher education — you the community wanted somewhere for students, your children, to learn and stay at Trent University," Eamon said. "Trent University became a space and community is so core to Traill. We are downtown, and it's this idea that we are still serving the community from being within the community."
With seating for 140 people, professional lighting, and carefully directed sound inspired by ancient Greek designs that contain acoustics, the new venue is nestled between Traill College's Ron Thom-designed Wallis Hall and Bagnani Hall designed by Lett Architects.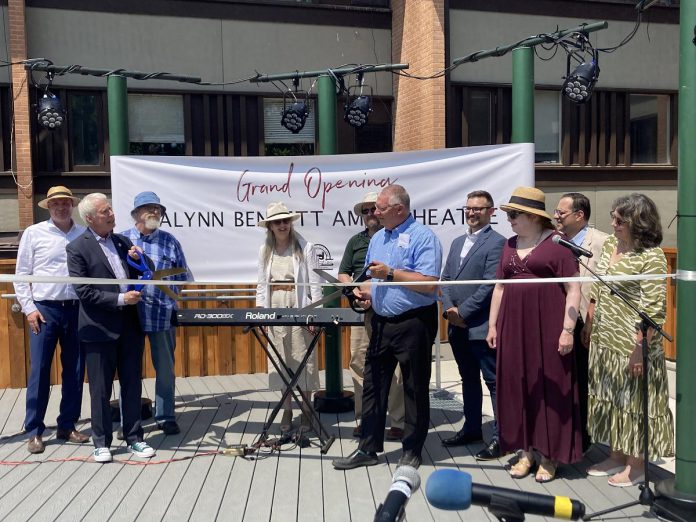 Continuing the tradition of the college, which features three centuries of architecture, the amphitheatre will be an important bridge between the city and the university and their respective arts and culture groups for years to come and aid in the preservation and continuity of the city's creative community.
Usage fees for using the site will also be waived for student, amateur, and non-profit groups who wish to make use of the venue.
"This is a space that's on the university land but really it is a space for the entire Peterborough community," said Trent University chancellor Stephen Stohn. "As Peterborough grows and thrives, Trent grows and thrives. And I think the reverse is true: as Trent grows and thrives so does Peterborough — we're joined at the hip."
Advertisement - content continues below
Tweet this quote
The amphitheatre is named after the late Jalynn Bennett, former chair of the Trent University board of governors, whose estate granted $1.13 million to the university in 2018 for "bold" projects. The venue's construction was also funded through the Federal Department of Heritage and a Canada Cultural Spaces Fund to the tune of $560,000.
The City of Peterborough also provided a grant of $50,000 for the project. In recognition of the city's contribution, deputy mayor Gary Baldwin — who started his academic career at Trent in 1976 and whose mother worked at Traill as a secretary for former college principal Nancy Sherouse — spoke about the amphitheatre's opening.
"The City of Peterborough is delighted to partner with Trent to bring this facility to our community," Baldwin said. "I look forward to learning about how Trent students use this facility for their work and their studies. This project meets a longstanding community need for an outdoor stage in our downtown."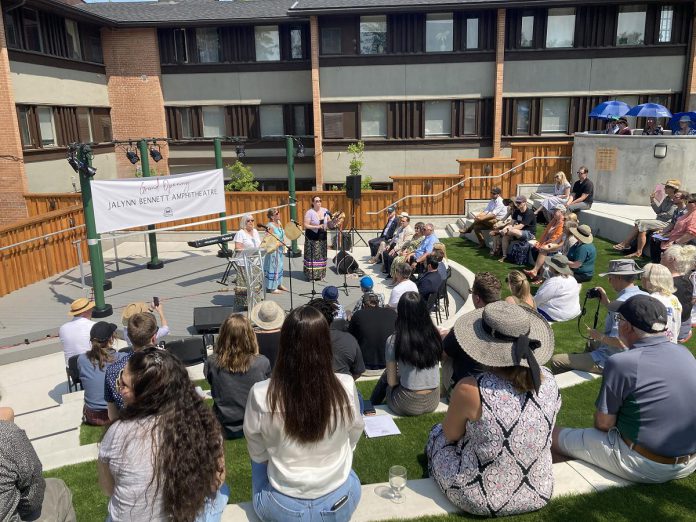 The project also received support from innumerable community groups and partners, including Theatre Trent, the Art Gallery of Peterborough, Public Energy Performing Arts, and the Nogojiwanong Indigenous Fringe Festival. Individual donors include Denis and Diana Desjardins, Gregory Piasetzki, and Laura Woods.
During the ceremony, Eamon recognized that the area formerly intended to be called the "President's Booth" has been renamed "Joe's Place" in honour of Anne Koenig's donation in honour of her father, Canadian filmmaker and philanthropist Joseph Koening.
Alongside speeches recognizing the long lists of donors and community partners, the ceremony included performances by local musical and theatre artists including Mary-Kate Edwards, Anthony Varahidis, Meghan Murphy, and Kate Suhr as well as 4th Line Theatre's Kim Blackwell and the drum and vocal group Unity.
Advertisement - content continues below
Edwards, who is an alumna of Trent and has recently moved to Montreal, provided an opening soundtrack for the ceremony by performing songs from her EP Blueberry Pie while audience members settled into their seats before the official opening remarks.
Unity, a drum and vocal group made of Brenda Maracle-O'Toole, Barb Rivett, and Heather Shpuniarsky, performed "Oklahoma Southern Sunny Song" which was appropriate given the sun and heat on Wednesday afternoon. Classically trained vocalist Anthony Varahidis performed a short set that included Bruce Cockburn's "Lovers In a Dangerous Time", Chris Isaac's "Wicked Game", and "Good Mother" by Jann Arden.
In honour of the location, Kim Blackwell and Megan Murphy of 4th Line Theatre performed a selection of scenes from the play The Moodie Traill written by Tim Etherington, Caron Garside, Susan Spicer, and Robert Winslow. The play is based on the lives of sisters Susanna Moodie and Catharine Parr Traill and their experiences coming to settle in the Peterborough area in the 1830s.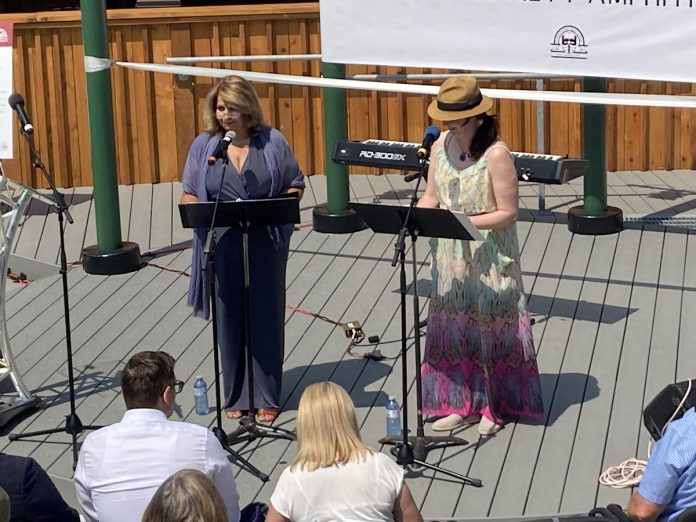 Following the performance, Eamon explained the significance of naming the college — which was Trent's all-female college until 1969 — after Traill.
"Catharine had one foot firmly in the arts and literature one foot firmly in the sciences and botany," Eamon said. "What a wonderful symbol (Traill College is for) Trent University. It's just a microcosm of the entire university here at Trent."
"We all know that Susanna Moodie was the grumpier one so I'm happy this is Catharine Parr Traill College, not Moodie College," he joked.
Advertisement - content continues below
Tweet this quote
Following a ribbon-cutting ceremony and remarks by Stohn, Megan Murphy and Kate Suhr featured a story and spoken-word piece about the origins of the name of their ongoing performance collaboration The Verandah Society, which they launched during the pandemic to perform to small audiences from porches, backyards, and verandahs in the tradition of Irish storytellers.
The Verandah Society is named after a story written by Murphy's great uncle Clare Galvin in his 1993 book My Town My Memories, where he describes growing up in Peterborough in the 1930s when it was common for neighbours to spend their summer evenings on their verandahs.
"A verandah doesn't have to be an actual verandah to have the spirit of a verandah," Murphy said. "This amphitheatre is a space intended to bring people together to share stories and to nibble on packed lunches and study for their exams and to bring community together and, yes, it's intended to give meaning to our lives. It is an amphitheatre space with the heart of a verandah, a forward-facing endeavour to encourage the age-old human need to connect."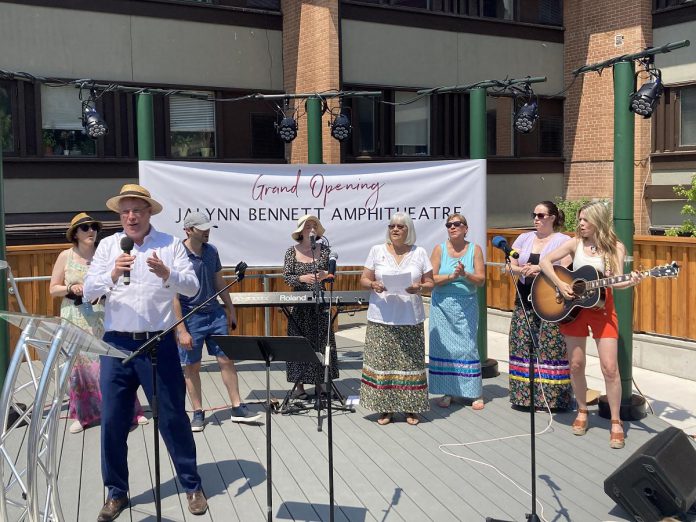 The event concluded with a rousing rendition of "Stand By Me" with all the performing artists and featuring Eamon on lead vocals, offering a reflection on the fact that Traill College is still a part of Trent, and that through this initiative Trent is still very much a part of Peterborough — both standing by each other thanks to those who stood by Traill.
With the Jalynn Bennett Amphitheatre now officially open, the venue will be hosting a wide array of theatrical productions, musical performances, and cultural experiences this summer.
A list of upcoming performances, ticket information, and more will be available at trentu.ca/amphitheatre.