The city's first homicide of this year brought Peterborough police chief Stuart Betts to the scene of the crime Friday afternoon (June 2) where he addressed the media and residents of the area.
According to Chief Betts, at 2:20 a.m. on Friday morning, police received a call reporting shots fired in the area of Wolfe and Aylmer streets in the vicinity of the homeless tent encampment. Upon arrival, officers found a 36-year-old woman suffering from "multiple gunshots." The woman was rushed to the Peterborough Regional Health Centre where she died from her injuries.
Chief Betts pledged an "all hands on deck" investigation into the shooting death of the woman.
Advertisement - content continues below
"We don't believe she is a resident of this particular location (the tent encampment)," said Chief Betts, adding "However, she is a resident here in our city who has lost her life. We speak for her and we will pursue justice."
"One homicide, one shooting, one death in our city is too many. We take this very seriously, which is why I felt it was important to come here today to address the community."
"We are appealing to anyone with information, regardless of how small or trivial you think it is, to please, if you want to report anonymously, do so through Crime Stoppers at 1-800-222-TIPS."
People can also submit an anonymous tip online at stopcrimehere.ca.
VIDEO: Peterborough police chief Stuart Betts on homicide investigation

In addition, those with information are urged to call the services' Criminal Investigation Bureau direct at 705-876-1122, extension 555.
"We're chasing down every possible lead," assured Chief Betts. "Every statement we take helps us paint a bigger picture of what it is that we're looking at. Right now we don't have a very clear idea of who the suspect is but we are working towards that."
Noting "It's too early to say" if the shooting was targeted or "a case of circumstance," Chief Betts says details around that will made public once determined. As for a suspect description, Chief Betts said that's still being put together.
"This took place in the middle of the night which makes it difficult to find any sort of visualization in terms of who that suspect may or may not be," Chief Betts added. "We don't know what the weapon was. A gun, for sure, but whether it was a handgun or a long gun is something we're also still working out."
Advertisement - content continues below
Addressing the fact that the shooting took place in a crowded area, Chief Betts said "It's very fortunate that nobody else was injured."
"I've made it clear that firearms in our community used in this way are a danger. Here we had somebody who was prepared to discharge a firearm multiple times, ultimately taking the life of a young woman. That puts everybody at risk."
As some residents of the neighbourhood in the vicinity of the tent encampment watched on and listened to Chief Betts, he emphasized that the lives of all Peterborough residents matter in the eyes of police.
"Here we have some folks behind us who find themselves homeless. Just as it's tragic when someone loses their life, it's tragic when someone has to live in this way."
"Our community is compassionate. Our community cares. What I heard from the residents here is a genuine desire to see these folks better off. How can they be safe as homeowners in this area but how can they contribute to the safety of those who are living here?"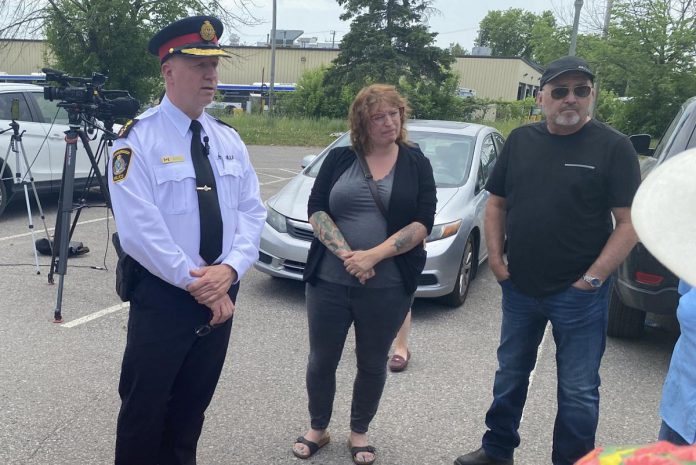 While acknowledging that the growing presence of illegal firearms in the city is disturbing, Chief Betts pointed to a bigger challenge.
"More concerning is the likelihood of more people that are prepared to use them. That's frightening. We are actively pursuing anyone who would perpetrate this kind of violence."
Peterborough Mayor Jeff Leal, meanwhile, issued a statement in the aftermath of the deadly shooting.
"Any violent crime is a concern and a tragedy," he wrote, noting "It (violent crime) happens in all areas of our community."
"People who are homeless, living in tents, are among the most vulnerable in our community and in our society. While police investigate the incident on Wolfe Street, the City will be offering support services for people in that area who are already faced with so many challenges in their lives."
"Tenting is unsafe and unhealthy. We encourage people who are experiencing homelessness to speak with outreach workers about available housing and shelter services. At the same time, we acknowledge some people are unable, or unwilling, to access those services and we're taking action to provide new services."
"Recently, Peterborough City Council approved a multi-component initiative to address individuals experiencing homelessness, to help get people on a better trajectory in their lives and to improve conditions for the broader neighbourhood."
Advertisement - content continues below
Sandy Hill is one of the residents of that neighbourhood, having lived on nearby Dalhousie Street for 57 years.
"I'm sorry that this has happened … I truly am," she said. "We have lots of campers behind us that are very nice people who really need help. This isn't the type of help they need. I have a lot of questions (about the Wolfe Street modular homes initiative). What do they do with the paraphernalia that's around their tents now? There's no room. People are people. They have to have their privacy."
For her part, Miriam Davidson, who also lives on Dalhousie Street, said "We were warned that a tragedy might happen and now it's happened. We're worried about the people in the encampment and we're worried about ourselves and our community. There are children. There are elders. There are families."
"There are also very vulnerable people here (in the encampment) who are not criminals, but there is a criminal element that has been terrorizing our neighbourhood over the last year or so. We've all had break-ins. We've all had vandalism. We've all had encounters that have not been positive. We're supportive of our more vulnerable neighbours. This is a different thing. This is ruining our neighbourhood."
Advertisement - content continues below
Leslie Woolcott, also a Dalhousie Street resident, said it's "a sad day," not only for the victim's family and friends but also for the neighbourhood "and for the broader Peterborough community."
"Homelessness is a much bigger issue than the block around Dalhousie Street," she said, adding "We have the opportunity to do something that's very innovative and responsible and helps to build connection."
"There has been violence, and unsafe situations and experiences, happening (here) for a number of months, if not years. It's a persistent, ongoing issue that needs to be addressed. It's more concentrated here but it's an issue we're all grappling with."
Prior to his remarks to the media, Chief Betts took a few minutes to speak directly with those area residents on hand. Woolcott said that "was helpful" but added "I would have hoped community policing would have reached and tried to set something up proactively that builds relationships prior to this happening."