Peterborough County sets the backdrop for a 'budding' new show on Bell Fibe TV1 that's all about flowers. On County Blooms, host Jen Pogue tours farms, gardens, shops, and studios across the county and gets expert tips and tricks on sustainable practices from local businesses.
At the end of each episode, Pogue, who is also the show's creator and co-producer, takes viewers back to her cottage home — lovingly called the "SunShack" — on Cordova Lake. There, she creates floral crafts using the techniques and practices taught by the businesses.
"It's a celebration of people who work in flowers and a spotlight on how they got their start and how they keep their businesses going — it spotlights their love and passion," Pogue explains, adding that the show is accessible for those who are just starting out.
Advertisement - content continues below
Tweet this quote
"Running a professional flower business is seriously hard work, which we talk about with our guests," Pogue adds. "But if you're curious to explore the art of floral design and crafting as a hobby it doesn't take much to start."
The show is a combination of interests for Pogue, who began her career in the entertainment industry in Toronto as an actor before later becoming a producer and production coordinator. At a time when she felt "burnt out" acting, she searched for something that would provide a sense of creative control. She became "enamored" with floral design and started freelancing for wedding and event companies.
"I can't imagine anything more romantic than just spending your days with beautiful blooms and sending them out to people and making people happy," she says.
VIDEO: "County Blooms" trailer

So when fellow producer Avi Federgreen suggested making a show about flowers, Pogue was immediately interested and began thinking about what that would look like.
Though she had initially pitched for County Blooms to be centred around flower lovers in Prince Edward County, Pogue was inspired by her move to Havelock from Toronto at the end of 2021 and decided to relocate the show's focus.
"I was really floored by the amount of farmers and farmers' markets that support sustainably minded people," Pogue recalls. "It's really amazing and inspirational to see and I think the more platform we can give to the amazing citizens of Peterborough that are doing this incredible work, the better. Everyone should be inspired by what people are trying to achieve here."
Advertisement - content continues below
Tweet this quote
The five businesses featured on the program span the county and include Heritage Blooms U Pick Farm and Rocky Meadows Lavender Farm in Norwood, Smells Like Flowers and Wildflower Bakery in Havelock, and Three Sisters Natural Landscapes in Peterborough.
From creating pollinator-friendly gardens, to using edible flowers in cooking, and designing eco-conscious arrangements for weddings and events, each business teaches County Bloom viewers something new.
Speaking to the wide selection of local businesses featured on the show, Pogue says she felt it important to explore all the ways one can work with blooms.
"The overall message is there is no one way to do anything," she explains. "This is a special spotlight on five different people who truly did build their dream businesses in very different ways. It's working for them and they're continuing to grow from there."
Extending the love for the arts beyond the designers and landscapers, County Blooms put out an open call to get music from independent artists, resulting in roughly a dozen new musicians from across Canada getting credits on the show.
Though it started as a celebration of flowers and a spotlight on local businesses, County Blooms eventually became a form of therapy for Pogue. Just four days after getting approval from Bell to go ahead with the show in February 2021, she was diagnosed with metastatic breast cancer.
Advertisement - content continues below
Tweet this quote
The show was delayed for a year as Pogue underwent chemotherapy and adjusted to weekly treatments. She explains that eventually deciding to move forward with its production is what got her out of "cancerland" — the term she gave to the state of "doom, despair, and sadness" she was in following the diagnosis.
"It's so strange how things can align in really terrible circumstances," says Pogue. "It had been the one thing all year where I'm like, 'I really want to make that show.' County Blooms was my little solace piece of work that kept me motivated and got me back at it. It showed me I do have the strength to do this. I can do this. I can continue to do what I love."
The thing Pogue hopes people take away from the show most is just how important it is to "celebrate the small things," something she learned while waiting to create County Blooms.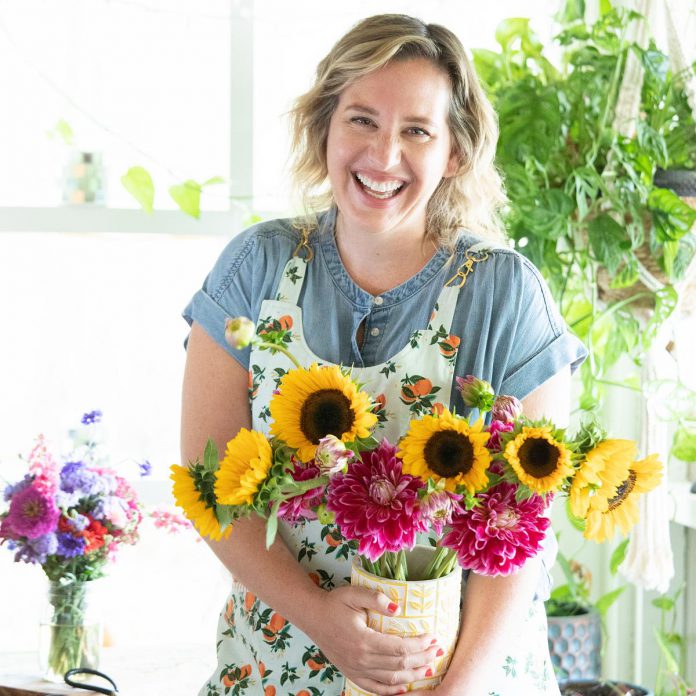 "One of life's biggest joys is doing our best and making sure that we take time to really enjoy what we love the most, and to follow our hearts and follow what calls to us. Because if not now, when?"
Pogue is optimistic that County Blooms will be renewed for a second season so she and her small team can showcase more of Peterborough County's flower lovers — she already has a list of businesses she hopes will get their time in the spotlight.
In the meantime, she'll be celebrating her recent entry into remission, while planning designs for upcoming weddings and putting together a keynote speech to present on behalf of Rethink Breast Cancer at the Canadian Breast Cancer Symposium in Toronto in June.
Advertisement - content continues below
Tweet this quote
"I'm looking forward to a nice flower-filled summer ahead and popping in on some of my flower friends in Peterborough County."
All five episodes of County Blooms are currently streaming on Bell Fibe TV1.
To learn more about Jen Pogue, visit www.jpoandco.com or follow her journey on Instagram and Facebook.