You can hear songs made famous by some of the world's greatest male singers when Globus Theatre brings The Crooner Show to the Lakeview Arts Barn in Bobcaygeon for seven performances from June 6 to 10.
Coming to Bobcaygeon from London, Ontario, The Crooner Show is a nostalgic journey featuring vocalists Rick Kish and Connor Boa performing hit songs by iconic crooners including Frank Sinatra, Dean Martin, Bing Crosby, Michael Bublé, Perry Como, Bobby Darin, and Johnny Cash.
You will hear Kish and Boa sing classic tunes such as "Mack The Knife", "Feeling Good", "I Left My Heart In San Francisco", "Beyond The Sea", "I Walk The Line", "That's Amore", "Witchcraft", "Love Me Tender", "Fly Me To The Moon", "Come Fly With Me", "My Way", and more.
Advertisement - content continues below
Tweet this quote
"We are not a tribute act — rather we are honouring the crooners who sang these songs," says Kish, who has created, produced, and performed in a variety of jazz, swing, and musical theatre shows for decades. "It's very intimate and brings the audience in to feel as if they're part of the show. We are thrilled to be bringing this show to Globus."
Artistic director of Link Theatre & Concerts in London, Kish has performed at the Grand Theatre in London, Huron County Playhouse, Drayton Festival Theatre, Port Stanley Festival Theatre, Blyth Festival Theatre, and Bluewater Summer Playhouse.
In 2019, Kish received the 2019 jazz vocal (solo/group) award from the Forest City London Music Awards, and was nominated for the same award again in 2020 and 2021. Both he and Connor Boa have been nominated as The Crooners for the 2023 jazz vocal award, which will be announced at the awards ceremony at London's Aeolian Hall on June 18.
VIDEO: "The Crooner Show" promo trailer

Boa, who has performed with Kish for almost 10 years, has appeared twice in the Link Theatre & Concerts productions Saucy Jack & the Space Vixens and JUDY: Stonewalled.
His credits with The Grand Theatre in London include Les Miserables, Hello Dolly, The Addams Family: A New Musical, My Fair Lady, Much Ado About Nothing, and Julius Caesar.
Kish and Boa are backed by the Nevin Campbell Trio featuring musical director Nevin Campbell on piano, Larry Ernewein on stand-up bass, and Sandy MacKay on drums and percussion.
Advertisement - content continues below
Campbell is a jazz pianist from London who graduated from the prestigious jazz performance program at Humber College and has studied with some of Canada's top jazz pianists including Dave Resitvo, Brian Dickinson, and Mark Eisenmann.
Having spent several years touring the world while performing on Holland America and Celebrity cruise ships, Campbell now performs regularly at local restaurants and music venues in the London area.
The rhythm section of the Nevin Campbell Trio features Larry Ernewein, who has spent more than 40 years touring Canada and the U.S. as a classic rock bassist, and Sandy MacKay, drummer for the Juno-nominated Oliver Whitehead Quintet, who has appeared at jazz festivals in Montreal, Ottawa, Toronto, and Detroit.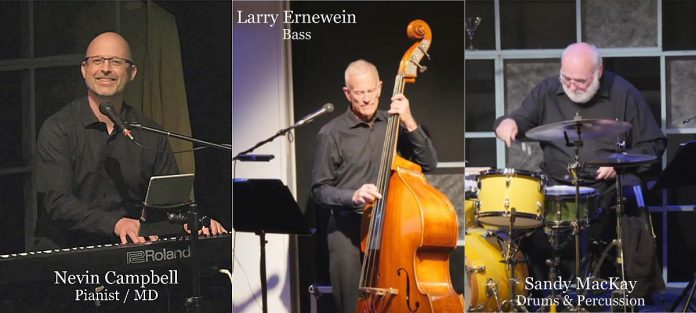 Sarah Quick, Globus Theatre's artistic director, says the Lakeview Arts Barn "is a great spot for a show like this" and is confident audiences will love The Crooner Show.
"The show premiered at Port Stanley Festival Theatre which has a similar vibe and audience demographic to Globus," Quick explains. "Audiences there have demanded The Crooners return again and again, so I thoroughly look forward to introducing our patrons here in Bobcaygeon to this wonderful night of great entertainment."
The Crooner Show runs at the Lakeview Arts Barn in Bobcaygeon at 8 p.m. from Tuesday, June 6th to Saturday, June 10th, with additional 2 p.m. matinee performances on Thursday and Saturday. An optional dinner is available before the evening performances at 6 p.m. Tickets are $45 for the show only, or $90 for dinner and the show, and are available by calling the Globus Theatre box office at 705-738-2037 or online at globustheatre.com.