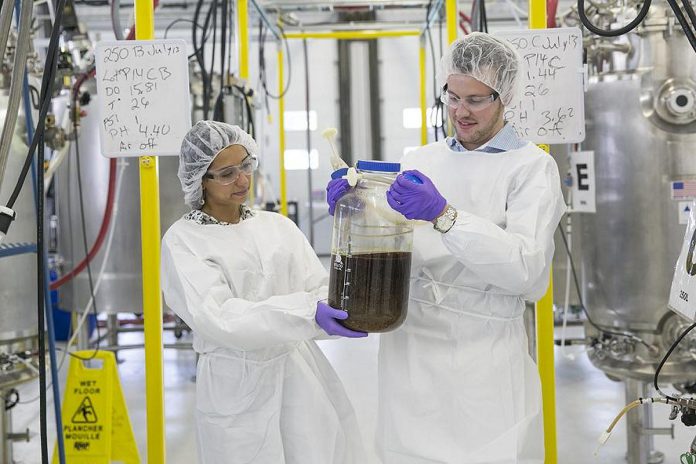 Peterborough biotech startup Noblegen has been acquired by an American company and will operate under the name Solar Biotech Canada.
Solar Biotech Inc., a provider of biomanufacturing solutions based in Norton, Virginia, announced the acquisition on Tuesday (July 25).
Noblegen makes nutritious and functional proteins, carbohydrates, and oils from a single microorganism called Euglena gracilis. The company's proprietary fermentation technology enables it to produce these ingredients with minimal water and land use as well as a reduced carbon footprint compared to the manufacturing of traditional ingredients.
Advertisement - content continues below
The idea behind Noblegen came from a science fair project by Adam Noble, who was studying how certain types of algae could be used to treat waste water, while he was in high school in Lakefield. Noblegen was founded in 2013 as Noble Tech Inc., with Noble the CEO and board chair.
With Solar Biotech's acquisition, Noblegen will now operate as Solar Biotech's food-grade-certified biomanufacturing and research and development hub in Canada. Solar Biotech CEO Alex Berlin will become the board chair.
"This is a significant step forward for Solar Biotech and its industrial partners since it immediately brings online much-needed capacity and expertise in the biomanufacturing industry," Berlin says in a media release. "We are bringing together two innovative companies with complementary intellectual property portfolios and sector experience that will help us make a lasting impact on the world."
Advertisement - content continues below
In 2019, Noblegen secured $25 million in Series B private investment financing. Following a successful Series A funding round in 2016, bringing its total funding at the time to $42.5 million.
According to the media release, "Solar Biotech Canada plans to leverage government support to further develop its industrial site and highly qualified team" at its Peterborough biomanufacturing facility, which "comprises a fully equipped biomanufacturing hub with a total nominal capacity of over 160,000 litres of upstream precision fermentation and extensive downstream processing equipment, including spray- and freeze-drying, and innovation and analytical labs based at Trent University."
No details were released as to whether Adam Noble will stay on as CEO of Solar Biotech Canada. No financial terms of Solar Biotech Inc.'s acquisition of Noblegen were disclosed.