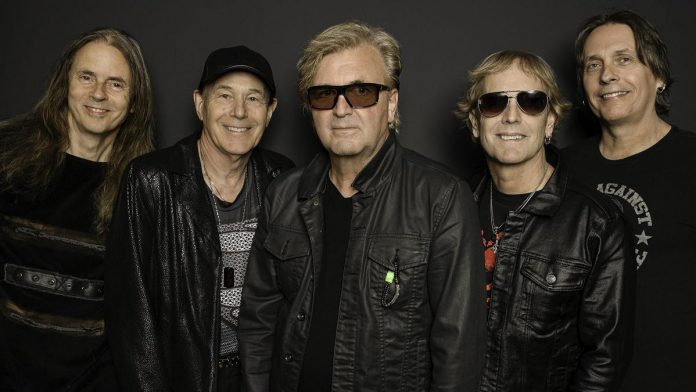 If it's classic Canadian rock you want, it's classic Canadian rock you'll get, and who better to deliver the goods than Honeymoon Suite — a band that has been rocking it hard for more than four decades.
Full evidence that the honeymoon is far from over can be seen in the quintet's 2023 touring schedule; a raucous road show that's bringing the band to venues across Canada and points south. Yes, for sure Honeymoon Suite's hit making hey-day is well in its rear-view mirror, but there's still a fair amount of gas in the tank.
Classic Canadian rock's long relationship with Peterborough Musicfest continues on Wednesday (August 2) as Honeymoon Suite, led by founding members Johnnie Dee and Derry Grehan, hits the stage at Del Crary Park. Admission to the 8 p.m. concert, as always, is free.
Advertisement - content continues below
Formed in Niagara Falls in 1981 — the band's name is a nod to that city's historically rooted honeymoon capital of the world status — Honeymoon Suite started out as trio with Dee in the mix as guitarist and lead vocalist. Two years later, when lead guitarist Derry Grehan and drummer Dave Betts came on board, good things started to happen and in quick order.
Anchored by the Grehan-written single "New Girl Now" that reached number 23 on the Canadian charts and the top 50 in the U.S., the band's 1984 self-titled debut album turned heads in a big way, ultimately producing three more singles in "Burning In Love," "Wave Babies," and "Stay In The Light."
Honeymoon Suite capitalized quickly on that initial commercial success, releasing the follow-up album The Big Prize in 1986 and scoring a top 20 Canadian hit with "Feel It Again."
VIDEO: "New Girl Now" – Honeymoon Suite

Nominated as Most Promising Group at the 1984 Juno Awards, and shortlisted again in the Group of the Year and Album of the Year categories the following year. Honeymoon Suite received its due in 1986, taking home the Group of the Year statue.
Two albums — Racing After Midnight (1986) and Monsters Under The Bed (1991) — followed the band's initial success, the former giving the band another high-charting single in "Love Changes Everything" along with the tune "Lethal Weapon," which was the uncredited title song of the 1987 hit buddy cop film of the same name starring Mel Gibson and Danny Glover (the song plays over the closing credits).
There things sat until 2001 when Lemon Tongue was released, giving full evidence that Honeymoon Suite was still with us and still producing. Clifton Hill followed in 2008 and, in 2016, the nine-track EP Hands Up brought fans of the band their first new music in eight years.
Advertisement - content continues below
As one would expect of any band that has travelled such a long road, personnel changes have numbered several, with lots of movement in and out, but Honeymoon Suite will arrive in Peterborough with original members Dee, Grehan, and Betts on board, joined by mainstays Gary Lalonde (bass) and Peter Nunn (keyboards).
Proving that perseverance pays off, the band's most recent single, Find What You're Looking For, which was released over the summer, burst into the top-40 charts across Ca
Following the summer 2020 release of the single "Find What You're Looking For," which hit the top 40 charts across Canada, Grehan — who has remained Honeymoon Suite's principal songwriter since that first hit "New Girl Now" — chatted with Mark Dean of Scholastic Perspectives.
VIDEO: "Stay in the Light" – Honeymoon Suite

"I think it's just great songs," said Grehan of the driver behind the band's staying power.
"When the nineties came along and killed off all the bands from the eighties, (the music) went much darker and more depressing for a while. I wasn't a fan of nineties music for the most part. I think at some point people just wanted to have a good time and hear melodic rock."
"You've got bands like Journey and Def Leppard that, in some respects, are doing better now than back in the day because it's all the music … the great songs that they have. They never get old and they've gained a new generation of younger fans because it's great music that makes you feel good."
Advertisement - content continues below
Speaking to the band's personnel changes, Grehan is delighted to be back at it with Dee et al, acknowledging that "while we're two very different people," Grehan has "a good working relationship" with the band's front man.
"With the music, we butt heads, but at the end of the day, this Honeymoon Suite thing is working for us. We're still having fun with it. We press on and keep making music because we've got fans."
Saying "the passion never goes away, Grehan described himself as a "lifer."
VIDEO: "Feel It Again" – Honeymoon Suite

"As far as Honeymoon Suite goes, there's no date on when we're going to end this thing. You just keep things going as long as it's fun, as long as we have that fan base. We're pretty lucky, after all this time, to be alive and still putting new music out."
Dee, meanwhile, assures the band's fans that "there's no hidden agenda" in Honeymoon Suite's newer music.
"We just want to make great songs," he told Jim Barber during a September 2020 interview in Music Life Magazine.
Advertisement - content continues below
"We listen to what we've done in the past and it's just an extension of that," Dee said. "There's no one saying 'We've got to try this or try that to sound current.' It's just what comes out naturally. It's what we've learned over the years."
Overseen by general manager Tracey Randall and staff, a board of directors, and numerous volunteers, Peterborough Musicfest's stated mission remains "to provide diverse, affordable live music to enrich cultural and economic prosperity in our community."
For more information on this concert and the entire 2023 season, visit www.ptbomusicfest.ca or phone the Peterborough Musicfest office at 705-755-1111.
VIDEO: "Tell Me What You Want" – Honeymoon Suite

kawarthaNOW is proud to be a headline sponsor of Peterborough Musicfest's 2023 season.