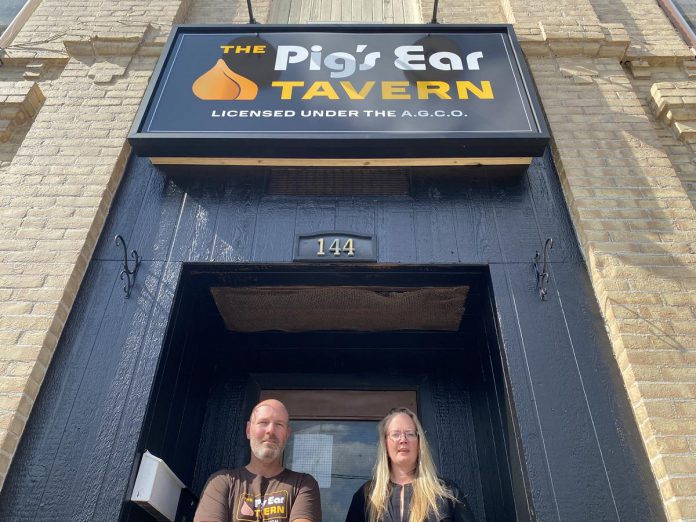 Assuming that walls can talk, the conversation is on the cusp of becoming very interesting again at 144 Brock Street in downtown Peterborough.
With its closure in April 2017 upon the retirement of longtime owners John and Lylie Punter, The Pig's Ear Tavern — walls and all — has been eerily quiet since.
That will change in a big way come the fall when the pub reopens under the same name, its interior looking very much the same as former patrons affectionately remember it.
Advertisement - content continues below
Tweet this quote
Purchased in October 2022 by former Trent University students Steve Robertson and Ashley Holmes, with help from two investors, their plan is simple: retain the worn but comfortable look and feel of the pub with the exception of a few needed upgrades.
For Holmes, who will manage the day-to-day operation of the pub, this undertaking is personal. For some 10 years, she worked at The Pig's Ear, including working shifts over the last four days it was open in 2017.
"We're doing this because of what it was," she says. "We're not going to mess with things. We want to replicate everything we can as close to what it looked like before."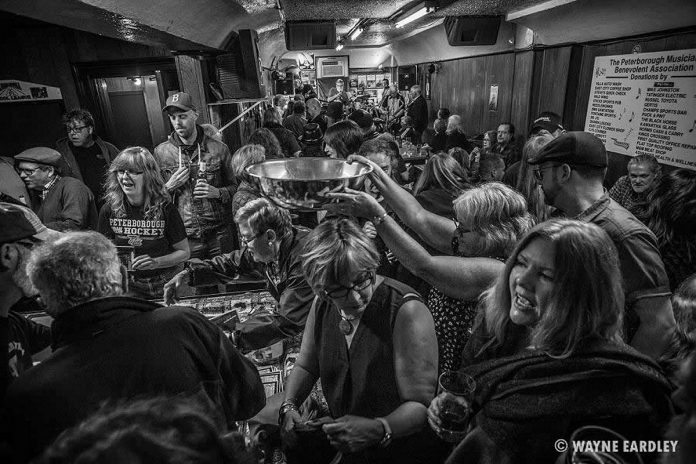 Robertson, who will handle the business side of the venture and support Holmes as needed, echoes that vision, using the term "restore" to best describe their bringing The Pig's Ear back to life.
"When people walk in the door, we want them to think 'Oh my goodness, you haven't changed a single thing'," he says. "Even though we've put a lot of effort into making it the way it was, we've made a couple of noticeable small changes, one being the washrooms, which have been upgraded. For the most part, it will feel exactly the way it did before."
It was during the 2022 Head of the Trent Regatta, which is held annually as part of Trent University's homecoming weekend, that the seeds of the pub's rebirth were planted. Prior to the regatta, with which she was involved, Holmes was aware the building was listed for sale "for a very good price."
"I was joking with friends and other alumni in the beer garden," she recalls. "I said 'Hey, we should buy this and I'll move back here and run it … ha ha ha.' I called them on it the next day. Steve was like 'Yes, I'm interested.' By the following Friday, we had an offer in to buy it."
Advertisement - content continues below
Tweet this quote
Although both Holmes and Robertson attended Trent — she was a business administration student from 2006 to 2011 and he graduated with a psychology degree in 1997 — they had never met prior to that homecoming weekend. Now they're partners.
"The building itself we bought with two investors who were contacts of mine," says Robertson. "That includes the residential units upstairs, the bar itself, and the parking lot that wraps around building from Brock to George Street. And then, separately, Ashley and I put in money to rebuild and reinvest in the bar."
"We didn't have to buy the name (The Pig's Ear Tavern) because it was closed," notes Holmes, adding the former owners "John and Lylie (Punter) have supported us in doing this. They're passing the torch to us but six years later."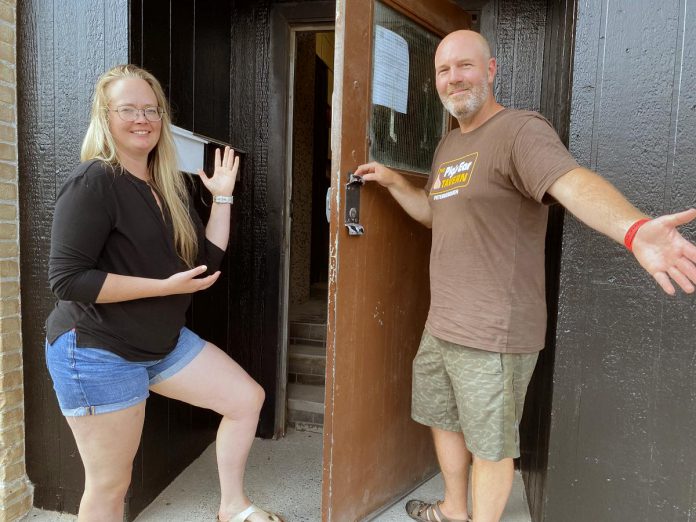 With their purchase of The Pig's Ear, Robertson and Holmes are doing much more than providing new life to what was a beloved downtown watering hole. They are reviving a historic landmark.
Opened in 1865 as the St. Maurice Saloon, the pub survived a major fire in the 1930s that reduced it to a three-storey building from its original four-storey footprint. It has had 13 owners prior to now, the Punters having purchased it in 2000 before calling it a day 17 years later and selling the property to Parkview Homes.
For whatever reason, Parkview Homes didn't go ahead with a planned residential development at the site, ultimately putting the property back on the market in 2020. There things sat until Holmes and Robertson et al took the plunge last fall.
Advertisement - content continues below
Tweet this quote
Known affectionately by many over the years as The Piggy, the pub was home to live music, its small stage graced by countless local and touring musicians. And there were pig-named events like Pingo and Karaoinke and Punter-hosted trivia nights, all of which combined to make The Pig's Ear decidedly different from other local bars.
The plan, says Holmes, is to re-introduce those events at some point.
Another well-worn tradition was the pub's display of anything pig-related that was brought in by patrons. That, adds Holmes, will be welcomed once again.
"John and Lylie have given us our first pig memento. They brought it from Mexico. It's wicker, it's multi coloured, and it's really cute."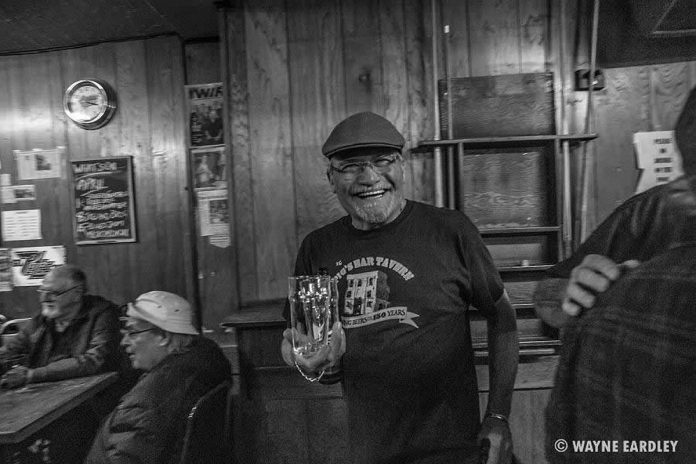 Long gone are the wooden tables engraved with the name and initials of patrons that were auctioned off in 2017, begging the question what bar owner in their right mind would allow patrons to take a pen knife to their furniture? Well, no worries there.
"Yes, that will be allowed — it's part of the experience," says Robertson.
Now, as the second coming of The Pig's Ear nears, both Holmes and Robertson are anxious to welcome both new and returning patrons.
"We love this place and what it was," says Holmes. "Will people love it in the same way? Will people feel the same way when they walk in here? It's a feeling. You can't really explain it."
"We want to be successful, of course, but my interest is more heavily weighted toward giving it back to the community," she adds. "For me, success is seeing the reaction we get and the enjoyment that people get out of it being back."
Advertisement - content continues below
Tweet this quote
For his part, Robertson is "mostly keen to see the look on people's faces when they walk in the door."
"I think we'll be overwhelmed with the response for six to 12 months. Our job will be how to bring in new clientele. We've missed an entire cohort of university and college students. How do we re-establish that relationship with the schools and with newcomers to the community and bring them in?"
"There seems to be a pretty vibrant life to the bars that are still here. Jethro's (on Hunter Street) seems to be very busy — they found a real niche for themselves," he notes. "I think our niche is going to be what The Pig's Ear always was: a comfortable watering hole that people want to go to and meet friends and reconnect."
Tweet this quote
"I think the younger generation really like the nostalgia — they like kitsch," Robertson reflects. "They'll find a place like this to be really cool and fun because it's not like the other places. It's not a dance club. We've got lots of dance clubs in town. There's only one Pig's Ear. I'm pretty keen to get this off the ground."
Holmes, meanwhile, is trying to keep her emotions in check.
"When we're open, I'll be more excited," she says. "It will be a wild ride. It is already, but it'll be crazy."
While there's no firm date as of yet for when The Pig's Ear will open, Holmes says September is still being targeted, pending the approval and granting of the required liquor licence.