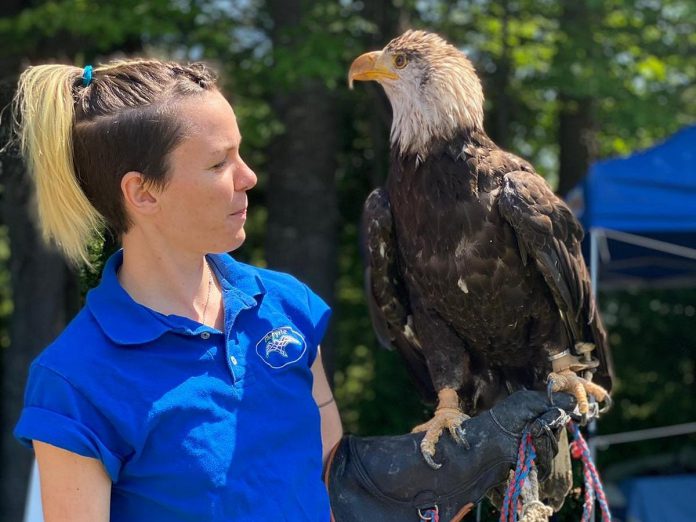 If you look to the trees and the sky, you'll notice the Kawarthas is home to a vast array of raptor species. Husband-and-wife team Matthew and Kristin Morgan have made it their calling to educate people on these birds of prey and now, through their business The Eyrie, that's exactly what they're doing.
Founded in 2019, The Eyrie — which is named after the term for a raptor's nest — is a birds of prey facility located near Apsley in North Kawartha. The Morgans currently have 23 raptors covering 10 different species, including a saker falcon, American kestrel, bald eagle, black vulture, Harris's hawk, and — their newest team member — a Eurasian eagle-owl just named Echo.
While the couple provide commercial pest control services, using their raptors and dog to control nuisance animals like gulls and geese, and also offer on-site demonstrations and photography sessions, their primary focus is going into schools, libraries, fairs, festivals, and museums to provide raptor demonstrations and share their knowledge with the public.
Advertisement - content continues below
Tweet this quote
"We primarily focus on educational outreach, teaching the importance of conservation, how raptors fit into the natural world, and how we as humans can be better stewards of the environment that we all share together," says Matthew.
Matthew says he's wanted to work with hawks and falcons for as long as he can remember. But if he had to pinpoint a moment of discovery, he would attribute it to one of the many trips to the Toronto Zoo he made as a child growing up in Toronto. He recalls watching the zoo's birds of prey show and he was immediately captivated by the way the birds interacted with their human counterparts.
"Pretty much every other form of animal demonstration had a form of control — whether it's in an arena or the animals have some kind of a screen on them, there's some kind of control," he explains. "But when you're flying these birds, there is absolutely nothing to stop them if they feel like taking off. The fact the birds not only stick around but are eager and willing participants in it, to me kind of shines a bit of a different light on human-animal partnerships."
Matthew, who learned the basics of raptor training while attending Trent University for environmental studies, has been training birds of prey for 13 years alongside his wife Kristin, who studied eco-tourism at Fanshawe College while she also learned about raptor training when travelling across western Canada. Now the couple have travelled across the country to help educate people.
"We just try and get as much information into people as we can, talking about the bird's biology, their physiology, their behaviours, their ecosystems and habitats," explains Matthew. "And we talk about the relationship between raptors and humans because there's pretty much no animal out there that doesn't have some kind of an interaction with humans."
According to Matthew, roughly 70 to 85 per cent of raptors do not make it through their first year of life or through their first winter. Those who do survive then face challenges caused by humans, including poisoning through rodenticide, getting hit by cars, and flying into windows.
"It's really tough to be a bird of prey," Matthew notes. "We found that human developments and advancement, while necessary, do have an impact on these animals."
Advertisement - content continues below
Tweet this quote
A major aspect to their educational efforts involves correcting the misconceptions that a lot of people have about raptors, including that they are vicious and "bloodthirsty" creatures.
"We try to replace a lot of those misconceptions with cool and interesting facts about them," says Matthew. "We want to give people a new appreciation for the animals they're finding in their own backyards."
As an example, Matthew points out that vultures have one of the worst reputations but, after The Eyrie brings their black vulture Lilith out to demonstrations, people will often walk away saying vultures are their new favourite bird.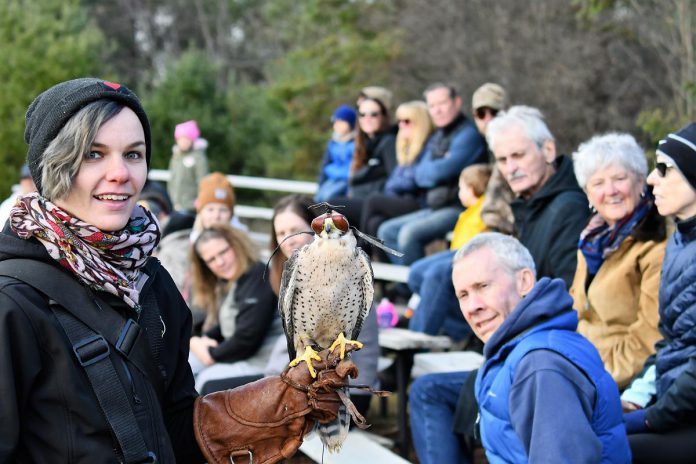 Last year, The Eyrie began adding on-site demonstrations to their programming after pandemic restrictions made the Morgans realize they may not always be able to travel. They now have demonstrations in their facility a few times per month, on top of the photography sessions they added this spring.
During the two-hour sessions at The Eyrie, photographers can watch and photograph raptors in a much more accessible space than in the wild.
"So many photographers want to go out and take photos of (raptors) in the wild, and that's the best place to do it," Matthew says, adding that Kristin is more the photographer in their relationship. "But it's not exactly easy, especially for a shot of a raptor in flight. You get one chance and it's almost never (flying) towards you. So this is both a good way for them to get some of those shots that they would love for their collection and also just to practice and to learn more."
Advertisement - content continues below
Tweet this quote
In the winter, The Eyrie hosts "owl prowls" where the Morgans take visitors out on their 50 acres of woodland in search of wild owls. As vocal birds, owls respond to calls, so Matthew and Kristin use a non-invasive approach of calling to attract them to make an appearance to the group.
Just as he recognized at Toronto Zoo all those years ago, Matthew feels it important the owls are willing participants in the demonstrations.
"It puts everything in the owls' court, so if the owls want to come up to us they can, and if they don't want to come up to us, that's okay. It's all voluntary in terms of what the owls do."
The Eyrie puts on the owl prowls throughout January and February during owl breeding season, as that's when they're most responsive.
While the Morgans continues to add new programming at The Eyrie to further educate people about birds of prey, they are constantly working towards their ultimate goal: turning their space into a rehabilitation facility for raptors, where they would be able to take in injured, sick, or orphaned raptors to help them recover and transition back to life in the wild.
In a perfect world, Matthew says, there wouldn't be a need for a rehabilitation centres. Although educating people can reduce the need for such centres, there will also be raptors that need help.
"We see this as a way of helping to give back to the wild counterparts, because that's what drew us in the first place — seeing these animals in the wild. If we can help give back to the animals that have given so much to us, I think that's a pretty worthwhile use of our time and resources."
Advertisement - content continues below
Tweet this quote
Until they can run their own rehabilitation centre, the couple are constantly working with others to help recover, assess, triage, stabilize and prepare injured birds of prey to re-enter the wild.
"If someone does find a bird of prey, they can absolutely give us a call," assures Matthew.
While continuing their educational outreach, Matthew says he and his wife are constantly discovering a new appreciation for the birds they work with.
"The more I learned about them and the more I still learn about them, the more I get fascinated with them," Matthew says. "I'm just trying to be the same spark for someone that someone else was, for me."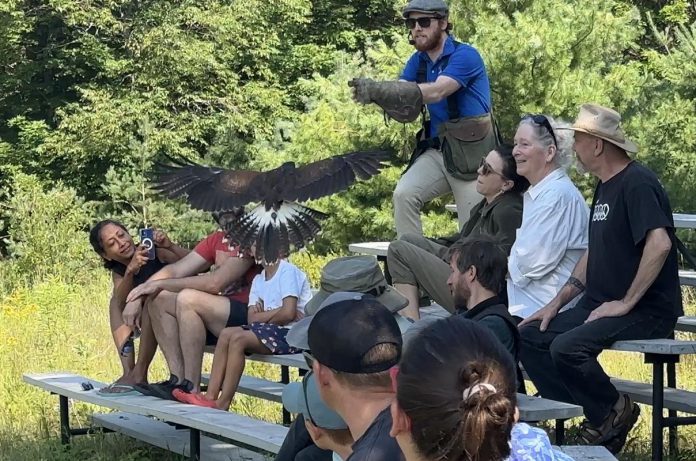 The Eyrie can be found at 922 County Road 504, North Kawartha, where upcoming on-site demonstrations take place at 10:30 a.m. on Sunday, August 13th and again at the same time on Sunday, August 27th. Each outdoor demonstration runs for about an hour and costs $12 ($10 for children 3 to 10 and free for children 2 and under). Participants are asked to arrive at least 30 minutes before the session and to leave their pets at home.
There are also two public photography sessions on the same two dates, where photographers have the opportunity to capture images of a number of raptors, both static and in flight, in natural settings. The two-hour sessions begin at 1 p.m. and are capped at 12 participants. The cost is $65 plus HST per participant.
For more information about The Eyrie and to book a spot at a demonstration or photography session, visit www.theeyrie.ca or follow them on Facebook and Instagram.