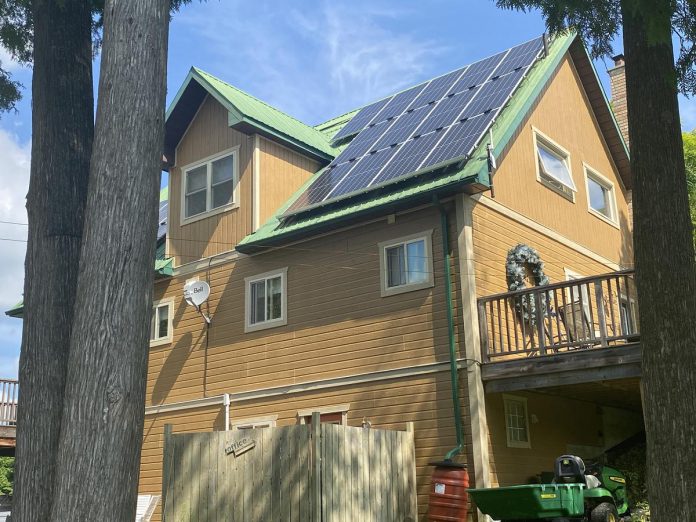 Converting to green energy, in whole or in part, is a daunting prospect for any business but, with the will to do so aided by financial assistance made available, it can be done.
A shining example of that was heralded on Wednesday (August 16) at Lake Edge Cottages, a 12.5-acre resort property on Katchewanooka Lake just south of Young's Point that is home to 110 solar panels on the roofs of three structures, including a newly constructed storage building.
With resort owners Steve and Anne Wildfong as their hosts, local tourism officials and representatives of green energy-related agencies learned how the solar panels, installed by Peterborough-based Generation Solar and online since late January, are reducing the resort's reliance on hydro-generated electricity while lessening the resort's impact on the environment it so relies on.
Advertisement - content continues below
Tweet this quote
The solar panels, installed with the help of a contribution of over $85,000 from the Federal Economic Development Agency for Southern Ontario (FedDev Ontario), speak to the Wildfongs' continued commitment to reduce the decades-old resort's carbon footprint with a firm eye on a more sustainable future.
Having acquired the four-season resort in 2019 from long-time owners Peter and Pam Fischer, the Wildfongs "chose sustainability because it was good for the business, it was good for the community and it was good for the environment," related Steve.
"It allows Hydro One, on (sunny) days like this when we're producing double what we actually need to use, to take that excess energy and share it with the rest of the community, taking stress off the grid. When the sun goes down, we draw from the hydro grid."
"At the end of the month, we get a bill from Hydro One that costs us very little to stay connected to the grid while they show the bank of excess energy we gave them over what we use. We can use that for our cooler months, and in the winter when the panels are snow covered, or on a cloudy day when we're not producing as much as we normally would."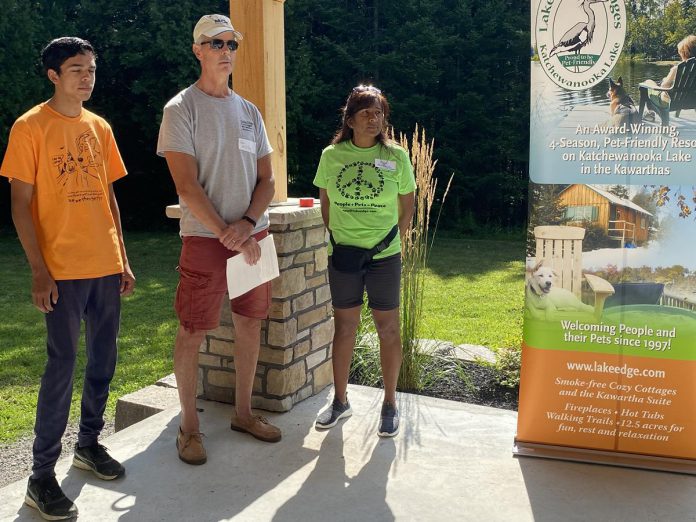 Among those on hand for the presentation and tour of the property was Joe Rees, tourism director with Peterborough and the Kawarthas Economic Development (PKED).
"Our future-ready plan is to try and be the most innovative and sustainable community and economy in Ontario," he said. "These are the kind of projects that will help us get there."
Later, Rees noted there's a domino effect when one business leads the way, potentially inspiring other business owners and operators to seriously think green and take related steps that will reduce their business's carbon footprint.
"This investment in technology is allowing him (Steve) to offset costs and become more of a year-round business, and that's really a goal for whole region," said Rees. "If we can take advantage of technology, increase sustainability from the environmental perspective, increase sustainability from the business perspective, and inspire other businesses to be year-round, that's critical for us, as a region, to be more prosperous."
Advertisement - content continues below
Tweet this quote
Another enthused invitee was Tegan Moss, executive director of Peterborough GreenUP. She acknowledged that energy saving and conserving initiatives on this scale aren't cheap to carry out.
"That's one of the things, through the Green Economy Peterborough program, we're really trying to help illustrate — that the cost of doing business isn't always where you think it may be," she said.
Lake Edge Cottages is a member of Green Economy Peterborough, a networking initiative that helps business members to identify, set, and achieve sustainability goals while improving their bottom line.
"Through our emissions inventory, we're able to help businesses understand what their actual (energy) costs are and what the savings might be through green investment. If you want to make a case for investment, look at the rising cost of fossil fuels projected over the next five years and then compare what it might be like to get energy produced from other sources."
"There's a pretty strong business case for making an investment in renewable energy. Taking a step back and seeing successful businesses like this (Lake Edge Cottages) is what we're inviting people into to."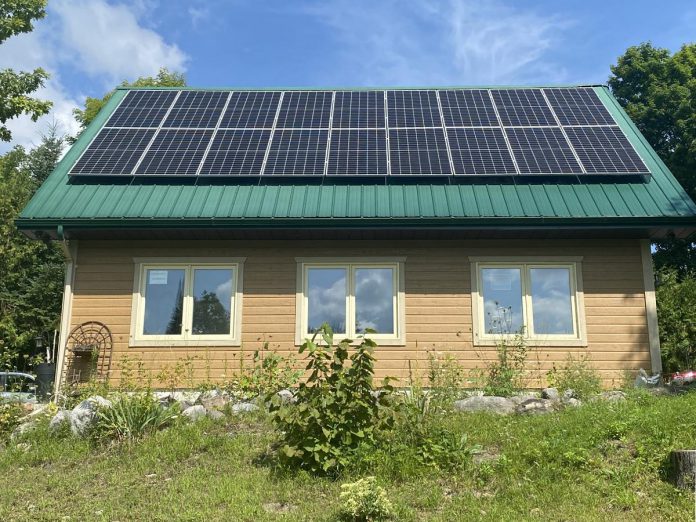 Meanwhile, Jackie Donaldson, hub coordinator for Green Economy Peterborough, said the Wildfongs' initiative is a model example of what can be done. She agreed there's a wider benefit to the business community at large.
"Business owners are watching each other, they are inspired by each other, and they're asking each other questions," she said. "When we have people like Steve and Anne sharing their experience, more and more businesses become interested in taking that step. We can feel that at Green Economy Peterborough. People come to us and say 'I want to be a part of this. I just need to learn from my peers.'"
Steve, for his part, is more than willing to share, inviting any business owner looking to invest in green technology to drop by and learn more about Lake Edge Cottages' experience, and the up-front costs versus the potential savings.
Advertisement - content continues below
Tweet this quote
Meanwhile, those who think this was financially painless for the Wildfongs to undertake thanks to the contributed federal money should stop and consider one thing.
"It wasn't just Generation Solar involved," noted Steve. "Hydro One replaced our transformers at their own cost because they were old. They replaced the wires because they were old. If you take Hydro One and Generation Solar, it was about $170,000 in costs."
Add to that, he explained, a new utility building and adjoining deck for guests that cost $200,000. Clearly the FedDev Ontario contribution helped, but the Wildfongs bore a substantial expense.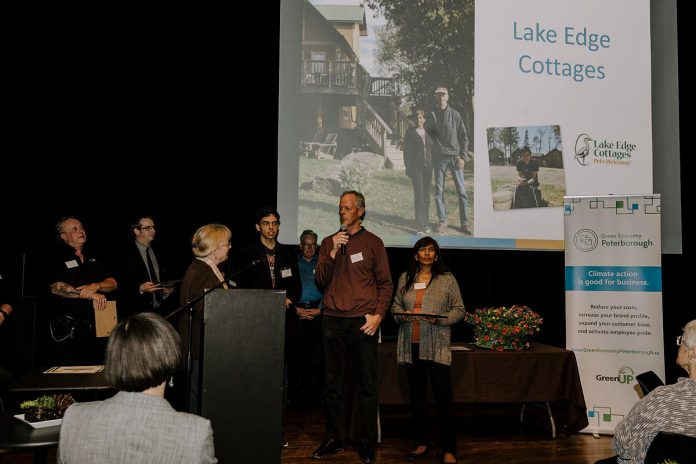 Now Steve is thinking beyond the solar panels installation, considering new green energy-related initiatives for down the road — a plan already well underway with the addition of an electric vehicle charger on site that resort guests have access to free of charge.
"Over the winter, we're going to add, to the cottages that currently use gas, electric oil heaters that work on a thermostat, so we're going to reduce our fossil fuel use," Steve said. "I'd like to be able to cut that in half."
Also on the horizon is replacing the resort's gas-powered pickup truck with an electric model.
As a Green Economy Peterborough member, Lake Edge Cottages was honoured for its sound sustainability practices at Peterborough GreenUP's annual awards ceremony in May.