Want to go for a hike or a paddle while enjoying the stunning fall colours of Ontario's largest provincial park but without the crowds and battling for parking spots?
You might be surprised to learn there's another entrance to Algonquin Provincial Park aside from the bustling East and West Gates — and it's a lot quieter and closer than you'd think.
Affectionately called "Algonquin's panhandle" for its location as the narrow strip below the rectangular shape of the park on a map, Algonquin's southern entrance is located near the hamlet of Harcourt on Elephant Lake Road is accessible right from the Haliburton Highlands.
Tweet this quote
"It's a very, very different experience than the busier gates of the park, especially the Highway 60 corridor, and there's much less traffic," explains Thom Lambert, Haliburton County's Economic Development & Tourism Content Coordinator.
That's because people — even locals who have lived there their whole lives, notes Lambert — don't realize that roughly 10 per cent of Algonquin Park is actually located in Haliburton County.
To get to the South Gate, follow Elephant Lake Road north for 12 kilometres, then turn left on Kingscote Lake Road, follow it for seven kilometres and you'll reach Kingscote, the park's most southern access point (Access Point 15). The six walk-in campsites you'll find there make for great jump-off sites to begin your backcountry adventure.
VIDEO: Algonquin Park South Gate

From there, visitors can explore both the Haliburton Highlands and Algonquin Park through a variety of outdoor experiences and excursions.
"When most people think of Algonquin they think of canoe tripping, and we have one of the nicest routes in Algonquin that takes you to High Falls from the South Gate," Lambert says.
From Kingscote, campers can paddle to a few different portages leading to Byers Lake and High Falls on the York River. Backcountry sites for these lakes and the river can be reserved through Ontario Parks.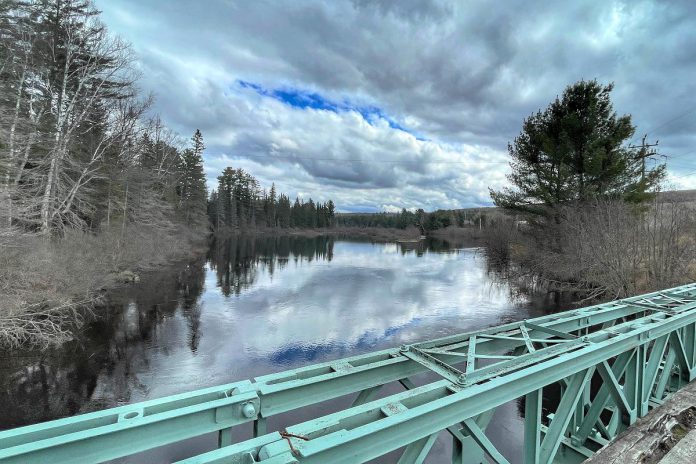 Lambert adds this offering is something quite unique to the region as, aside from the Petawawa River, there are not a lot of river expeditions that people tend to associate with Algonquin Park.
Other portaging routes will take paddlers up to Scorch Lake or, if you're feeling brave enough to tackle a one or two-kilometre portage, head up to Billings, Little Branch, or even all the way out to another access point at Little Hay Lake. Each offer some stunning, private campsites a bit distanced from the more popular backcountry sites in the central regions of the Park.
"The general landscape of forest and lakes is going to be very familiar to people," assures Lambert.
Don't have any camping equipment? There are two backcountry outfitters located by the south access point that offer equipment rentals and guided services.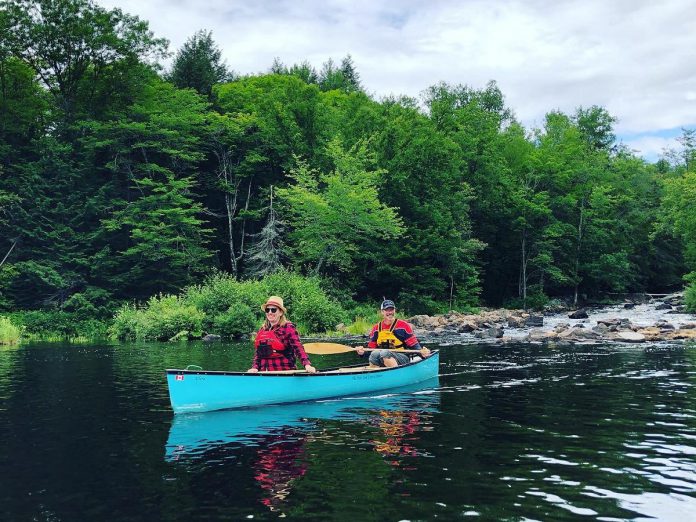 Tweet this quote
Deep Roots Adventure has a large selection of watercraft, equipment, and gear rentals, while other retail items needed for a night or more in Algonquin's backcountry — like dehydrated meals, fuel, and snacks — are also available for purchase.
The outfitting company also provides the "High Falls Paddle, Explore, and Dine" experience, which is a five-hour guided trip where you paddle up the York River (either on a paddleboard or in a kayak) and then hike up the banks of the York River past rapids until you reach High Falls.
A delicious meal is then provided by another South Gate business, AM/PM Outdoor Gourmet, before adventurers will hike and paddle back to the access point.
"It's one of the most unique experiences in the county," explains Lambert, adding that visitors really enjoy it. "It's kind of the ultimate Haliburton Highlands experience."
The other outfitter in the region, Algonquin Yeti Paddling, is one of the newest additions to the businesses operating out of the South Gate.
There, you can schedule a personalized guided trip with a crew of passionate campers, or you can join their upcoming beginner-friendly Scorch Lake Lookout Guided Weekend, a completely supplied three-day trip to view the majestic fall colours.
"Both these outfitters know that section of the park incredibly well," Lambert notes. "They're both great resources in terms of helping people plan trips."
Tweet this quote
If you'd rather be on foot than on the water, maybe hiking is more your forte. Though the trail can be rocky, the High Falls are still reachable on foot via an accessible two-kilometre trail from the High Falls parking lot.
"It feels unlike any place else in the county or any place that I've been in the park," Lambert says. "You're wandering through these huge moss-covered boulders and these really ancient cedar trees. It's just got this completely different feel to it."
If you'd prefer to get on your wheels, the Byers Lake Mountain Bike Trail is a 13-kilometre round trip of moderate difficulty that can be accessed just east of the Kingscote Access Point. Along the trail, there is an additional 150-metre side trail that leads to Gut Rapids, a narrow scenic canyon on the York River.
Tweet this quote
Another experience that's entirely unique to the region is horseback riding, something that's not offered elsewhere within Algonquin Park.
South Algonquin Equestrian Trails offers guided trail rides for all ages, ranging from a half hour up to five hours long. And, unique to Haliburton Highlands, the company has campsites specifically designed for visitors who bring their own horses.
"It's one of the few places in the province where you can just roll in with your horse trailer and set up camp for a few days and then take advantage of the great riding in that section of the park," explains Lambert.
In accordance with all the incredible options for adventure within Algonquin Park, visitors can also stay in a wide range of accommodations, depending on the type of experience they are looking for.
Algonquin Eco Lodge is a truly one-of-a-kind, award-winning experience as one of the most secluded lodges in the park. Despite being completely off-grid, the alternative energy sourced from the waterfall's rapids allows the eco-lodge to provide all the finer comforts.
The York River sustainably generates enough electricity the same way a large hydroelectric dam does but, unlike a dam, they don't stop the water — just divert a very small amount that then goes back to the river.
VIDEO: Algonquin Eco-Lodge

Tweet this quote
For a "glamping" experience that gets you immersed in nature without diving into the backcountry, Harmony Resorts on Benoir Lake provides seasonal campgrounds and cabins for those who want to get pampered while still enjoying the backcountry.
And, for those looking for a more luxurious, high-end experience, the new Nomi Resort just off the road from the south entrance into Algonquin Park offers a spa retreat, with award-winning dining to help you rest and relax after a day spent enjoying all that South Gate has to offer.
"There's not a lot of places where you have that huge range of accommodation options available to experience," Lambert says.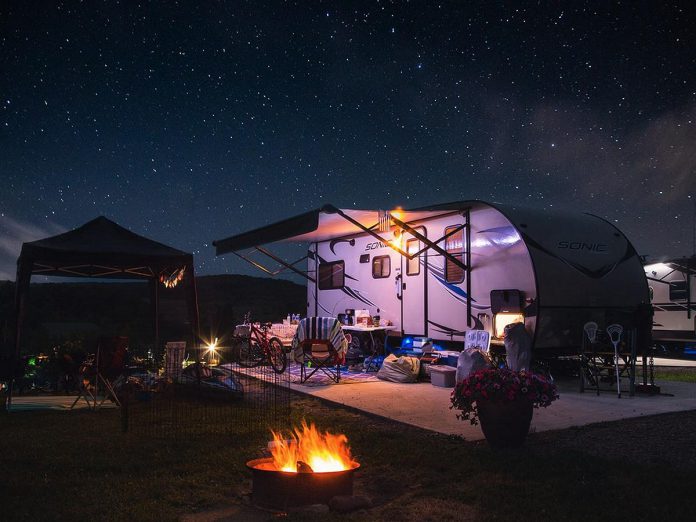 Tweet this quote
For those who want to experience Algonquin Park in all of its autumnal glory, another benefit of the South Gate is that its a region of the park where fall colours first emerge.
"If people are here for early colour season, South Gate is one of your best bets for getting that early colour," Lambert points out.
All visitors to Algonquin Park, whether for day use or camping, must have a valid park permit. For more information, visit the Ontario Parks website at www.ontarioparks.com.
For more information about Algonquin Provincial Park South Gate in the Haliburton Highlands, visit myhaliburtonhighlands.com/algonquin-park-south-gate/.
This branded editorial was created in partnership with Hike Haliburton. If your business or organization is interested in a branded editorial, contact us.