An award-winning Canadian documentary about a Toronto carpenter who defied city officials to build life-saving shelters for unhoused people during a brutal pandemic winter headlines ReFrame Film Festival's inaugural "Mission Miniseries", a series of four free documentary film screenings in Peterborough from August 31 to September 28.
Presented by the Peterborough Downtown Business Improvement Area (DBIA), the Mission Miniseries not only delivers on ReFrame's commitment to champion documentary film centred on social and environmental justice and to nurture collaborative community partnerships, but also responds to feedback from ReFrame audiences who requested more year-round programming from the winter film festival.
The first event in the Mission Miniseries is a selection of bicycle-themed documentary shorts as part of Peterborough GreenUP's Summer Ride Club Bike-In Movie and Awards Celebration, which will be hosted at the pavilion at Nicholls Oval Park in Peterborough at 6 p.m. on Thursday (August 31).
Advertisement - content continues below
Selections include Andrea Dorfman's There's a Flower in My Pedal (Canada, 2005, 4 minutes), Evelyne Papatie's Children of the Nomad (Canada, 2018, 2 minutes), Fadi Hinash's Mama Agatha (Netherlands, 2015, 16 min), and Zachary Canepari and Drea Cooper's Scrapertown (United States, 2010, 8 minutes).
Open to everyone, the free evening will also feature a whimsical feature-length family film presented by GreenUP, kettle corn snacks, prizes, and complimentary ABC bike checks by B!KE: The Peterborough Community Bike Shop. You can reserve a spot at eventbrite.com/e/691659320647.
The Mission Miniseries continues with a screening of Zac Russell's Someone Lives Here (Canada, 2022, 75 minutes) at 6 p.m. on Friday, September 8th at Artspace (378 Aylmer St., Peterborough). A modern-day David and Goliath story set against the backdrop of North America's housing crisis, the documentary follows the work of young carpenter Khaleel Seivwright to build life-saving shelters for unhoused people living outside in Toronto during the first winter of the pandemic.
VIDEO: "Someone Lives Here" trailer

In October 2020, Seivwright drove to a remote area of a Toronto park to build a small insulated shelter. On the front of the shelter, he posted two signs: "Anyone is Welcome" and the details of a GoFundMe page dedicated to raising money to build more. While his actions attracted international attention, they also resulted in staunch opposition from city officials.
Someone Lives Here follows the story of Seivwright and his tiny shelters and their residents over the course of a brutal pandemic winter. Narrated by Taka, a woman who was living in one of the shelters, the film was the Hot Docs 2023 winner for Best Canadian Documentary and Best Social Impact Documentary.
ReFrame is presenting Someone Lives Here in partnership with Peterborough Action for Tiny Homes (PATH), a grassroots organization aiming to build insulated cabins for unhoused people in Peterborough-Nogojiwanong. The screening includes a panel discussion and a question-and-answer session featuring Seivwright. As seating is limited, you can reserve a spot in advance at missionminiseries.eventive.org.
Advertisement - content continues below
The next film in the Mission Miniseries is Lulu Wei's Supporting Our Selves (Canada, 2023, 75 minutes), which will be screened at 6 p.m. on Tuesday, September 19th at the Peterborough Public Library at 345 Aylmer Street North.
Presented in partnership with Peterborough-Nogojiwanong Pride as part of Pride Week, Supporting Our Selves explores how and why the queer community in Toronto has grown and evolved over the past 40 years, through the lens of one grassroots organization and its impact.
From the Bathhouse Raids to BLM's Pride Parade Protest, activists of all generations lead an honest and unflinching narrative journey that charts a community's complex and sometimes conflicting memories.
VIDEO: "Supporting Our Selves" trailer

The final event in the Mission Miniseries is a screening of Hummingbirds (United States, 2023, 78 minutes), directed by Silvia Del Carmen Castaños, Estefanía 'Beba' Contreras, and Miguel Drake-McLaughlin.
The film will be shown at 7 p.m. on Thursday, September 28th at the Jalynn Bennett Amphitheatre, outdoors at Traill College (315 Dublin St., Peterborough), as part of Dis-Orientation Week and in partnership with OPIRG and the New Canadians Centre.
Set in Laredo, Texas on the Mexican border, Hummingbirds tells the story of first-time documentarians, 21-year-old Beba and 18-year-old Silvia, two Mexican immigrants and best friends who sing and dance while they are stuck in the immigration process of a politically divided America in 2019, while the threat of deportation hangs over their heads. The documentary won the Grand at the 2023 Berlin International Film Festival's Generation 14plus section.
Advertisement - content continues below
The presenting sponsor for ReFrame's Mission Miniseries is the Peterborough DBIA, which has also donated $100 Boro gift cards to be won as door prizes (one for each event).
The miniseries is also supported by Artspace, Catherine Parr Traill College, Game Theory Films, the Frost Centre for Canadian Studies and Indigenous Studies, kawarthaNOW, La Rue Entertainment, the National Film Board, and the Peterborough Public Library.
For more information about the Mission Miniseries, visit reframefilmfestival.ca/festival/mission-mini-series/.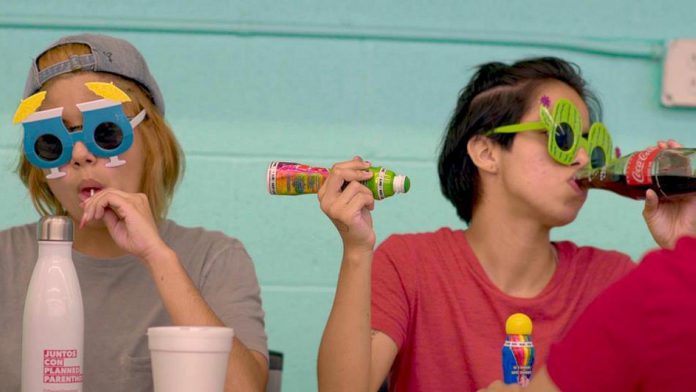 kawarthaNOW is proud to be a sponsor of ReFrame's Mission Miniseries.