It's easy to get lost in the hustle and bustle of city life. In Peterborough, we are surrounded by everyday elements of urban infrastructure like sidewalks, roads, street signs, and boulevards. In this "wild" landscape, it's important to remember that these seemingly ordinary objects are deliberate choices.
Known collectively as the "built environment," these choices shape the way we interact with our surroundings and contribute significantly to the fabric of our communities. These manufactured conditions touch everyday human experiences like walking the dog, picking up the mail, or driving down the street.
The built environment has transcended simply being the purview of urban planning. Increasingly, conditions like cramped roadways, precarious walking conditions, or unreliable public transit are recognized by many municipalities as public health concerns; infrastructure decisions fall under the guidance of public health authorities.
Advertisement - content continues below
This acknowledgement underscores the profound influence that our surroundings have over our daily lives. It pushes the built environment beyond aesthetics and convenience, as it impacts our physical and mental health. If there's nowhere to safely walk or bike to nearby destinations, for example, residents are more sedentary and have poorer health outcomes. These factors particularly impact vulnerable groups in our community, including school-age children and their caregivers.
Where do we begin to change something that is all around us? In Peterborough, where 51 per cent of students live within walking distance of their schools, Active School Travel Peterborough champions the idea that children and their families deserve secure routes to walk, bike, and roll, starting with the journey to school itself.
Stakeholders work through Active School Travel Peterborough to offer potential solutions to the multifaceted challenge of creating safer and healthier communities. Bringing together voices from the community, school, municipal, or institutional level collectively contributes to problem solving for students, families, and schools.
Safer routes allow more families to increase physical activity associated with the school journey, contributing to increased alertness and attention during the school day. This activity supports healthy brain development, which is proven to lead to improved learning and academic outcomes.
Importantly, routes to school double as community routes. When we address these barriers, it increases safety for the community at large. This requires a comprehensive approach. Just like an ecological system in nature, where interactions between species are constantly evolving and changing, creating safer human communities requires change at many different levels of our built systems. The built environment is made up of many interconnected pieces that must work in tandem with one another.
The solution to these challenges necessitates a multifaceted strategy that can look at the big picture, as well as encompassing specific policy, education, and action.
Advertisement - content continues below
From a policy standpoint, initiatives such as Peterborough's Transportation Master Plan, Cycling Master Plan, and the Sidewalk Strategic Plan set the groundwork for a safer built environment. These documents, alongside key reports like the Health Indicators Report, provide a blueprint for how the city's infrastructure will evolve, ensuring that safety remains a top priority.
Education also plays a pivotal role. Active School Travel Peterborough helps to educate students, families, and motorists about the nuances of being responsible road users, pedestrians and cyclists. These efforts lay the foundation for a culture of safety, ingraining good practices early in young community members.
Lastly, action brings these plans and teachings to life. Community helpers, such as crossing guards, help physically enforce safety on a daily basis. Projects led by GreenUP and Active School Travel Peterborough such as Grade 8 Transit Quest, School Trip by Transit, and cycling education events translate theory into practice.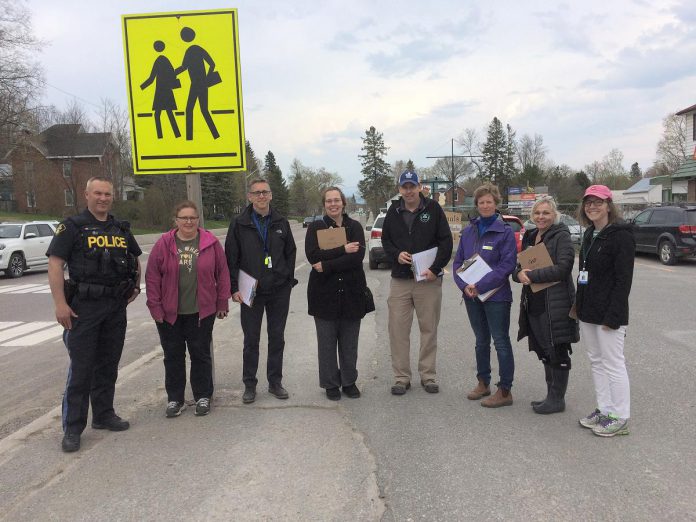 Through "social diffusion", the benefits of Active School Travel, like improved physical and mental health, can resonate through students and into the greater community. Incremental changes including lower speed limits, safer school crossings and bike racks can also contribute to the well-being, mental health, and quality of life for all community members.
This coming fall, eight elementary schools throughout the city will take part in a school zone traffic calming pilot project. Lower speed limits and new signage will be deployed.
At a recent meeting of Peterborough city council meeting, Ward 3 councillor Joy Lachica said "signs won't solve everything, but it's a beginning.". Other councillors agreed that public education through media, enforcement, and traffic engineering would bolster the signage efforts.
Advertisement - content continues below
To create a safer and healthier community, we need to take a look at how we choose to create our built environment and understand that our choices have a profound impact on our lives. With the right knowledge and tools, anyone in the community can help lead the charge towards change.
Active School Travel Peterborough brings together community and institutional stakeholders, and creates and collaborates on programs and projects with a vision of "All students having the opportunity to walk, bike or bus to and from school as a part of their daily school experience."
For more information, check out www.greenup.on.ca/program/active-school-travel-peterborough/.