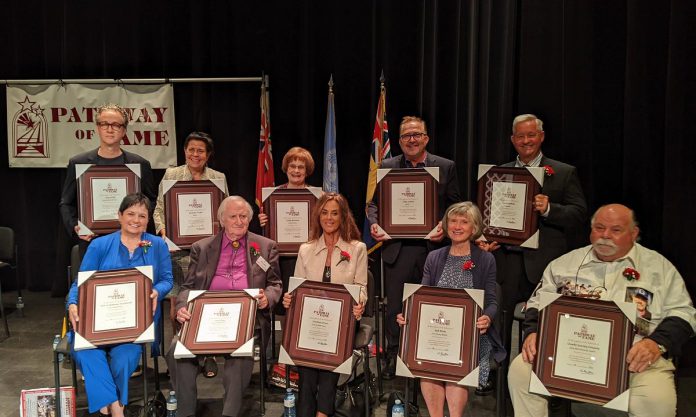 A sizable crowd filled Showplace Performance Centre when the Peterborough & District Pathway of Fame held its 26th annual induction ceremony on Saturday morning (September 9), welcoming 11 new inductees — three posthumously — to join the hundreds of previous inductees whose names are displayed on in-ground plaques in Del Crary Park.
Established in 1997, the Pathway of Fame honours people who have contributed to the arts and humanities heritage of the Peterborough. Nominations are submitted annually by the public in the categories of visual arts, literary, dramatic arts, entertainment/musical, cultural betterment, community Samaritan, media, and community builder.
Prior to the induction ceremony, three previous Pathway of Fame inductees — Peterborough musicians Barry Haggarty, Terry Finn, and Ken DesChamp — provided live music and kept the audience entertained in the Erica Cherney Theatre until the inductees were piped onto the stage.
Advertisement - content continues below
CHEX TV / Global Peterborough's Teresa Kaszuba emceed the event, introducing Peterborough Mayor Jeff Leal and Peterborough County Warden Bonnie Clark, who both made welcoming remarks. Peterborough-Kawartha MP Michelle Ferreri and Peterborough-Kawartha MPP Dave Smith, who were originally scheduled to also make remarks, were both unable to attend the event.
The Pathway of Fame's communications liaison Gordon Gibb welcomed each inductee by reading a summary of why they were nominated, before inviting each of them to address the audience for a couple of minutes.
The first inductee was Charlie Gregory, known for his work donating refurbished bicycles to those in need and his photographic essays of unsheltered people, who received the inaugural Barb Bell Humanity Award, named after the late Pathway of Fame founding member and former inductee for her work as a foster parent. Gregory, who wore a shirt printed with pictures of those he photographed, dedicated his induction to them.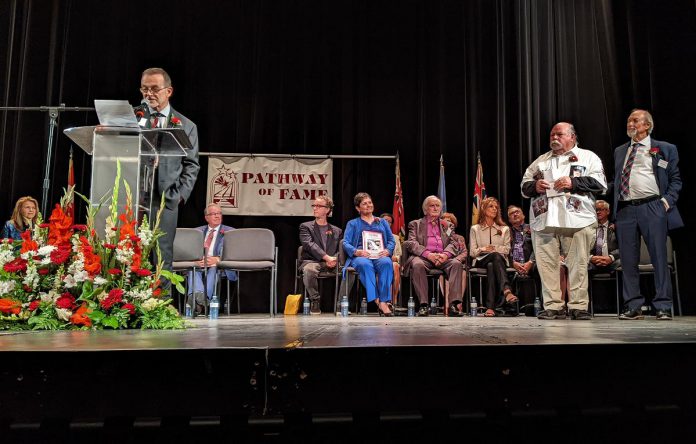 The remaining inductees were welcomed in alphabetic order, starting with the late long-time municipal politician and former Peterborough mayor Jack Doris, who passed away in March, as a Community Builder inductee. One of Doris's daughters accepted the honour on behalf of her father.
Another posthumous inductee was Courtney Druce, who was recognized as a Cultural/Community Betterment inductee for her fundraising and awareness work before cancer finally took her life at the age of 27. Druce's mother, who lives in the U.S., gratefully accepted the honour on her daughter's behalf and thanked Druce's partner, Bill Porter.
Sean Eyre, one of the driving forces behind the founding of the Pathway of Fame and well known as "Sunshine Sean" in his radio broadcasting heyday, was recognized as a Cultural/Community Betterment inductee for his service to the community and his promotion of local artists. Eyre's humorous acceptance speech, which extended well beyond two minutes, had the audience in stitches.
Advertisement - content continues below
Stephanie MacDonald was recognized along with her late husband John, both lifelong educators and former school principals, as a Cultural/Community Betterment inductee for the couple's many contributions to the betterment and well-being of their community. Stephanie dedicated much of her acceptance speech to her husband John, who passed away at the end of 2022 in his 83rd year.
Retired Peterborough County OPP constable David McNab was recognized as a Samaritan inductee largely for his work in the settlement and integration of Syrian refugees into the Peterborough community. In his acceptance speech, McNab acknowledged the roles of many other community members in that same work, including his wife Kristy Hiltz.
Mike Melnik, a long-time former radio host and current owner of Impact Communications in Peterborough, was recognized as a Media inductee. Melnik spoke about first coming to Peterborough, his almost 5,000 radio shows with the late John Badham, and thanked both his nominators and also his family.
Peterborough arts champion Cathy Rowland, who founded the integrated arts program at the former Peterborough Collegiate and Vocational School (PCVS) and who is a writer, producer, and director of theatrical productions, was recognized as a Dramatic Arts inductee. In her acceptance speech, Rowland spoke of the importance of arts in education and encouraged audience members to attend the new play "Give 'Em Hell," about student activism in the year leading up to the 2012 closure of PCVS, in the building's auditorium from September 15 to 23.
Jeannine Taylor was recognized as a Media inductee as the founder, CEO, and publisher of kawarthaNOW.com, the only independent media company in Peterborough owned and operated by a woman, as well as for her support and mentorship of other women in business and for her company's sponsorship of numerous local non-profit organizations. In her acceptance speech, Taylor recognized the contributions of her life and business partner Bruce Head.
Peterborough native Greg Wells, a Grammy award-winning music producer based in Los Angeles, was recognized as an Entertainment inductee for his many accomplishments in the music industry as well as for his continued support of Peterborough's music scene through the Don Skuce Memorial Music Collective songwriting contest.
Advertisement - content continues below
In his acceptance speech, Wells — who travelled from Los Angeles to accept the honour — noted that, while "fame" has a narcissistic connotation in Los Angeles, in Peterborough it means being celebrated for supporting the community.
Wells also shared how he has come full circle, with his passion for music beginning as a child when he saw the film version of the musical Jesus Christ Superstar scored by famous composer Andrew Lloyd Webber and then, as an adult, working with Webber and sitting beside him to watch a recent production of the musical.
Wells pointed out that he watched the film as a child in the former Odeon cinema, the current location of Showplace Performance Centre.
This story has been updated to remove a reference to the September 9, 2023 event being the first in-person induction ceremony since the pandemic began. While it was the first to be held in the Eric Cherney Theatre at Showplace Performance Centre since 2019, COVID-safe in-person ceremonies were held in 2021 and again in 2022 in the downstairs Nexicom Studio at Showplace, with the 2021 ceremony also honouring the 2020 inductees.