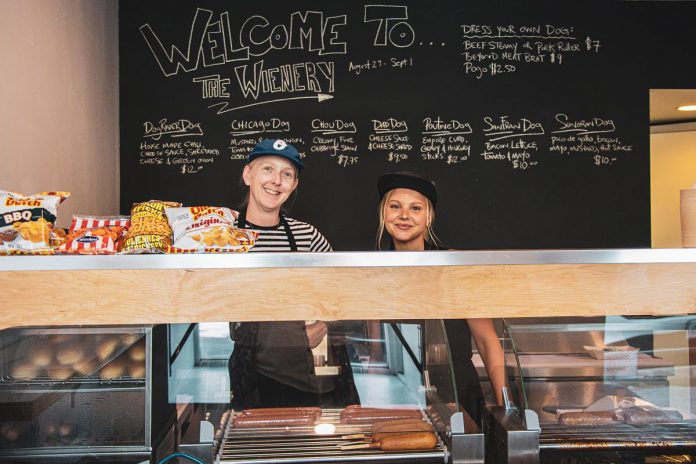 You can't walk down Hunter Street without being enticed by the wafting scents of the best "Sam-wiches" in town. Now, there's even more reason to stop for a lunch break at Sam's Place, with the launch of a new 'weinery' — a hot dog joint located right behind the restaurant.
Since 2010, Sam's Place Deli has been downtown Peterborough's go-to for sandwiches, salads and soups, known for the friendly service and for turning even the most classic BLTs and club sandwiches into works of art using meats that are completely cured, smoked, and prepared in-house.
Owner Sam Sayer continues her focus on quality meats as she expands into Sam's Place Wienery under the inspiration of one very important, age-old question.
"There's a great debate about whether or not hot dogs are sandwiches, so the wienery really started there," says Sayer.
Advertisement - content continues below
The owner explains that when the deli took over the neighbouring unit years ago, it allowed her to move the kitchen from the basement to the main level. But, in moving it to the back of the new unit, there was a "void" between the restaurant and the kitchen in which she saw a lot of potential.
"We thought, 'What are we lacking downtown that would go with sandwiches?'" Sayer explains. "We decided hot dogs would be a fun transition between the kitchen and the sandwich shop. And so was born the wienery."
Customers of Sam's Place Wienery can get a plain pork, beef, or vegetarian (Beyond Meat) hotdog, or try out one of the loaded dog options, including the customer favourite, Dog River Dog, which is a cheese-lover's take on a chili dog (it has cheese sauce and shredded cheese).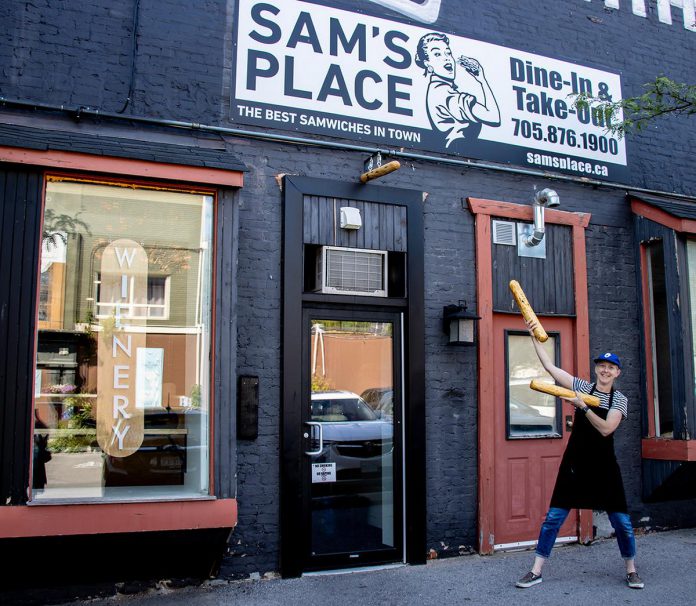 Though Sayer says the cheesy sandwich — if you believe hot dogs are sandwiches, that is — is already "by far the most popular hot dog" on the menu, she's confident it'll also be a fall comfort food.
"Going into cooler weather, I think it's going to be a real hot seller," says Sayer.
Other menu items include classics like the SanFran-style and Chicago-style dogs, as well as more unique offerings like the chou dog (topped with a cabbage slaw) and the dad dog (topped with cheese sauce and shredded cheese). Customers who are looking to get creative can also choose to build their own hot dogs or skip the bun altogether and order a dog on a stick.
Advertisement - content continues below
For something a little different, the weinery also serves up Pogo corn dogs, and the popular poutine dog — a layer of cheese curds and gravy piled on hickory sticks on top of a hot dog.
Sayer explains the wienery will soon even have gluten-free buns to further cater to all dietary needs and restrictions.
While she hopes to eventually host a grand opening to properly introduce Sam's Place Wienery to the city, Sayer is currently focused on using the soft launch as an opportunity to see what customers are liking most about the wienery and its menu.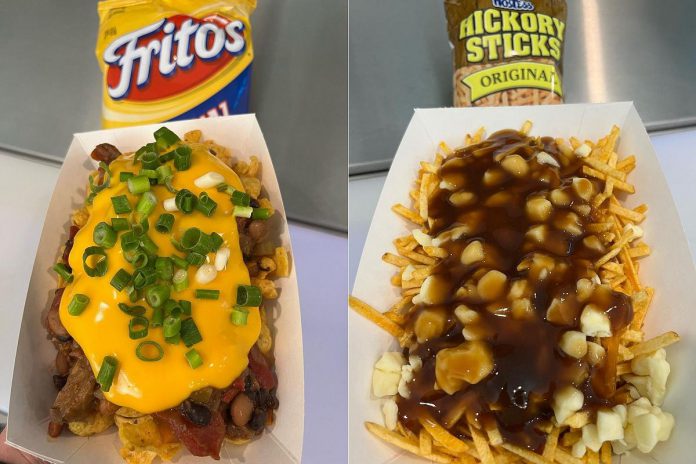 "We're still testing out what's going to work, what we can add, and what we can take away," Sayer says, adding that the menu will undoubtedly expand once the wienery gets more settled within the community.
Since the launch last week, Sayer has already added the Frito Pie, which consists of Frito corn chips topped with chili and cheese, and Hickory Sticks Poutine, featuring the hickory-smoke flavoured skinny potato chips topped with cheese curds and gravy.
"It'll be not just hot dogs but maybe a little bit more of a concession style to see what people are interested in and how we can create something a little more fun."
Advertisement - content continues below
While Sayer is eager to see the wienery grow into more offerings, for now, she's just learning how to manage both the deli and the new space while getting into what she calls "prime catering season" with back-to-school and back-to-work events.
"The more fun we can have, the more we'll do," says Sayer. "But for now, we just want everyone to come down and try a hot dog."
Sam's Place Wienery is currently open at 188 Hunter Street, behind Sam's Place Deli, from 12 to 6 p.m. Tuesday through Friday, with hours likely changing heading into the fall. To stay up to date on hours and new menu items, you can follow the wienery on Instagram and Sam's Place Deli on Instagram and Facebook.