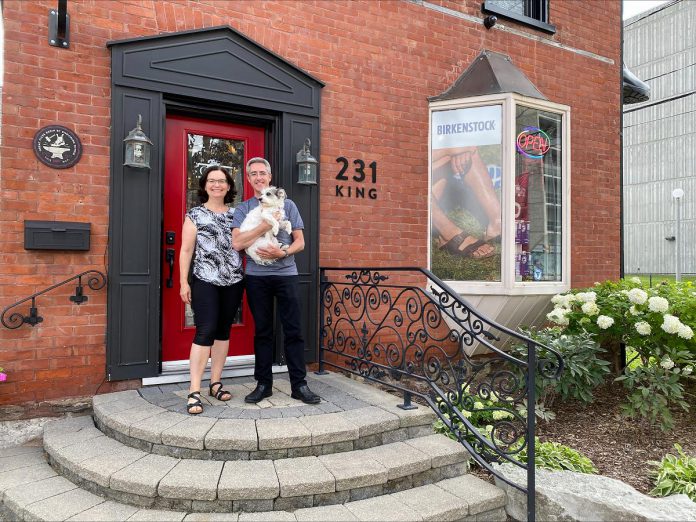 Whether it's predicting the next big thing in footwear or getting ahead of the curve with new technology, Grady's Feet Essentials in downtown Peterborough has always been leading the way.
Tony Grady first began working for his father's business 11 years before he and his wife Kelli purchased it and changed the name to Grady's Feet Essentials in 1997. Since then, the couple have been providing quality service to people who come from all over to purchase top brands including Birkenstock, Blundstone, Keen, Teva, Redback, Clarks, and Finn Comfort.
Now, after more than two decades of operating out of Lansdowne Place Mall, Grady's Feet Essentials has moved entirely to its location at 231 King Street in downtown Peterborough.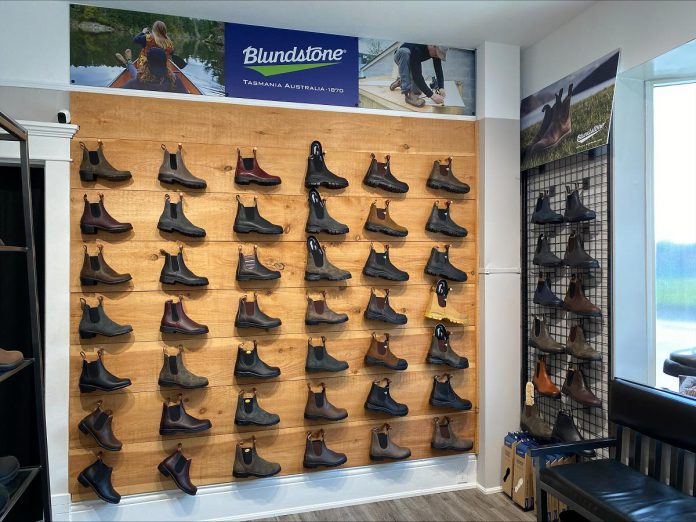 When Tony and Kelli Grady first purchased the downtown building in 2018, they were using it for office space and inventory. When pandemic restrictions meant they couldn't operate out of the mall, the couple began using the downtown location for curbside pick-up and, when allowed, to size customers out front.
According to Kelli, this allowed the couple to "test the waters" of the downtown location. They continued to operate at both locations before they decided to completely relocate the business to the downtown location last year.
"It's got a comfortable, pleasant feeling that our staff and customers love," explains Kelli, adding that another perk of the new location is getting to bring the couple's "shop dog" Luna to work with them.
Tweet this quote
Tony says customers typically come to Grady's Feet Essentials as a "destination store" to find specific brands, rather than just browsing and window shopping. Grady's is well known for its huge selection of Blundstone (including CSA, thermal, high top, and heeled) and Birkenstock footwear, many of which can't be found anywhere else in the region.
"We were the first retailer in the area to have Blundstone in the 1990s," says Kelli, also noting they recognized the ease and comfort of the brand even when other retailers were not impressed by its then-novel design. "Our customers know us as the experts on how to fit them, what style is going to be best for their foot, how to make them fit well with insoles, and how to care for them."
Customers also often come to Grady's Feet Essentials looking for comfortable footwear, making New Balance and Brooks some of their most sought-after brands. Altogether, the store stocks upwards of 30 high-quality, comfortable shoe brands in addition to a supply of accessories, including Secrid wallets, slippers, bags, and insoles.
The downtown location of Grady's Feet Essentials maintains the same focus on customer service the business has always been known for. For example, staff at Grady's practise the "sit-and-fit" method. Staff will measure a customer's foot, recommend suitable shoe styles, help them fit the shoes, and make adjustments and find solutions based on the customer's comfort and preference.
"The nice thing with our staff is they understand all those nuances of how the different brands fit," says Kelli, adding that customers often wear a different shoe size from brand to brand. "Our staff know from experience and can help direct people to what's going to be the best for them. It is very satisfying for us to be able to help people find what works for them."
"Our staff genuinely want to help people and they want to make sure that what they sell you is good for your feet, and that you're happy and it's going to suit your needs," she says.
Tweet this quote
Within the past year, Kelli and Tony have also enlisted the help of a new foot scanner that helps staff make even more accurate recommendations to their customers. With more than 5,100 gold-plated sensors and four depth cameras, the scanner converts the data into a 3D model using over 3.5 million data points.
Grady's is the first footwear store in the region to use this cutting-edge technology.
"The foot scanner gives us all this great information to help fit the shoes better and know what to recommend," explains Tony. "The technology is remarkable."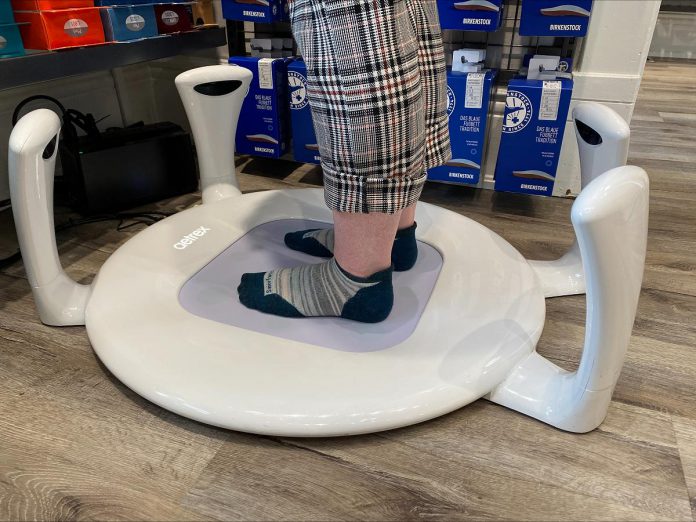 Tweet this quote
The store owners explain they can gather a lot of information from the 3D models, and customers often have the scan results emailed to them so they can share the results with friends, family, and health professionals.
"Many people don't realize their feet are hurting because they've never had anybody properly fitting them," Tony points out. "They've been suffering, not realizing that it was really just the wrong shoe size or maybe the wrong style of shoe for the shape of their foot."
Just as the couple recognized the potential of Blundstone back in the 1990s, they recognize the potential of their new foot scanner.
"This technology could be the future of shoe fitting," Tony says.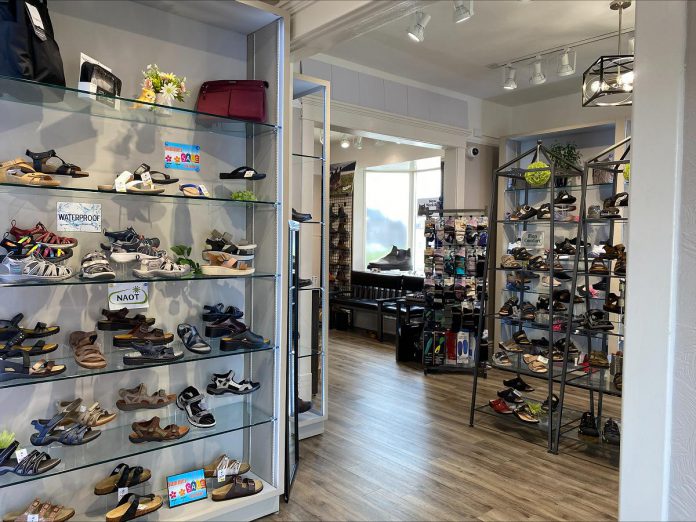 Tweet this quote
Grady's focus on service doesn't stop when a customer has made a purchase. For example, customers who buy a pair of Blundstone boots receive instructions on how to care for them. In addition, they can get their boots cleaned, polished, and protected for just $20 per pair and can get the tabs replaced — even if the boots weren't originally purchased from Grady's.
To extend the life of their Birkenstock sandals purchased at Grady's, customers can return to Grady's every six months to have the exposed cork resealed with a fresh layer of glue at no charge.
Beyond running their successful business, both Tony and Kelli are active in the community, with each acting as board members for the Rotary Club of Peterborough and donating gift cards for local fundraisers. They also sponsor 4th Line Theatre, the Community Care Foot Clinic, New Stages Theatre, and Peterborough's Dragon Boat Festival.
"We love giving back to the community that supports us," says Kelli. "Anything we can do to make a stronger, healthier community is great for us, our employees, and our customers."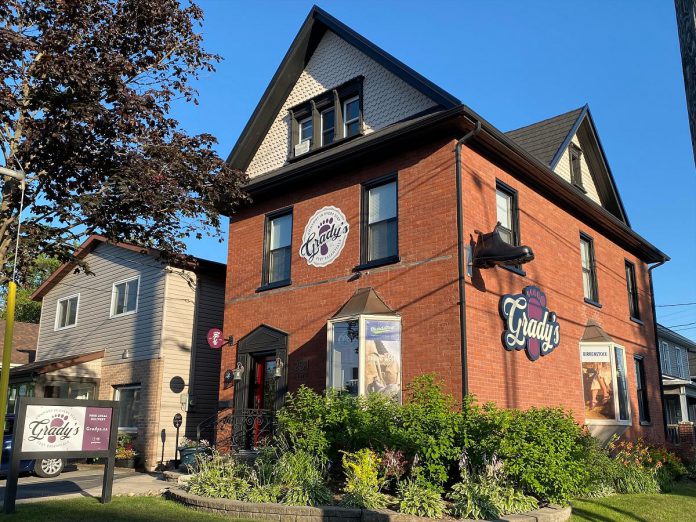 Tweet this quote
As members of the Peterborough Downtown Business Improvement Area, the couple are happy to be back in the downtown core where the business originally began.
"We've always had a warm spot for downtown and we see the potential in downtown," says Tony. "It's just exciting to be here again."
Now open seven days a week, Grady's Feet Essentials is located at 231 King Street, on the southeast corner of King and Aylmer, in downtown Peterborough. To browse and shop online, visit feetessentials.com. For new products and other updates, follow @gradyshoes on Facebook, and Instagram, and Twitter (now called X).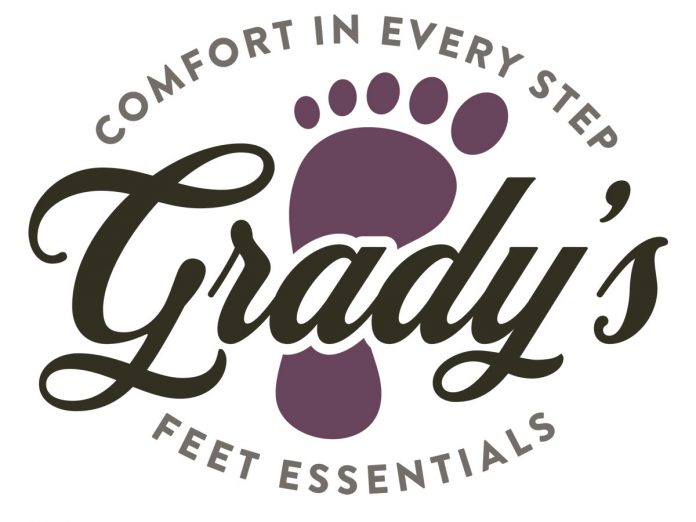 This branded editorial was created in partnership with Grady's Feet Essentials. If your business or organization is interested in a branded editorial, contact us.