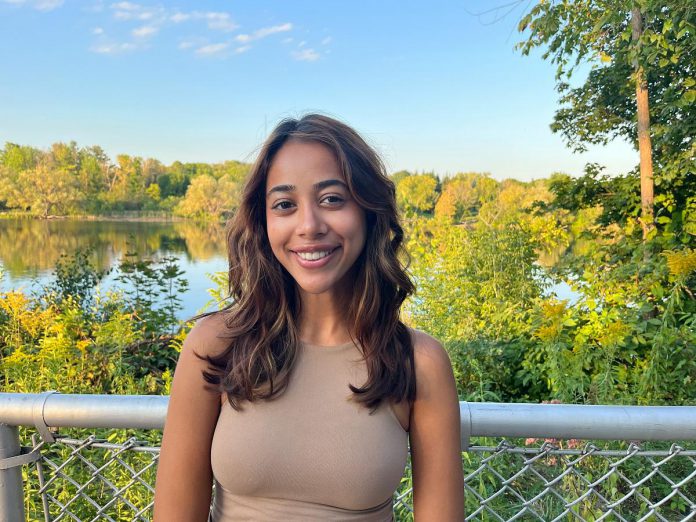 From working in mental health care and studying refugee experiences to raising awareness and fundraising for human trafficking and homelessness, Simal Iftikhar has been a catalyst for positive change and education for several social justice issues in Peterborough.
That's because the Trent University graduate student knows social justice issues don't exist independently of one another.
"Everything is interconnected, and that's really important when you're looking at service delivery and how to help people," Iftikhar explains.
Advertisement - content continues below
Tweet this quote
Currently, Iftikhar combines her passions of education and social justice as a communications coordinator with Compass Early Learning & Care while completing her master's degree in education at Trent University.
For her thesis, which took third place at the 2022 School of Graduate Studies' Three Minute Thesis competition and the Trent Graduate Student Association Prize, Iftikhar is researching how Canada's education system supports refugee students, and the barriers that affect their learning.
To do so, she has been interviewing newcomers who have either completed or are working towards completing high school.
"I really wanted to do something to be able to support them and understand how we can do better for Canada, and for education," Iftikhar says.
She explains her decision to focus her research on refugees stems from her own experience arriving in Canada from Pakistan at just four years old. Looking back, Iftikhar says she certainly had struggles in the education system but ultimately felt "privileged" as an immigrant rather than a refugee.
"When you immigrate, you're choosing to come to another country because you have the choice to," she says. "We came here for my education, and the difference is that refugees have no choice but to leave home, and I think that's a huge issue that people don't understand."
Advertisement - content continues below
Tweet this quote
The graduate student explains that a common thread she's noticed is the refugees feel they always need to remain grateful, despite the barriers they face — like being told they have a learning disability for failing English language tests because they don't know the language.
"I just hope in the future at some point, they feel comfortable being able to voice those concerns because that is the only way we'll be able to change anything, specifically in the education system."
Furthering her work with newcomers to Canada, Iftikhar is a member of Azadi Peterborough, a refugee sponsorship group. First formed to help Syrian refugee Rashid Sheikh Hassan come to Canada, the group is now helping the 19-year-old reunite with his family (who he only recently discovered is still alive after not seeing them for eight years). With fundraising now complete, Azadi Peterborough is working toward the application process to bring the family to Canada.
"There are so many people that go through this daily, and it's so heartbreaking," says Iftikhar. "But I think we have an amazing community and people really rally together when they hear these stories, and they want to help … I just really hope that we can be successful in reuniting them."
Iftikhar attributes the small community in Peterborough and at Trent University for largely supporting her journey in getting involved in social justice organizations. It was through these connections that she was able to be part of the Family Health Team, doing the background research and stakeholder presentation which led to the opening of the Mental Health Walk-in Clinic.
"There's an amazing team of progressive and compassionate people in Peterborough that are doing the work every day and at a larger capacity for which I'm really grateful and wish they received more recognition for the impact they have," Iftikhar points out. "Everyone is really interconnected with service delivery, and that's something that we know we need moving forward to really give better quality of services to see people flourish. It's something I love about Peterborough — when you are in a smaller community, it's easier to connect with all the other agencies to provide care."
Advertisement - content continues below
Tweet this quote
For almost four years, Iftikhar worked at Peterborough Youth Services where she began to recognize the overlap of youth experiencing not just mental health challenges, but also homelessness. She had already been volunteering at the YES Shelter for Youth and Families, though it was really during the onset of the pandemic that Iftikhar really noticed Peterborough's homeless population, which she referred to as the "crisis within a crisis."
"It just broke my heart because I was thinking this is something that's already been going on, but for me, that was the first time I was seeing it right downtown in such a large capacity," she recalls. "And I just thought I had to do something."
So, she hosted a "sleep-out" in March 2021. Following its success, she hosted another in September 2022.
Inspired by Toronto's Convenant House, Iftikhar put out a call to the public to join her in spending a night out on the streets to raise awareness and understanding for homelessness. Because of the pandemic, the first was held online, so she offered for participants to sleep in their own backyards (or even on their floors if it felt safer for them) while, in the second year, she invited people to join her in spending the night outside the Peterborough Lions Club Community Centre.
"I realized there's so much stigma against homelessness and addictions as I'm working in health care and mental health care," Iftikhar explains. "Like that they've gotten themselves there or they haven't done anything (to help themselves), which is not the case at all. Typically, they've been experiencing so many other issues that have led them to this. No one chooses to be homeless."
Iftikhar says the community was "amazing" in showing support and willingness to participate in the fundraiser. In its first year, the sleep-out raised over $5,000 for YES Shelter for Youth and Families.
Advertisement - content continues below
Tweet this quote
"Having an apartment, having a house, having food, going to the bathroom when you need it — it's not something you ever have to think about when you already have access to it," says Iftikhar, who adds that the experience was very eye-opening to a lot of the participants. "They had never thought to put themselves in someone else's shoes, and when they did that, it really broke a lot of the stereotypes that they had come to believe over the years."
In the event's second year, she further showed the intersectionality of issues facing the community by using the sleep-out to educate the public on human trafficking, highlighting that Peterborough has one of the highest human trafficking rates in Ontario. The close to $3,000 that was raised was put towards both YES Shelter for Youth and Families and the Kawartha Sexual Assault Centre.
"We hear a lot about addiction and we hear a lot about mental health, but one thing I don't hear enough about is that trafficking correlates a lot with homelessness," notes Iftikhar, adding that a lot of victims of human trafficking also experience homelessness.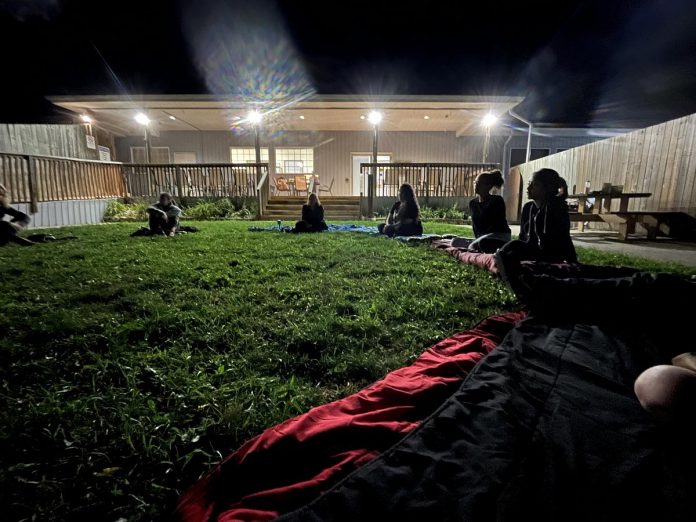 "One of the biggest reasons they'll stay with their trafficker is because they need access to different things like housing and hygiene products, to food, water — all these basic necessities. So it makes it really difficult for them to get away from the trafficker when they offer those things, even though they're being abused at times."
While Iftikhar isn't exactly sure where she'll end up once she's done with her studies, she's confident she'll continue raising awareness and funds for community organizations and initiatives.
Tweet this quote
"I know that my purpose and my goal is to continue supporting and helping marginalized people in any way I can," she says. "I don't think I have to choose one issue. These issues all intersect so much."
Most importantly, Iftikhar hopes to educate the public so people develop compassion for marginalized communities and feel empowered to take action.
"There's so much work to be done and we need more people in the community using their voices to create positive change," she says. "(Part of the issue) comes from not seeing other people as human beings and not trying to understand their experience."
"If you do, I guarantee you'll start to understand more about these issues and what people are going through and what's brought them to this point in their life. I really hope it brings more gratitude and more compassion into people's own lives."
This story has been updated with a correction that Iftikhar's thesis took third place at the 2022 School of Graduate Studies' Three Minute Thesis competition, rather than the 2023 competition.