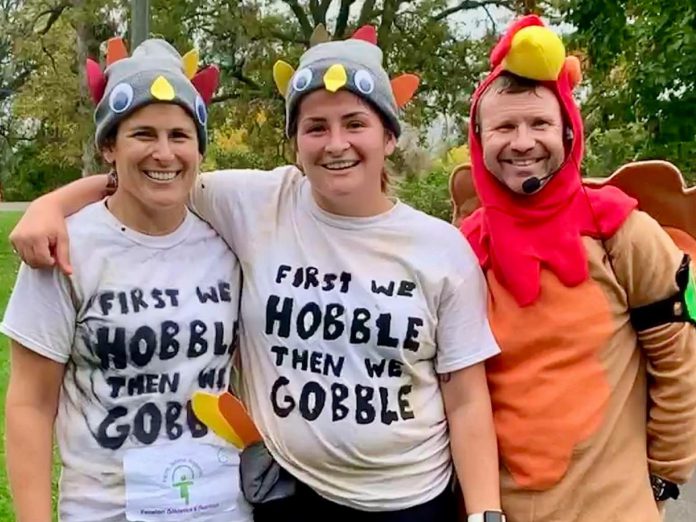 Work up an appetite for your Thanksgiving dinner with the ninth annual Fenelon Falls Turkey Trot on Saturday, October 7th.
Join Jive the Mascot at Garnet Graham Beach Park on Cameron Lake for a morning of inclusive healthy outdoor exercise. The family fun run/walk, which is meant to encourage safe and healthy activity in a welcoming space, will take participants along the flat gravel-covered Kawartha Rail Trail, beginning and ending at the park.
Children 12 years old and under can run or walk one kilometre, while youth and adults can run or walk five or 10 kilometres. The event is sanctioned by Athletics Ontario, the governing body for running and track and field events in the province, meaning the Turkey Trot meets the standard for safety, insurance, layout, and timing for a run/walk event.
Advertisement - content continues below
All participants in the Fenelon Falls Turkey Trot will have access to a delicious post-run lunch courtesy of local vendors and will be awarded a unique wooded finisher's medal. Also included in registration will be a souvenir bib, a custom designed T-shirt, a pre-event warm up courtesy of Body Design, and a post-event massage courtesy of the Well Body Group.
On top of that, there are plenty other awards and prizes up for grabs during the afternoon. For the very first time, a $1,000 prize purse will be awarded to the top finishers in the five and 10 kilometre runs, as well as $200 and $300 for the male and female winners in each respective run.
The top finishers in each run will also receive a unique custom wooden round, with unique wooden medals for the top three boys and girls in the one-kilometre run and to the top male and female finishers in each 10-year age group in the five and 10 kilometre runs.
In keeping with the organizers' commitment to diversity and inclusion, the year's run/walk will include a non-binary category, with prizes determined based on participation.
Make sure you come out to the races with your feathers groomed, your wings shaped, and colours out, as a prize will also be awarded to the participant with the best costume, as well as top fundraiser. Throughout the event, there will also be several draw prizes courtesy of local merchants.
A prize will also be awarded for the best volunteer. The Turkey Trot is still seeking volunteers to help with event registration, community signage, course set-up, and lunch management. All volunteers will receive a T-shirt, lunch, and a personal thank you from the race director.
Advertisement - content continues below
Early registration for the Fenelon Falls Turkey Trot is available until October 3, with registration for kids 12 and under costing $7, adults at $40 ($10 off for members of Fenelon Falls Chamber of Commerce and Athletics Ontario), and $30 for seniors (60+) and youth (13-19). Participants are encouraged to register early, as there are limited race day entries at an increased cost.
On race day, bib number pick-up opens at 8:30 a.m. with the event beginning at 10 a.m. There will be limited parking available on site, although there is free parking on Francis Street and Bond Street.
Net proceeds from the event will be donated to the annual Fenelon Falls Santa Day, which takes place this year on Saturday, November 25th. For more information about the Fenelon Falls Turkey Trot and to register, visit www.fenelonfallsturkeytrot.ca.