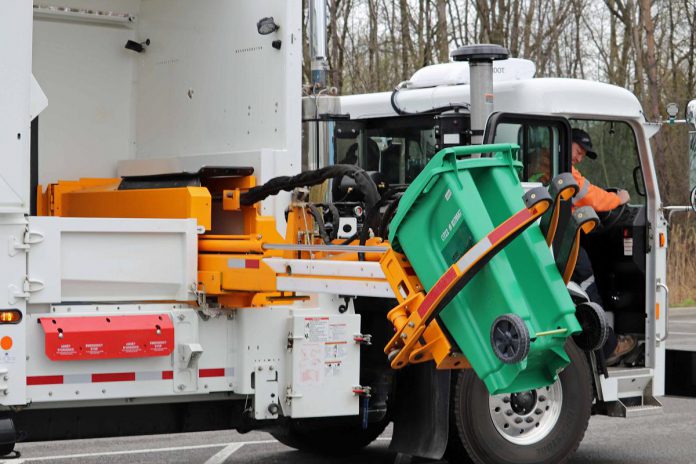 The City of Peterborough has begun delivery of green bins to around 28,000 eligible households as part of the new organic waste weekly collection service that begins at the end of October.
The city says delivery of the green bins, which include a large bin to take to the curbside for collection and a smaller container for kitchen use, will be completed over the next several weeks leading up to the launch of the program on October 31. There is no fee for the bins.
Residents are asked to put their organic waste, including food scraps and other compostable materials, in the green bins. The bins feature a pest-proof locking mechanism. However, the green bins should not be used to store organic waste until the week before the collection service begins.
Advertisement - content continues below
The new weekly green bin service is one of four changes to the city's waste collection services that begin October 31. The other changes are a switch from weekly to bi-weekly — ever other week — garbage collection (except for the Downtown Business Improvement Area, which maintains its current collection schedule), a requirement that garbage be placed in clear bags for curbside garbage collection from all homes and businesses that receive city waste collection, and a new waste collection day for around 8,000 households.
The city is switching to bi-weekly garbage collection as Peterborough residents are expected to divert 15 to 20 per cent of their garbage away from landfills as a result of the new green bin service.
Collection days are changing for some residents as routes are redistributed to evenly spread out the number of stops between collection days. Residents can use the online tool at peterborough.ca/mycollectionday to find out if their collection day is changing.
Advertisement - content continues below
An information kit will be contained inside the green bin when it is delivered, including a guide on the green bin service (as well as recycling, yard waste, and garbage services) and an information sheet on what can and cannot go in the green bin, a calendar that shows collection schedules, and samples of clear garbage bags and a coupon to assist with the transition to the requirement to use clear garbage bags and compostable liners for the green bin.
The garbage bag samples and coupon are being provided by GLAD Canada as part of its sponsorship of the rollout kits. The information kit will also include a "battery cube" sponsored by Call2Recyle. The battery cube is a small cardboard storage unit for used batteries that can be dropped off at collection sites for proper disposal rather than disposed of in landfills.
The green bin service is being rolled out to residential properties of six units or less, as well as certain selected condominium properties that will be notified they are part of a pilot project.