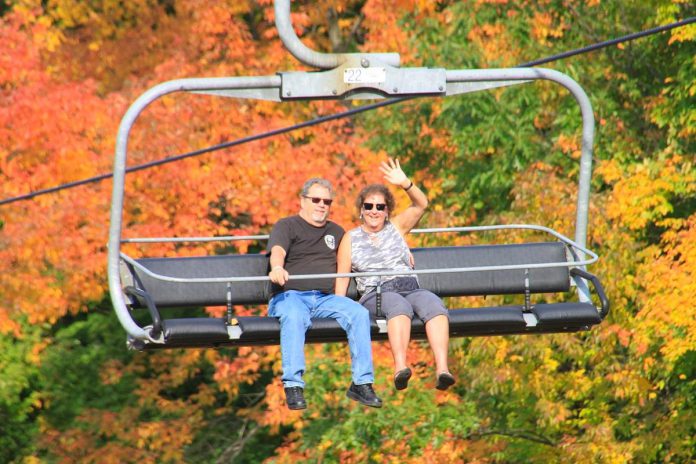 Whether it's the refreshing lakes to cool off in on a hot summer day or the soft white backdrop of flurries on a winter landscape, it's always a good time to visit and live in the Kawarthas.
But there's something extra special about an Ontario fall that makes it truly incomparable, from the changing foliage to the deer feeding from fallen apples to the anticipation of upcoming holiday gatherings and festivities.
Between fall fairs and Thanksgiving fundraisers to harvest meals and spooky haunts, there's lots to do and see in the region. So put on your coziest flannel sweater, buy a pumpkin-spiced latte, and check out these top events happening throughout October.
Advertisement - content continues below
1. Peterborough's Mac + Cheese Festival (October 1 – 31)
Now that those summer bods can be put on hold for another year, it's time to embrace the season of comfort foods — like some deliciously gouda mac and cheese.
Hosted by the Peterborough Downtown Business Improvement Area, Peterborough's Mac + Cheese Festival is an im-pasta-ble to miss event with 21 signature mac and cheese dishes featured on local restaurant menus from October 1 through 31. That's right: there's almost enough to try a new mac and cheese every day of the month!
From classic dishes to the more adventurous (including a Thanksgiving-themed mac from Boardwalk Game Lounge), handhelds (like a mac burger), and even "mac it yourself" options, there's no limit to the mac-nificently cheesy goodness found on the self-guided event.
Cheesy puns aside, the Mac + Cheese Festival is a serious competition in Peterborough, with only one dish reigning supreme at the end of the month. Mac and cheese enthusiasts can vote online for their favourites!
View a map with each participating Mac + Cheese Festival location at www.ptbomacandcheesefest.com, where you can also cast your votes for your favourite dishes.
2. Applefest at Keene's Lang Pioneer Village (October 1)
Apple season is in full swing, so head to Land Pioneer Village Museum in Keene on Sunday, October 1st from 10 a.m. to 4 p.m. for a celebration of the harvest and the world's most common fruit with demonstrations, music, games, and more.
Highlights include horse and wagon rides, harvest dance performances, a scavenger hunt, apple crafts, apple tic-tac-toe, and historic demonstrations including sheep shearing, natural dying, and broom-making. While of course there will be no shortage of apples, apple cider, and apple pie (including a pie eating contest!), Applefest will also have other snacks like chili, freshly popped kettle corn from Ben's Kettle Corn, and Fresh Empire cheese curds with bread.
Admission to Applefest is $15 for adults, $10 for students and seniors (60+), $7 for children 5 to 7 years old and free for children under 5. Family passes of two adults and up to four children between 5 and 7 are available for $40.
More info and tickets can be found at www.langpioneervillage.ca.
3. Pumpkinfest at Buckhorn Berry Farm (October 7 & 8, 14 & 15, 21 & 22, 28 & 29)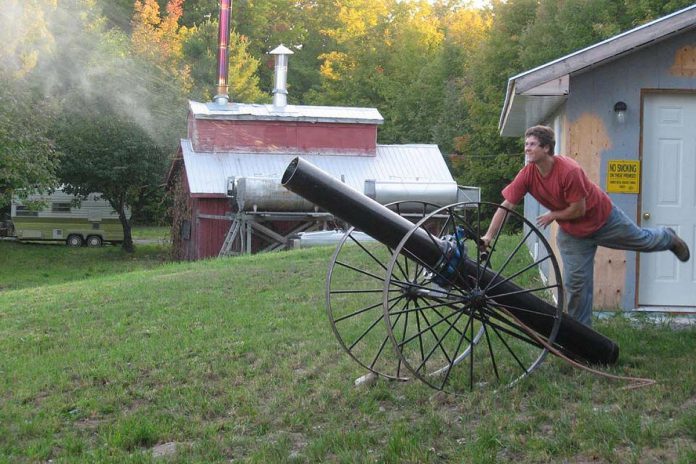 Every October weekend after Thanksgiving, Buckhorn Berry Farm (3055 Berrie Road, Lakefield) is hosting their annual Pumpkinfest. Take a wagon ride out to the pumpkin patch to pick your own pumpkin or participate in a range of themed outdoor family fun activities including corn and straw bale mazes, wagon rides, pumpkin bowling, and even watching a pumpkin cannon blast off.
If you'd rather spend your weekend embracing spooky season as you prepare for Halloween, Pumpkinfest includes a haunted maze, a haunted hallway, a haunted forest, and the eerie Bonesville Cemetery.
If that's not enough, the weekends include food truck comfort meals, a bouncy castle, an obstacle course, farm animal interaction, and daily live music from Tim Holland at 1 p.m. and 3 p.m.
Pumpkinfest runs every Saturday and Sunday in October (beginning on October 7) from 11 a.m. to 5 p.m. Admission costs $12.49 for kids 2 to 12 years old, $13.49 for adults, and free for toddlers under 2 years old. Tickets for families of four cost $49.99.
For more information, visit mcleanberryfarm.com/events/pumpkin-festival/.
Advertisement - content continues below
4. The Studio Tour Haliburton Highlands (September 30 & October 1, October 7 & 8)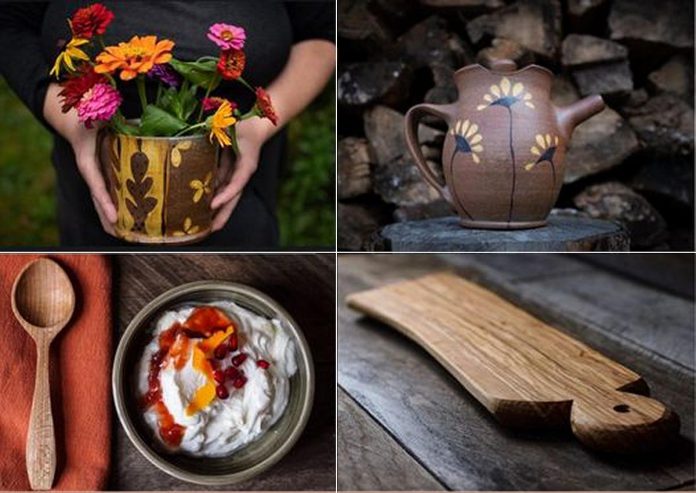 Fall is the time of year for art here in the Kawarthas, and the Haliburton Highlands Art Council is proving it by launching their 26th studio tour for the first two weekends in October: Saturday, September 30th and Sunday, October 1st and Saturday, October 7th and Sunday, October 8th.
The self-guided tour takes visitors on a creative journey to explore the work of more than 30 local and visiting artists, including jewellery makers, photographers, painters, potters, textile artists, wood artists, glass blowers, and more. A unique experience, the studio tour gives visitors get to interact with the artists out of their own studios in and around Haliburton.
With fall colours at their peak, it's a great time to take a road trip through the Haliburton Highlands. The studios on the tour are open from 10 a.m. to 5 p.m. A full list of artists and downloadable maps can be found at www.thestudiotour.ca.
5. Fenelon Falls Turkey Trot (October 7)
Feel better about all that holiday weight you'll be collecting over the next couple of months by participating in the annual Fenelon Falls Turkey Trot happening on Saturday, October 7th. The inclusive event is intended to promote exercising outdoors while raising funds for Fenelon Falls Santa Day.
Beginning at Garnet Graham Beach Park at 10 a.m., the trot takes participants on a flat, out-and-back route along the Kawartha Rail Trail, with distance options of five and 10 kilometres for youth and adults and a one-kilometre trail for kids aged 12 and under.
Unique custom medallions and monetary prizes will be awarded to each category's top finishers, with special awards giving to the top fundraiser, best volunteer, and the best costume — so come dressed in your best turkey feathers! A delicious lunch from local vendors will be provided following the trot.
Until October 3, the Turkey Trot is discounted to $7 for children 12 and under for the 1k run/walk, $40 for adults in the 5/10k run, $30 for youth/seniors in the 5/10k run. $80 family passes for two adults and two children are also available.
For more information and to register visit www.fenelonfallsturkeytrot.ca.
6. Kawartha Farmfest (October 7)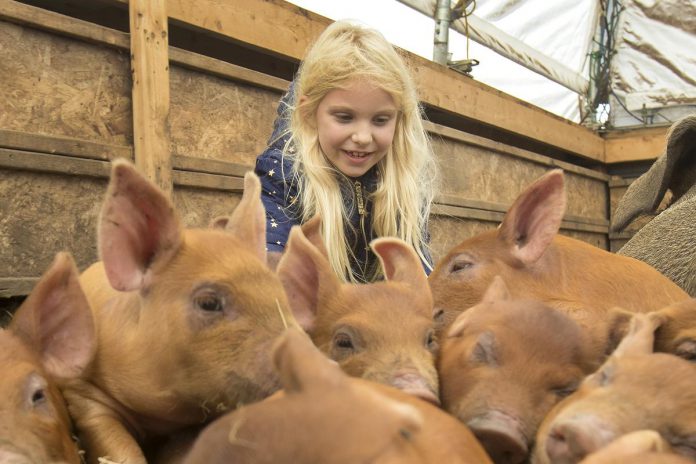 Craft your own fall adventure with a self-guided driving tour of farms and rural attractions throughout Kawartha Lakes. The 21st annual Kawartha Farmfest is taking place on Saturday, October 7th from 10 a.m. to 4 p.m.
Participants can build their adventure from the eight farm sites, three farmers' markets, and two rural attractions that are included in Farmfest. From organics and pumpkins, to sheep, horses, and alpacas, each farm on the tour has something unique to see! And, since it wouldn't be an autumn Saturday morning without time spent at a farmers' market, markets will be open to participants in Lindsay, Bobcaygeon, and Kinmount.
Each Kawartha Farmfest adult ticket will guarantee participants a "buy one cone, get one cone free" coupon which can be used at either the Lindsay or Bobcaygeon Kawartha Dairy locations on the day of the festival.
Tickets cost $5 and are free for children under 14. For more information, to purchase tickets, and for a downloadable map, visit kawarthafarmfest.com.
7. Fall Festival near Haliburton (October 7 & 8)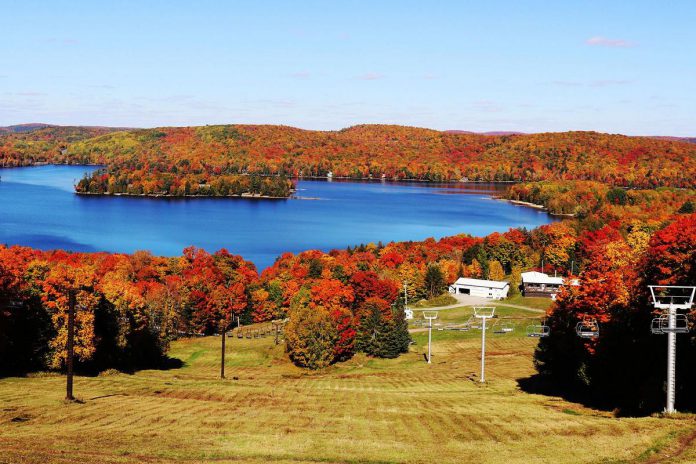 Join Sir Sam's Ski / Ride on Eagle Lake near Haliburton for their annual festival celebrating the stunning fall colours. On Saturday, October 7th and Sunday, October 8th from 9 a.m. until 5 p.m., visit the ski hill for scenic chairlift rides and a vendor market for the full autumn experience. Also included are a pumpkin patch, pumpkin slingshot, a Kids Corner with games, music, bubbles, and Pockets the Clown doing face painting.
Enjoy lunch at the deck BBQ with an attached bar, or head to the beer garden for some local wines and brews for lunch, set to a backdrop of live music from Woody Woodburn on Saturday and Bill Black on Sunday.
The weekend will be the last chance to purchase discounted ski and snowboard tickets for the lowest prices of the season. For more information, visit www.sirsams.ca/fall.
8. Norwood Fall Fair (October 7 – 9)
VIDEO: Rick Mercer at the 2014 Norwood Fall Fair

With its establishment in 1868, it's no surprise that the Norwood Fall Fair has become a popular annual Thanksgiving weekend destination in the region, providing traditional county fair fun for people of all ages. Under the 2023 theme "Flavours of Fall," the Norwood Fall Fair is running from Saturday, October 7th through Monday, October 9th.
Just a small taste of the fair highlights include a cowboy competition, antique car show, tracker pull, horse shows and competitions, sheep shearing demonstrations, a parade, kid's talent competitions, crafts, student exhibits, and of course, a midway with rides and games.
Admissions to the grounds cost $15 for adults ($25 for the full weekend passes), and free for children 12 and under. Tickets to the midway rides can be purchased from the ticket booths on the carnival grounds. Gates and buildings are open from 9 a.m. to 5 p.m. throughout the weekend, with the midway opening at 10:30 a.m.
For the full list of scheduled activities, visit www.norwoodfair.com.
Advertisement - content continues below
9. Keene Pumpkin Festival (October 14)
What would fall be without a little pumpkin? Or, perhaps, a lot of pumpkin? This year will mark the 16th Keene Pumpkin Festival, running on Saturday, October 14th at 1137 Heritage Line with gates opening at 9 a.m.
Between the giant pumpkin weigh-off, a pumpkin pyramid, and pumpkins for sale, there's no better way to get your gourd fix for the season. Other festival highlights include the antique car and tractor show, an artists' showcase, a straw bale maze, a beer garden, axe throwing, and a haunted house.
There will also be a kids' zone sponsored by the Kawartha Credit Union, which will include a bouncy castle, face painting, and other activities to keep kids entertained all day long. Meanwhile, a vendor market of locally made household goods, clothing, food, and crafts will be running all afternoon to keep the adults entertained.
The Keene Pumpkin Festival costs $2 for children 12 and under, and $5 for everyone 13 and up. Visit www.thekeenepumpkinfestival.com for the full line-up of events.
10. Fall Fest Sip & Shop at Rolling Grape Vineyard in Bailieboro (October 14 & 15)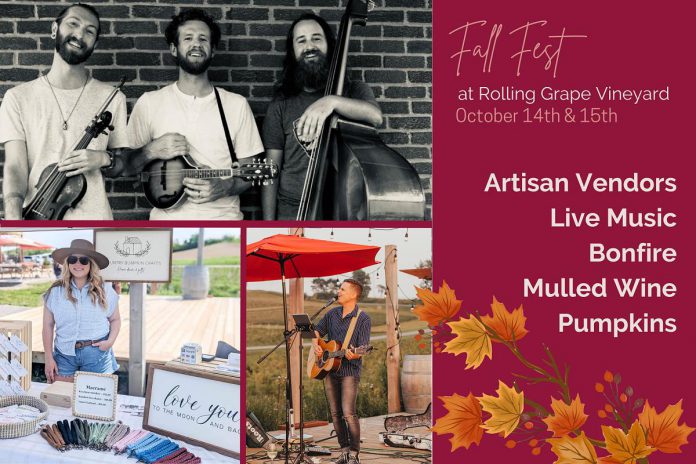 Rolling Grape Vineyard in Bailieboro is welcoming fall with the Fall Fest Sip & Shop Market on Saturday, October 14th from 12 p.m. to 7 p.m. and Sunday, October 15th from 12 p.m. to 5 p.m. The festive weekend of fun will include artisan vendors, lawn games, a bonfire for smores making, pumpkins for sale, and, of course, Rolling Grape mulled wine.
Browse the vendors while enjoying the outdoor market's menu of a creamy pumpkin soup, BBQ pulled pork with coleslaw, hot pretzels with honey mustard, and warm apple hand pies. The weekend will be set to live music from The Doozies on Saturday and Jeff Biggar on Sunday.
No reservation is required for the fun event. Visit rollinggrape.com/fallfest for more information.
11. Monarch Butterfly Festival and Monarch Ultra 10K Race in Peterborough (October 15)
On Sunday, October 15th, head over to Millennium Park for Peterborough's first-ever Monarch Butterfly Festival and 10-kilometre race hosted by the Monarch Ultra. The event is raising money for Nación Verde, a non-profit environmental organization that helps monarch butterfly habitat in Mexico.
Starting at 10 a.m., the 10-kilometre chip-timed race will wind along the Rotary Trail in East City. There is also a one-kilometre fun run for children under the age of 14. Every child will receive a participation award and a snack for completing the course.
Following the race, the free family-friendly Monarch Butterfly Festival will run from 12 to 4 p.m. as a celebratory and educational event for monarch conservation, with face painting, live music from a mariachi band, performers, dancers, poetry, crafts, informational booths, and speakers.
Registration fees are $70 for the 10-kilometre race and $20 for the one-kilometre fun run. Monarch-themed costumes are encouraged.
For more information or to register for the race, visit www.themonarchultra.com/peterborough.html
12. Fall Book Sale at the Peterborough Public Library (October 20 & 21)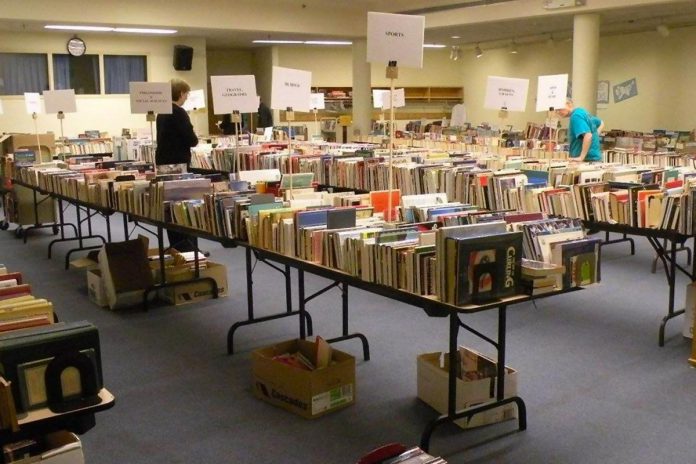 Saying goodbye to summer means saying goodbye to fun-filled weekends of family BBQs, cottage getaways, and patio cocktails and saying hello to cozy weekends with crackling fires, cuddly blankets, steaming coffee, and, of course, good reads.
Get stocked up on books for the fall and winter with the Friends of the Library Book Sale happening at the Peterborough Public Library (345 Aylmer Street North) on Friday, October 20th from 12 p.m. to 7 p.m. and Saturday, October 21st from 10 a.m. to 3 p.m.
Fiction, non-fiction, and audio-visual materials are on sale for about $1, while other books — including bestsellers, children's books, and collectibles — are individually priced.
For more information about the Peterborough Public Library and to get your free library card, visit www.ptbolibrary.ca.
Advertisement - content continues below
13. Marie Dressler Foundation Vintage Film Festival in Port Hope (October 20 – 22)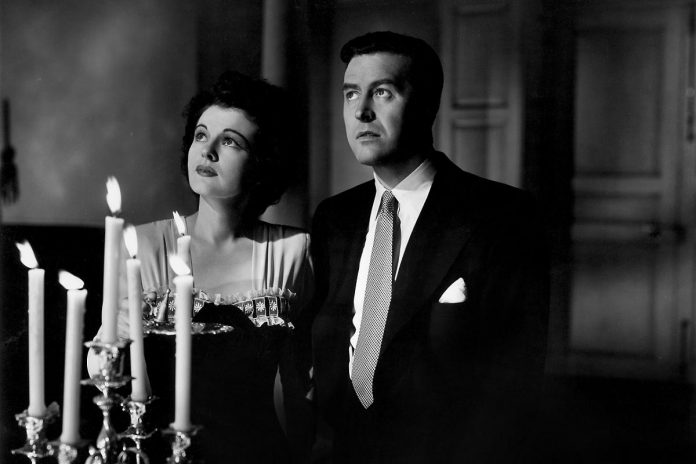 The Marie Dressler Foundation is helping residents and visitors get cozy for the fall with the 30th Anniversary Vintage Film Festival from Friday, October 20th to Sunday, October 22nd at the Capitol Theatre in Port Hope.
Over three days, the theatre celebrates "page to screen" adaptations with a weekend packed with 13 classic movies spanning seven decades and several genres, including Sounder, The Wizard of Oz, The Uninvited, The Killers, Great Expectations, The Phantom of the Opera, From Russia with Love, Gentlemen Prefer Blondes, Belle de Jour, Sabotage, Broken Blossoms, Rosemary's Baby, and Raffles.
The festival includes free popcorn all weekend long, piano accompaniment for all silent films, a silent auction from Friday at 4 p.m. to Saturday at 7 p.m., and the Sunday lunchtime film talk. It's a movie-night experience over three days that you just can't get in your own living room.
Full festival pass costs $89 or $104 with lunch included, while a single movie pass is $12.50. The Sunday lunchtime film talk is $7.50 or $22.50 with lunch. Tickets are free for those 25 years old and under and can be purchased online at capitoltheatre.com or at the Capitol Theatre box office at 20 Queen Street in downtown Port Hope.
Limited tickets will be sold through the box office in advance of each screening, though it's strongly encouraged to purchase ahead of time due to sold out shows and long line-ups.
14. Halloweek at Pie Eyed Monk in Lindsay (October 20 – 31)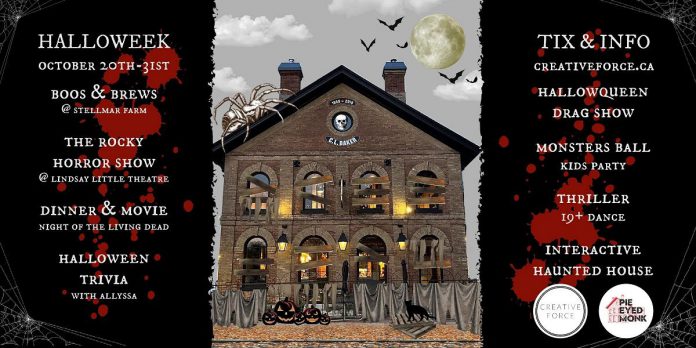 Leading up to Halloween, Creative Force and the Pie Eyed Monk in Lindsay are presenting a terrifying week that's not meant for the faint of heart. From Friday, October 20th to Monday, October 31st, the restaurant and brewery is hosting a line-up of both new and returning events, hosted both on and off-location, including the "Boos & Boos" at Stellmar Farm.
On the second floor of the restaurant's location at 8 Cambridge Street North, the Pie Eyed Monk will be hosting a film screening of the zombie film that started them all Night of the Living Dead (October 25, 7 p.m.), Halloween Trivia (October 26, 6:30 p.m.), Halloween Drag Show for ages 19+ (October 27, 7 p.m.), Monsters Ball kids party (October 28, 12 p.m.), Thriller Halloween Dance for ages 19+ (October 28, 9 p.m.), and a Haunted House (October 31, 5 p.m.).
Event prices range from free to roughly $30. For a full list of events and ticket costs, visit creativeforce.ca/halloweek.
15. Habitat for Humanity's Sunday Dinner at the Restore in Peterborough (October 22)
Join Habitat for Humanity Peterborough & Kawartha Region at the Peterborough North ReStore (300 Milroy Drive) for their inaugural Sunday dinner on October 22 from 5:30 to 8:30 p.m.
The beef roast harvest dinner will include wine and cocktails, paired with live entertainment and a silent auction of donated community goods and products.
All profits from the fundraiser will support affordable homeownership, specifically Habitat's Phase Two 12-unit affordable condo development currently under construction at 21 Leahy's Lane in Peterborough.
At a cost of $125 per person, tickets can be purchased at sunday-dinner-at-the-restore.square.site or by calling 705-874-0201.
16. "The Legend of Sleepy Hollow" in Bancroft (October 26 – 28)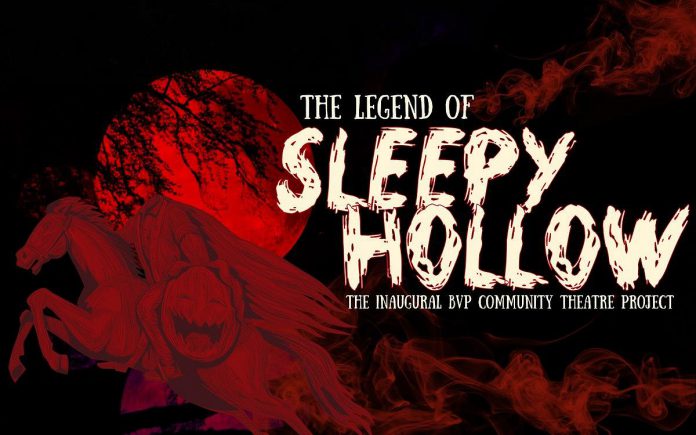 Tweed & Company Theatre is launching a new tradition at the Bancroft Village Playhouse (5 Hastings Street South) this harvest season with a spooky presentation of The Legend of Sleepy Hollow, the company's first community theatre project with a cast of local performers and their inaugural Halloween production.
Based on American author Washington Irving's famous 1820 short story, the production tells the story of Sleepy Hollow, a quaint and haunted village with a mystery surrounding the mighty headless Hessian. While townsfolk might protest when a local schoolteacher Ichabod Crane vies for the hand of the beautiful Katrina Van Tassel, it's the headless horseman who must decide their fate.
The Legend of Sleepy Hollow runs from Thursday, October 26th to Saturday, October 28th at 7 p.m., plus an additional matinee show at 2 p.m. on Saturday. Tickets cost $25.50 for adults, $22.50 for seniors, $20 for arts worker, and $17.50 for children and youth.
For more information and tickets, visit www.villageplayhouse.ca/the-legend-of-sleepy-hollow. Note that the play is not recommended for very young audiences.
17. Historic All Hallows' Eve at Lang Pioneer Village in Keene (October 27 & 28)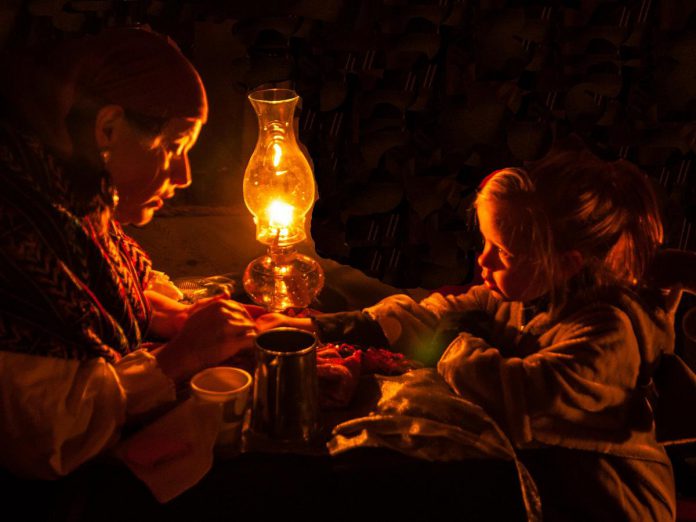 Head to Lang Pioneer Village Museum in Keene on Friday, October 27th and Saturday, October 28th from 6 p.m. to 9 p.m., when the museum is hosting an all-ages event that's sure to get everyone in the mood for Halloween.
Discover the origins and history of Halloween traditions while enjoying games, fortune telling, tractor, and wagon rides. You can experience the Museum of Uncanny Phenomena by Mental Floss Sideshow, and you won't want to miss Stingy Jack (played by Glen Caradus) telling you all about the origins of the jack-o-lantern. Visitors are encouraged to attend in their best costumes to blend in with the spirits and ghosts who will be lurking throughout the village.
Don't be afraid to bring the little ones along — while some of the historical stories behind Halloween customs are quite dark, this is not a frightful experience.
Admission costs $15 for adults, $10 for students and seniors (60+), $7 for children aged 2 to 14, and free for toddlers 2 and under. A family pass for 2 adults and up to 4 children costs $40. Visit www.langpioneervillage.ca for more information.