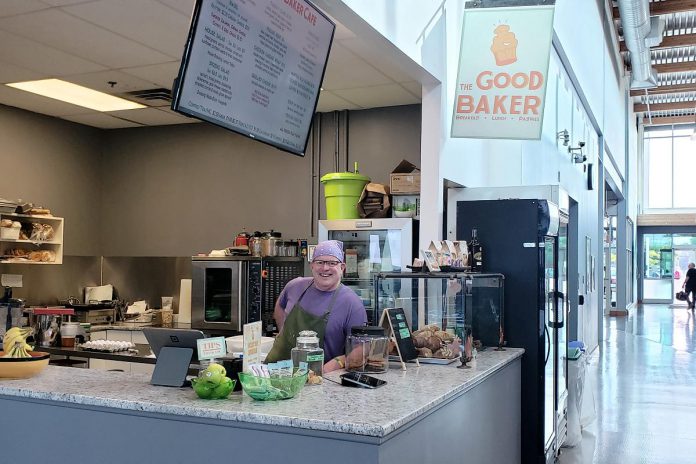 When Brad Katz opened The Good Baker inside the YMCA's Balsillie Family Branch in downtown Peterborough at the end of last year, his goal was to serve up pastries that would make his customers question their perception of gluten-free products.
Based on the volume of guests who compliment his offerings without even recognizing they're made entirely without gluten, Katz seems to have accomplished his goal.
"We have a lot of customers that come in just because they love the cookie or dates or whatever is that we're making," says Katz. "A lot of people are surprised that all of our products are gluten free, and that's really what I want to hear."
Tweet this quote
Although The Good Baker sandwiches are glutenous exceptions, Katz assures they too can be made on gluten-free bread in a completely celiac-safe environment in the back of the kitchen.
But, as for the bakery's homemade salads, weekly soups, and rotating line-up of baked goods, including cookies, squares, scones, muffins, tarts, and their famous banana bread, everything is made without gluten products. The Good Baker also provides custom gluten-free cakes and cupcakes for special events.
"We really want to be a destination," says Katz. "Whether it's people stopping in on the way to the Y, or people going out of their way for gluten-free options."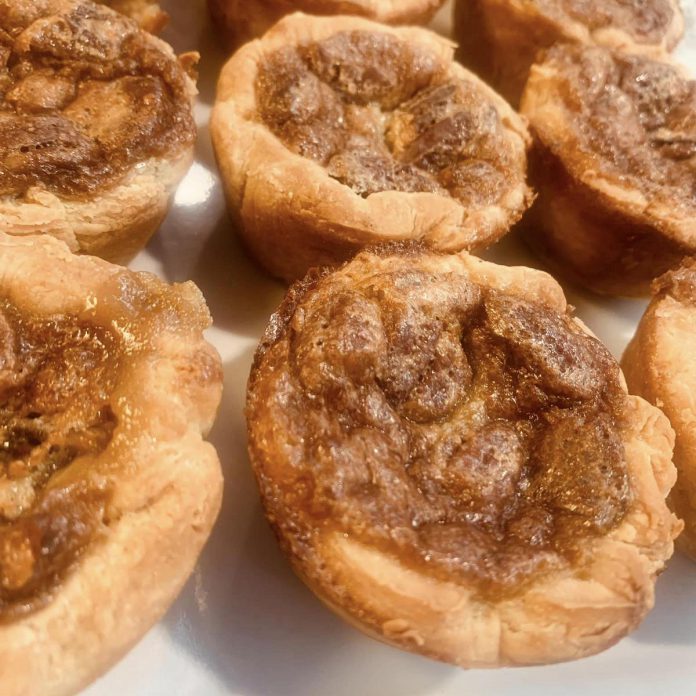 Though he has been baking his whole life, it wasn't until about 14 years ago that Katz began doing it for a living, taking his first shot at owning his own business with the Kawartha Lakes Fudge Company.
After starting out with a brick-and-mortar location in Lakefield, the candy company has been running completely wholesale and for special events like wedding favours for the past nine years. Fortunately, the fudge is also available at The Good Baker for customers.
"Kawartha Lakes Fudge is just part of who I am," Katz says. "I don't even really recognize it because I've been doing it for so long."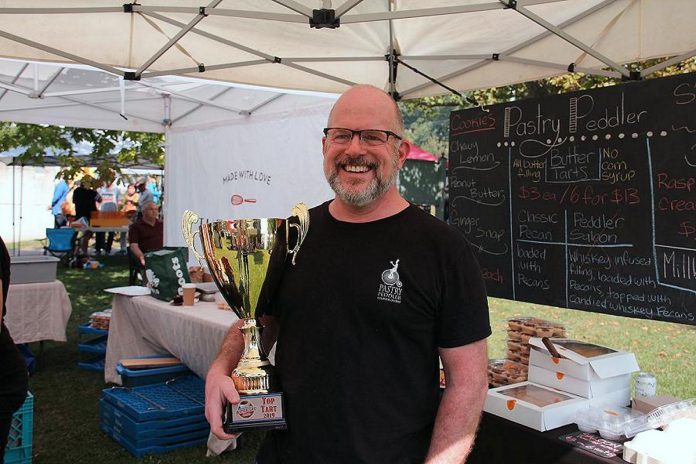 After a few years as head baker at Millbrook's Pastry Peddler, followed by a brief stint at the Butter Tart Factory, Katz began exploring options to start his own bakery.
"This is something I've wanted to do for a very long time," he says. "I've wanted to have my own place where I could start to put my own impression on things. So when this space inside the YMCA was available, it all seemed to click so nicely."
While The Good Baker's focus is on celiac-safe options, Katz explains it wasn't long ago when he didn't give a second thought to gluten-free products in his baking. He only started experimenting about five years ago when his son's mother was diagnosed with celiac disease and, not long after, when his son received the same diagnosis.
Tweet this quote
As any parent, Katz was largely motivated to give his child an easier and better life — and what better way is there to do so than through gluten-free treats?
"When our son was first diagnosed as celiac, all I could think is that my kid's not going without quality baked goods," Katz recalls. "I quickly started hammering out and modifying recipes."
Though he may not have realized at the time, The Good Baker ultimately blossomed from this determination to showcase the delicious potential of gluten-free food, which has long had a stigma attached to it.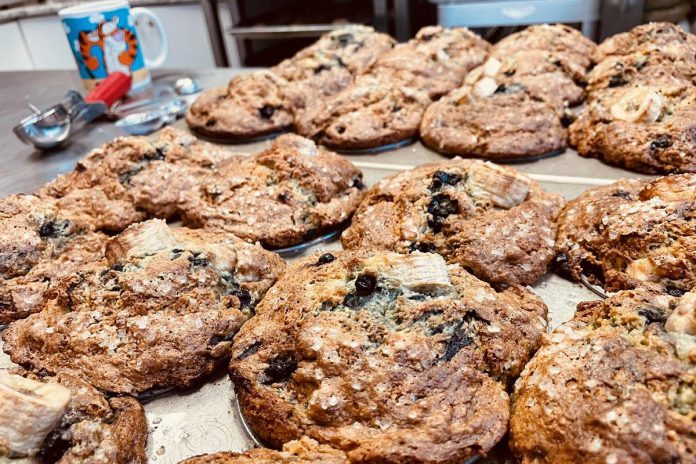 Tweet this quote
"People come in with this idea that if it's gluten free, it can't be good," Katz says. "But I don't want it to be good for being gluten free — I want it to be really good and it happens to be gluten free."
The determination doesn't end at his baked goods either, as all of The Good Baker's sauces and dressings are also made in-house and are entirely free of gluten.
While pastries were the starting point for the bakery, the sandwiches are equally popular. Katz says the roasted chicken Caesar wrap, grilled cheese, and the turkey club are the customer favourites. The roasted vegetable panini is a popular fall menu item, which will soon be back in a slightly modified version as The Good Baker moves into winter offerings. The fall menu will also include the return of weekly pizza specials.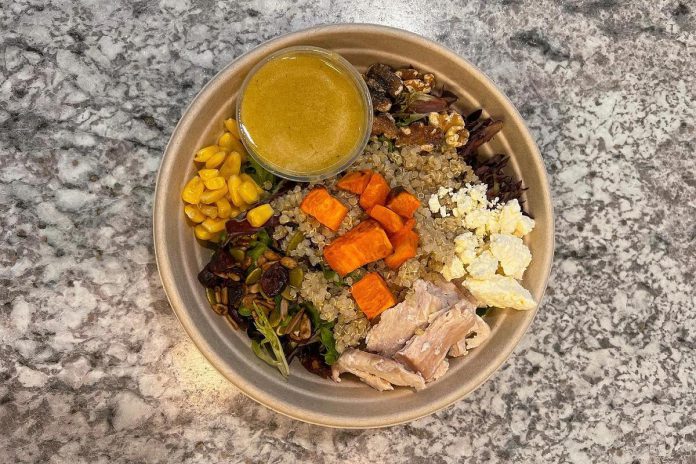 The Good Baker offers a "grab n' go" fridge section with egg salad sandwiches, power bowls, chicken salad sandwiches, and snack bowls of veggies and house-made dips. The fridge also includes beverage options like Gatorade and fruit juices, in addition to the smoothies available every day.
"Whatever people are telling us they want to see, we'll bring in," notes Katz, adding that the sandwiches and salads are also constantly changing depending on what customers seem to enjoy.
For example, one of Katz's regular customers once expressed a desire for a bagel with cream cheese, lox, onions, and capers, so Katz added it to the menu. Another time, people were asking for the same soup they had purchased yesterday so, rather than serving a daily soup, The Good Baker now rotates their soups weekly.
Tweet this quote
"I want to hear from the customers," says the owner, adding that he's always on the hunt for customer-approved gluten-free bread. "I want them to eat what we're offering and I want them to be happy with what they they're getting. It's all about just giving the customer what they want."
Katz also enlists his small team of staff to help make decisions when it comes to the bakery. That includes 25-year-old Katie McDonald, someone he had worked with for years at both Pastry Peddler and The Butter Tart Factory. The duo are the perfect combination of youthful enthusiasm and lived wisdom, with her recent entry into the industry providing modern insight and a fresh perspective to complement his baking knowledge and 60 years of life experience.
"It's great to work with her because I'm getting that perspective from her generation," explains Katz, whose team also includes part-timer Meghan Goodman.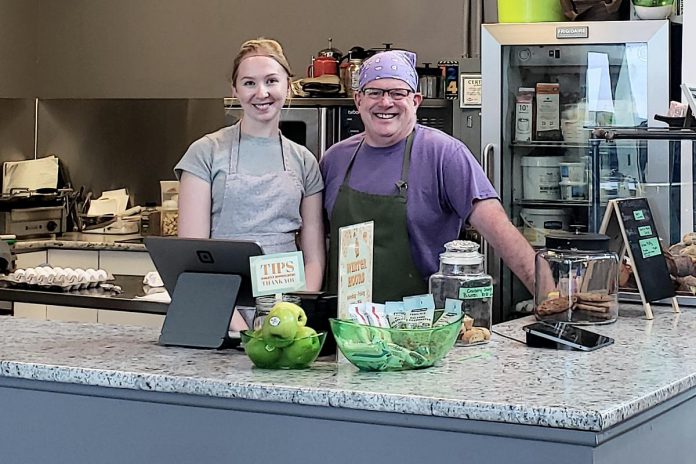 Katz says each member of his team contributes to the baking and the brainstorming of new ideas to meet customer preferences.
"Having a small team like that, you get to really play off each other's strengths," Katz points out. "They're both doing a really bang-up job and customers are noticing."
As the YMCA gets busy with memberships again for the upcoming winter season, The Good Baker is gearing up to serve a steady stream of YMCA members — one of the reasons Katz chose to open his bakery in the YMCA building.
"It's important for me to be part of the community and the 'Y' is a great community to be a part of," he explains. "It's reflective of a lot of Peterborough as a society and that's fantastic. There are members that come in and we know more about them than just what they want to eat. They let us in a little on their family life and it's great."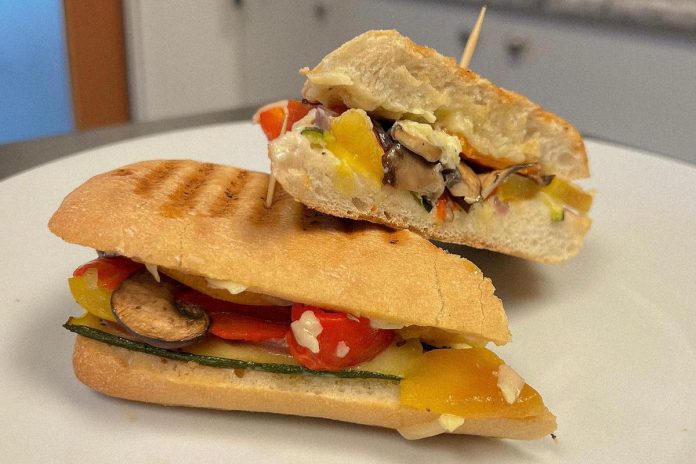 Tweet this quote
Katz jokes he doesn't know where some of his customers "get the discipline" to come into the YMCA each day before or after work, but he's always happy to see them and greet them with a muffin or fresh banana bread.
"To me, almost as fulfilling as the job are the people that I get to talk to throughout the day," he says.
As word spreads about the delicious gluten-free food available at The Good Baker, it seems likely that Katz is going to have the chance to get to know even more customers.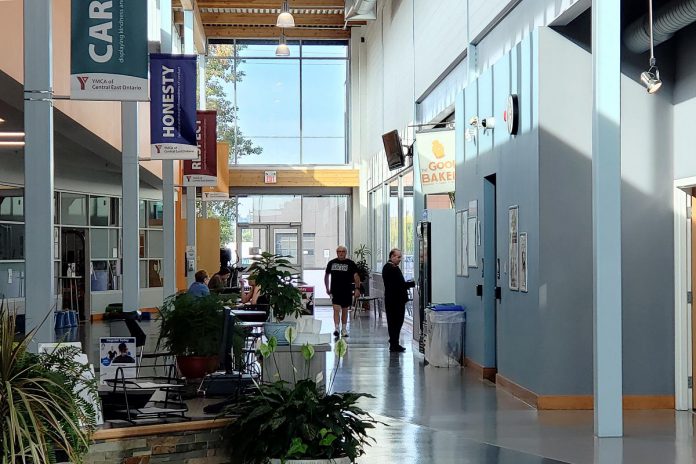 Open to the entire community, The Good Baker is conveniently located just inside the YMCA's Balsillie Family Branch at 123 Aylmer Street South in Peterborough (look for The Good Baker sign). Parking is free and you can just walk in the door to pick up your breakfast or lunch or to indulge your sweet tooth.
Heading into the fall, The Good Baker will be changing their hours to be open from 8 a.m. to 7 p.m. Monday to Friday, and from 9 a.m. to 2 p.m on Saturdays. To contact The Good Baker, call the YMCA's Balsillie Family Branch at 705-748-9642 ext. 232. For daily features and specials, follow The Good Baker on Facebook and Instagram.
This branded editorial was created in partnership with The Good Baker. If your business or organization is interested in a branded editorial, contact us.