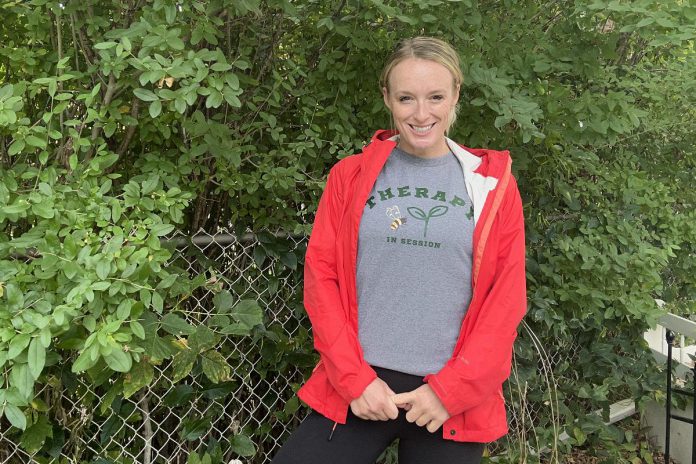 "You're no good to anyone if you're having a nervous breakdown, so you better relax and take care of yourself."
So were the words Peterborough resident Ashley Webster's grandmother said to her after a family gathering during a particularly difficult time in Webster's life. The words have since become her motto to live by, reminding her to take care of herself, and now she's encouraging others to the same by launching a small business centred around mental health and flowers.
Named after the street Webster lives and works on, Braidwood Blooms is an online store and social media presence with mental health care as the focus. On her TikTok and Instagram accounts, Webster provides tips and tricks as a beginner gardener, while sharing her experience with mental health, 25 years of navigating the health care system, and being diagnosed with attention-deficit/hyperactivity disorder (ADHD) as an adult.
Advertisement - content continues below
Tweet this quote
Budding quickly, Braidwood Blooms has just launched a third product — a notebook that helps with emergency room visits — and will be continuing to grow until next spring, when Webster plans to sell some of the cut flowers she is growing in her garden.
"I've always just loved gardening — it's just something I do for my own mental health," explains Webster, adding that it comforts her by reminding her of important people in her life.
"Yellow roses always make me think of a very special person in my life, because one time she told me that it symbolizes friendship. Now that she's passed, every time I see yellow roses, I think of her. My grandma, too, always had tiger lilies in her ditch, so it was always the about memories of gardening connected to people I love."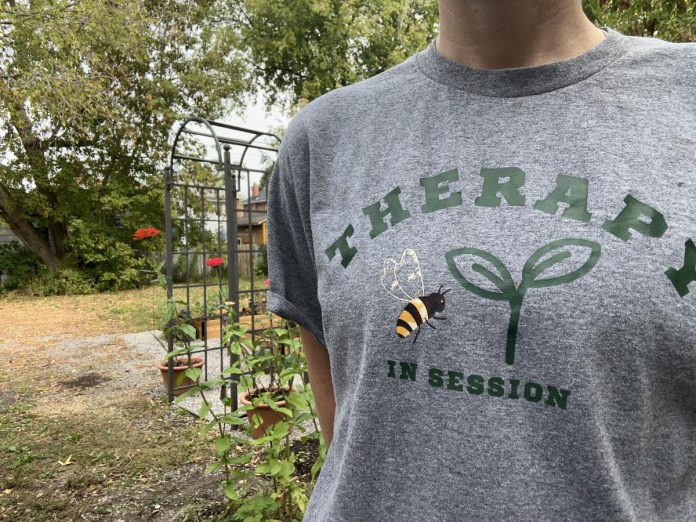 Webster says moving into her Braidwood home four years ago was the first time she was able to really begin her own garden and put effort in learning how to take care of it, though she jokes that she only stopped killing everything a couple years ago.
But in the past year, with the combination of being diagnosed with ADHD at 36 years old, postpartum from her first child, being out of a job following a "stressful" role with the City of Peterborough, and being unable to work at the same capacity, the business owner really began to see the value in focusing on gardening as her therapy.
Similarly, after her ADHD diagnosis, Webster also found herself doing a lot of "mindless scrolling" on TikTok where she was feeling comforted by videos from creators sharing their experiences with ADHD and mental health. However, she says there was only one kind of video she was seeing.
Advertisement - content continues below
Tweet this quote
"I found it all very sad, with a lot of people crying on camera and sharing their experiences," Webster recalls. "For a while that was good, because it made me feel like I'm not the only one that feels this way, but then it got to just be really heavy. It felt like I was just getting stuck in that heavy space, so I started actively searching out accounts where I could still feel less alone, but that were more positive and looking at the upsides."
In her first "Garden Chat" video series, where Webster invites guests to share their own mental health stories, she spoke to her brother Tyler, who was diagnosed with ADHD and autism at a very young age. Webster explains that, with boys presenting hyperactive and impulsive traits in comparison to girls' more internalized traits, it's not uncommon for girls to be diagnosed much later in life.
"They say ADHD for boys shows up in the classroom and for girls it shows up on the playground," says Webster, adding that it made it hard to diagnose her own autism, especially in comparison to her brother. "My brother was wild while I always got good grades, so no one noticed the other things. It was just kind of brushed off because it wasn't as severe as his."
VIDEO: Ashley talks to her brother Tyler on her "Garden Chat" series
As someone diagnosed later in life, Webster, who is labelled as high masking, says she often feels a lot of "grief" in thinking about what might have been different in her past had she had an earlier diagnosis.
"You start looking back at times in your life and seeing it in a different way," she says. "You see the times where someone with a diagnosis would have been supported and loved and you were told bad things about yourself for the exact same thing."
In sharing some of her own experiences and supports, Webster hopes to create a community where people are more open to talking about their mental health.
Advertisement - content continues below
Tweet this quote
"As hard as it is, (getting diagnosed) is such a privilege," she says. "People that are struggling without a diagnosis, not only are they not getting the meds they need or the support in their day-to-day life, but they're probably being shamed, corrected, and made to feel bad about who they are without even realizing that it's actually not in their control at all. That's why I'm so driven to be open about it because it's just a horrible, lonely place to be. Even though so many people go through it, it just feels like you're alone sometimes."
The products currently available from Braidwood Blooms are designed to navigate mental health care, with the T-shirts encouraging customers to prioritize taking the time to heal themselves through their own form of therapy, as Webster does by gardening.
"There are a lot of forms of therapy and a lot of other things we can do to bring joy and peace and calmness into our lives," says Webster. "It's important to do that and calling it therapy takes the guilt away."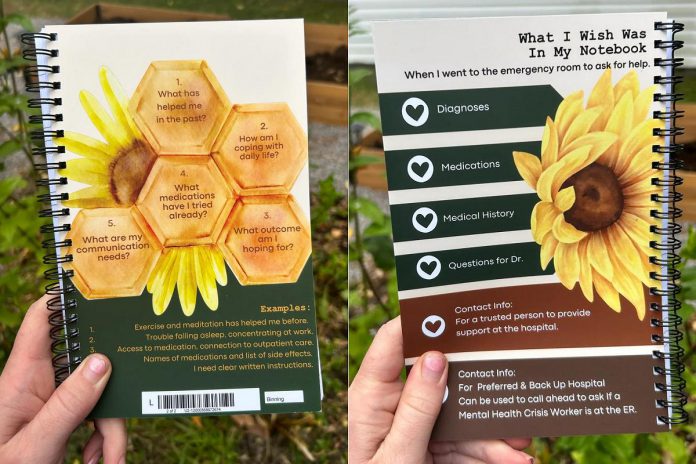 One dollar from each shirt sold goes to mental health services at Peterborough Regional Health Centre.
The newest item for sale by Braidwood Blooms is a notebook specifically designed for those living with ADHD.
"It's extremely beneficial for people with ADHD to always carry a notebook, because the trouble they have is they try to do six things and they freeze and then nothing gets done." explains Webster. "Having a notebook, they can get the immediate thoughts out and can trust they won't forget."
Advertisement - content continues below
Tweet this quote
What makes the notebook unique is that it is intentionally designed for people with ADHD to prepare in advance of emergency trips to the hospital. Developed from her own experiences of receiving inadequate care because she was unable to voice what she needed during a time of crisis, the notebook includes prompts for writing out key information like diagnoses, family medical history, current and past medications, emergency contact information, preferred hospital, and backup plan.
On the back cover, Webster has included guiding questions for the user's note taking, with questions like 'What has helped me in the past?', 'How am I coping with daily life?', and 'What are my communications needs?'
"Maybe you have the notebook at home and you can just look at it when you have the capacity or when you're feeling okay, and have the information written in advance so that if crisis hits, you're ready to go," she suggests.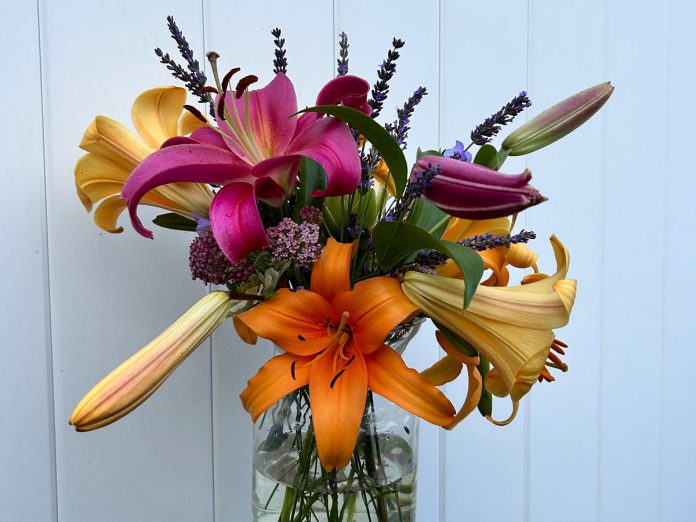 Tweet this quote
"Even if you just have the notebook with nothing in it, you're going to be sitting in that emergency room for a long time, and your brain is not going to be thinking clearly at all," Webster adds. "Writing can be a way to kind of centre yourself and use that time to make sure that, when you get your chance with the doctor, you make the most of that time."
As Webster continues to grow her business with more resourceful products, and with the hope of selling cut flowers next spring and summer, she explains that Braidwood Blooms is a "win-win" because not only are people prioritizing their own well-being, but they're creating a community by encouraging others to do the same.
"The products are meant to make you feel good because you are doing something positive to help your own self-care, but also you're helping your community and helping other people like yourself. It's not selfish to take care of yourself. It's actually critical."