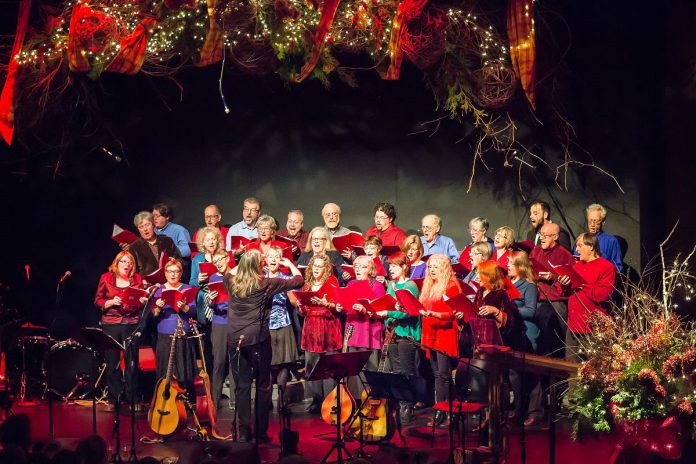 With the cold weather here along with a smattering of snow, our collective thoughts will soon turn to the Christmas season, and the insanity associated with having so much in so little time. But since 2000, a treasured respite from the craziness has provided thousands of people with a most welcome break while raising thousands of dollars for Peterborough's YES Shelter for Youth and Families.
'In From The Cold' returns on Friday, December 8th and Saturday, December 9th, again taking up residence at Market Hall Performing Arts Centre in downtown Peterborough. Tickets for either 8 p.m. performance are now available at a cost of $25 ($30 for cabaret seating) and can be ordered online at markethall.org.
Featuring seasonal music that one would be hard pressed to hear anywhere else, the annual benefit concert — co-founded by local musicians John Hoffman, Susan Newman, Rob Fortin, and Curtis Driedger — has raised close to $170,000 for the Brock Street shelter's provision of its programs, with last year's result of $19,963.43 the highest one-year total to date.
Advertisement - content continues below
Tweet this quote
Just as they were back in 2000, Newman and Fortin are in the mix once again, performing with Hoffman as the trio Carried Away.
Joining them, as they have year after year since, will be multi-instrumentalists Driedger and Michael Ketemer, Celtic harpist Tanah Haney, and the 28-voice Convivio Chorus.
In From The Cold, recounts Newman, started quite by accident.
"Rob had this kind of party trick he could do — drop D tuning on the guitar and doing a medley of Christmas carols: I Saw Three Ships, Good King Wenceslas, Joy To The World," she says.
"We were at dinner at John and Holly's," Fortin adds, referring to Hoffman and his wife. "It was around Christmas time. John and Susan started playing along and it was like 'Boy, this sounds nice.' That was it. We thought we had better try this out on the public."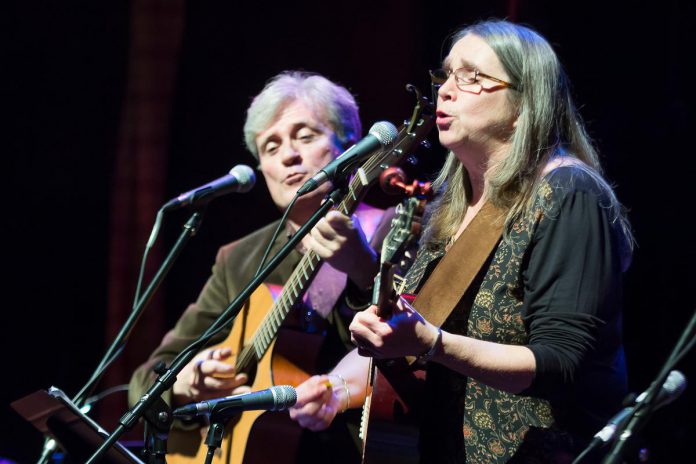 That they did, not at Market Hall but at the Peterborough Memorial Centre as part of the Festival of Trees entertainment lineup.
"It was nice but the sound was what you'd expect in a cavernous arena with trees in it," recalls Newman, noting their post-show thoughts turned to "doing one night at Market Hall" with Driedger in the mix.
"Right around the same time (the summer of 1999), we were involved with the production of The Devil and Joseph Scriven at 4th Line Theatre. I set a bunch of Scriven's poems to music and assembled a small choir of eight singers. That became the Convivio Chorus."
Advertisement - content continues below
Tweet this quote
Noting "all the essential elements" of In From The Cold were set at that first show, Fortin says making it a fundraiser for YES was agreed upon. At the time, it was a not-for-profit agency without a home.
"Later on, I remember (then YES executive director) David Haw saying at In From The Cold that this (the proceeds) 'is our food budget.' Once you realize you're a line of their budget, you're kind of obliged to do it. You don't want to pull that. It takes on a life of its own. It's something that has to happen."
"John's main objective was to play some music he liked with people he likes and have a nice show. I credit him with the idea of giving (the proceeds) to YES. I remember thinking 'Let's do it for the Prince of Wales music program', which was hanging on by the skin of its teeth, but then John mentioned YES. We thought that was perfect."
Better than perfect, according to YES executive director Aimeé Le Lagadec, who, having been appointed to that position in January 2022, attended her first In From The Cold concert last year.
"To think that, during the busy holiday season, enough people came out and showed us support, and showed all of the performers support, raising $20,000 over a couple of nights, is just astounding," she marvels.
"We have the emergency shelter, but we also have an outreach team and we have transitional housing, so $20,000 goes a long way supporting those programs and the staff operating them, creating safe spaces for our youth and families."
"Another big impact now is the cost of food. We're having a really tough time keeping our shelves stocked with food. Folks can't afford to buy their own food, so they can't afford to give to Kawartha Food Share. That, in turn, means Kawartha Food Share can't give to us. We're having to increase our food budget in order to keep up with the demand in the shelter and our food cupboard for the community."
Advertisement - content continues below
Tweet this quote
Not lost on Le Lagadec is the fact that Hoffman, Newman, and Fortin could have opted to change the benefactor of In From The Cold proceeds at any time but have not.
"To say that we're thankful and grateful … well, there really aren't any words," she says. "A little tiny spark — maybe a lived experience that one of them had or someone they knew had — has led to a 23-year run of them supporting us."
"It's a beautiful thing — everything from the décor to the people. The whole atmosphere really sets the tone for the holiday season; a tone of giving and a tone of togetherness."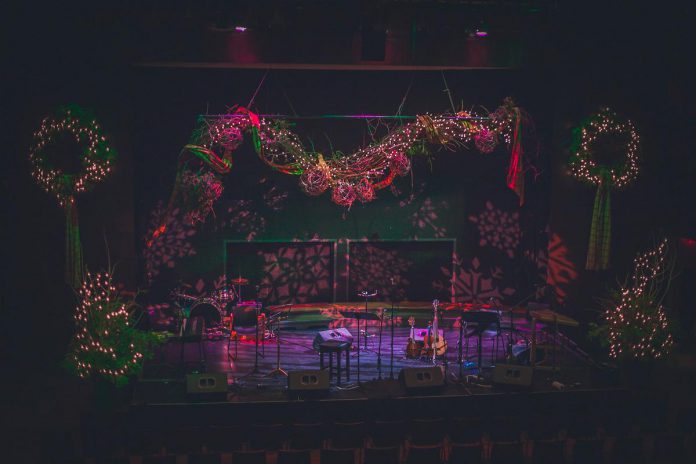 As for what the audience will experience this time around, the trick according to Newman is to deliver what has worked so well while "keeping it interesting and alive for us" and fresh for returning supporters.
"For Carried Away, we've dug up songs by Canadian songwriters. We're doing an original song of mine (set to a Robert Louis Stevenson Christmas poem), one by Ron Hynes ('I'll Be There Christmas Eve'), and one by Roy Forbes ('Ring The Bells At Midnight')."
The trio will also perform the 18th-century English carol "Gloucestershire Wassail" and "Wouldn't It Be Loverly" from My Fair Lady, the latter a song that speaks more to the cause than the season.
"All I want is a room somewhere far away from the cold night air," says Fortin, quoting a lyric. "It's quite a powerful song in the context of what the evening is all about."
Advertisement - content continues below
Tweet this quote
Meanwhile, the Convivio Chorus will perform eight songs, four of which are the New Hebrides hymn "The Christ Child's Lullaby," "Star Of Wonder" written by Terre Roche of The Roches, the Peter, Paul and Mary standard "A Soalin'," and the Swedish carol "Jul Jul Stralanded Jul."
In addition, the Driedger-led Claveers will sing "Christmas Maybe," and Hoffman, joined by Haney, will perform an instrumental medley of two Swedish songs traditionally sung to mark St. Lucia's Day on December 13th.
"People will again hear instruments they don't hear all that often," adds Newman. "Michael plays the concertina, the hammered dulcimer, the recorder, and the tin whistle, and he always works up a fingerstyle guitar solo piece. There's Tanah on the harp, and John brings in mandolin, bouzouki, and fiddle."
VIDEO: "In From the Cold" – A Film By Rodney Fuentes (2017)

Tweet this quote
However, one thing that won't be tinkered with is the "kitchen party vibe" that has been a trademark of In From The Cold since day one.
"I think the feeling in the room is what brings our audience back year after year," assesses Fortin. "What we hear from our audience is this is a way of celebrating this time of the year that is ours. We own this. Music brings us together to have this moment."
"So many say to us 'Our Christmas season starts with In From The Cold.' There are people I know only from the concert. We're continually bumping into people who say 'You don't know us but we come to your show every year.'"
Tweet this quote
Newman notes the relatively low ticket price is another constant, and for good reason.
"We probably could have made more money for YES over the years, but it was really important to us to keep it affordable," she says, noting "Everybody is laying out so much money at Christmas as it is."
"Come in from the cold — the feeling of community in the room is the magic. It's really special."
While In From The Cold sponsors are still in the process of being procured, so far they include IG Private Wealth Management Adam McInroy and Associates, Wild Rock Compassion Project, and kawarthaNOW, a longtime supporter of In From The Cold.
kawarthaNOW will update this story with additional sponsors as they are announced.
For In From The Cold tickets, visit markethall.org. For more information about the services of YES Shelter for Youth and Families, visit yesshelter.ca.
This story has been updated with a correction that the Convivio Chorus will perform eight songs, including the four songs listed.