The Vine, a pescatarian, vegetarian, and vegan restaurant in downtown Peterborough, is on a roll.
After capturing the crown in Peterborough's first-ever Caesar Fest in July, the Sherbrooke Street eatery has also won first place in this year's second annual Mac + Cheese Festival, which took place during the month of October at participating downtown restaurants. Over 1,000 votes were cast for Peterborough's favourite mac and cheese dish.
Co-owned by Tyrone Flowers and Lauren Mortlock, The Vine served up a unique mac and cheese dish made with house-made cheese sauce infused with kimchi — a traditional Korean side dish made from salted and fermented vegetables with spices — and three different types of cheese, topped with toasted breadcrumbs and scallions.
Advertisement - content continues below
"There's no right or wrong way to make a mac and cheese and I think that's what makes this festival so special," Flowers says in a media release. "The variety of flavour profiles you see in all the dishes are all unique and cater to different palettes. As a chef you can go traditional, or jazz it up and make it as crazy as you want. We're so pumped to win and the thing is, mac and cheese is the ultimate comfort food and that's what we specialize in here, so we are really proud to be recognized for that, especially being a new business in the downtown."
Second place was claimed by last year's co-champion, The El (P), for its leek and pesto mac and cheese, with Crook and Coffer taking third place for its croustade macaronis ya fromage, which featured creamy pasta shells enveloped in a phyllo crust.
The second annual festival, organized by the Peterborough Downtown Business Improvement Area (DBIA), featured 21 different mac and cheese dishes offered by 20 downtown eateries.
As the champion of this year's festival, The Vine receives bragging rights for the year, along with a "cheesy" hand-crafted trophy and a sizable donation to Kawartha Food Share in their name.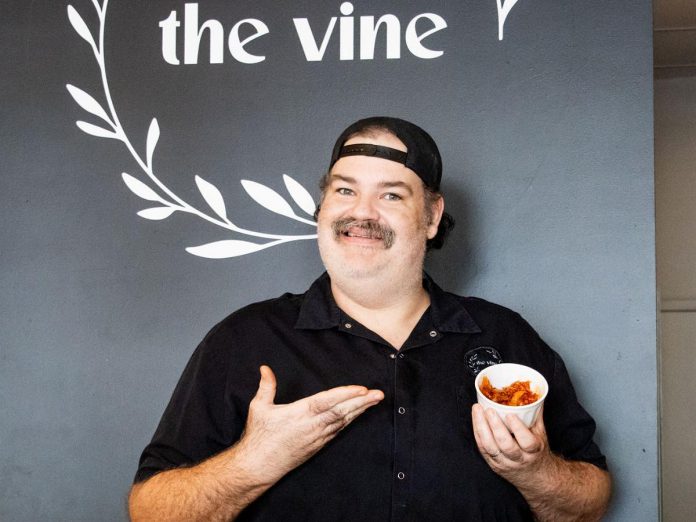 This story has been updated with a quote from Tyrone Flowers.