When Outpost379 recently announced a new generation of leaders taking over the company, the Peterborough-based ad agency took a step forward in the future of advertising with three women included on the new five-person ownership team.
The new ownership team is comprised of Valerie Smith, Sacha Lai-Svirk, and Diana Freeman along with Zachary Durisko and Ben Steele. Co-founder and former president Paul Hickey is stepping into the position of chairman to guide the new team, while co-founder and CFO Chris White heads into retirement at the end of the year.
Hickey explains that, unlike when he sold his previous ad agency MarketForce 20 years ago, he always knew that when it came time to wind down his time at Outpost379, he didn't want to sell to a global advertising agency that "buys agencies and swallows them up." Instead, he wanted to sell internally and keep Outpost379 based locally out of his hometown where it was founded.
Advertisement - content continues below
Tweet this quote
"I just wanted to do it completely differently and it just so happens that the team that has emerged and the team that really deserved the chance to own Outpost and take it to a new place was these five," says Hickey. "They've become such an important part of who we are. It's just natural, as they've had such a high potential."
Outpost379 was founded by Hickey and White in 2005 as BrandHealth and has since grown into a 30-person agency, rebranding in 2019 as Outpost379 — a name that combines its address (379 George Street, Peterborough) with the concept of being the "outpost of advertising" in offering a "fresh perspective" from Peterborough.
The agency specializes in advertising services for health, medicine, and fitness, and has a history of working with both international clients like Medicago and Gilead Sciences, and local clients including the YMCA, the Canadian Canoe Museum, and Kawartha Land Trust.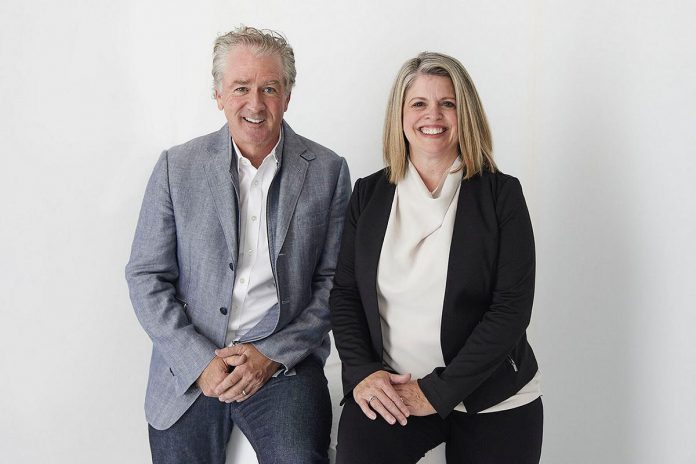 Hickey expresses excitement, trust, and hope in having the next generation of owners being predominantly women.
"It's no secret in the world of advertising and public relations, women have always been representatives — representatives from a quantity of people point of view," Hickey says. "But I can't think of too many of our competitor agencies who are owned by women or have women-dominated leadership teams."
Recently, the World Federation of Advertisers released its interim findings from the Global DEI Census, which included insights from nearly 13,000 advertising and marketing professionals across 91 countries. One of the report's main findings saw female respondents dominant in junior positions (64 per cent women versus 36 per cent men) while men were almost twice as likely to be in executive-level positions (21 per cent men versus 11 per cent women).
Advertisement - content continues below
Tweet this quote
Outpost379's new president Valerie Smith says that, in her experience, there is an even larger divide when it comes to women sitting in ownership positions.
"It's great that you'll see more women as vice presidents or directors, as they're getting more senior, but what I don't think you see as much of are women as owners," she explains. "One of the points of difference in our situation that we're really excited and proud about is that not only do we have senior leadership roles within the agency, but we've taken that leap and put our resources behind it as well to have that entrepreneurial component."
Smith has been working with Outpost379 for 17 years and, along with now being the agency's president, she is also an owner. She says when she started out in the industry, she was working for a global corporation in Toronto where she saw a very different career path.
"Ownership would have never occurred to me because it was a global corporation," she recalls. "If I hadn't decided to put roots down in Peterborough and make this my home and where I was going to grow my career, I don't think I ever would have owned a company or been a president of an advertising agency."
Sacha Lai-Svirk, head of people and tech and now vice-president, has been with Outpost379 for 15 years and had already been a partner in the agency. She expresses a similar testament to the advantage of having moved to Lakefield during her career.
"At no point in my life did I ever think I was going to be an owner of anything," she says. "From my generation, the mindset was that leadership roles were for men, and I just thought that I would be an art director my whole life, or maybe a creative director."
Both women agree a key component that drew them to Outpost379 was the location, where they were able to both enjoy living in an area surrounded by natural beauty while working with Fortune 500 clients. But it was also about the people and support which, Lai-Svirk explains, isn't easy to find with major corporations. She knows this first hand from previous industry experience.
Advertisement - content continues below
Tweet this quote
"I didn't have the support (in previous positions) to be able to feel like I could leave guilt-free to start a family," she says. "It was almost like I had to give up one or the other."
Lai-Svirk evidently ended up doing just that, explaining she never returned to her previous employer after going on maternity leave.
"It's a different path for women when you look at your career," she notes. "Men can come into an advertising agency and just set their sights and say 'that's where I want to be.' But women, we have to make sacrifices."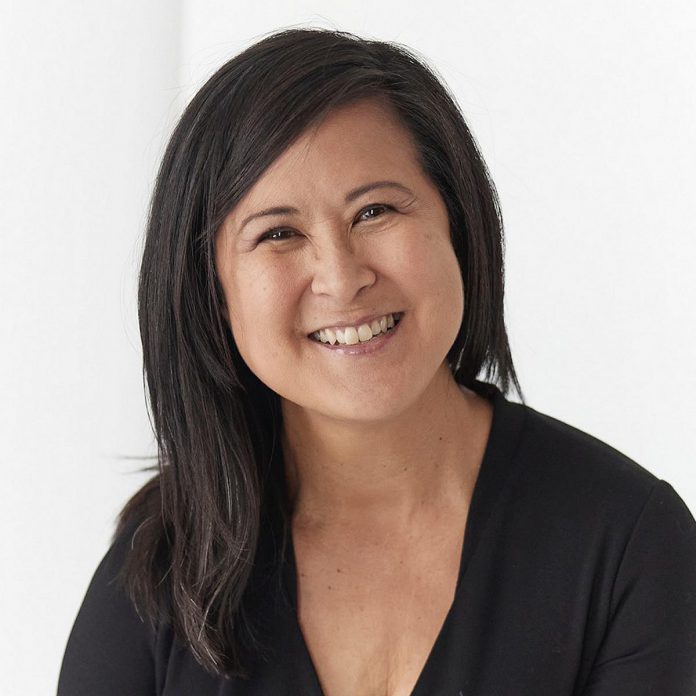 For her part, Smith says it's always been different at Outpost379, where work-life balance has been a priority. Each of the women managed to start their families and raise children throughout the course of their careers at Outpost379.
"The leadership team at our agency is always trying to recognize work-life balance and the importance of it," says Smith. "I was always really supported even when the founding partners and leadership team of our agency was all male. I've always felt that it relates back to the community and family values of Peterborough."
Diana Freeman, who has taken on the position of vice president of client services along with her ownership stake in agency, says the new team of leaders will continue encouraging work-life balance for their employees — but not because they are predominately women.
Advertisement - content continues below
Tweet this quote
"I feel there is something about work-life balance that gets tied to women because of some pre-conceived perceptions that women need it more," says Freeman, who resides in Bridgenorth. "I actually disagree with it, and I think we need to start changing the narrative of what work-life balance is about. It's not about separating work and life and doing them differently. It's about loving what you do and feeling supported in what you do."
Freeman uses the example that, while there are certainly nights that she works after hours despite having two young daughters at home, she does so because she's excited about the work she's doing and for the challenge that's ahead of her.
"It's certainly a very strong work-life balance at Outpost379, but not because we're women at the head, but because we foster a really great work environment and a really great culture that enables (employees)," she adds.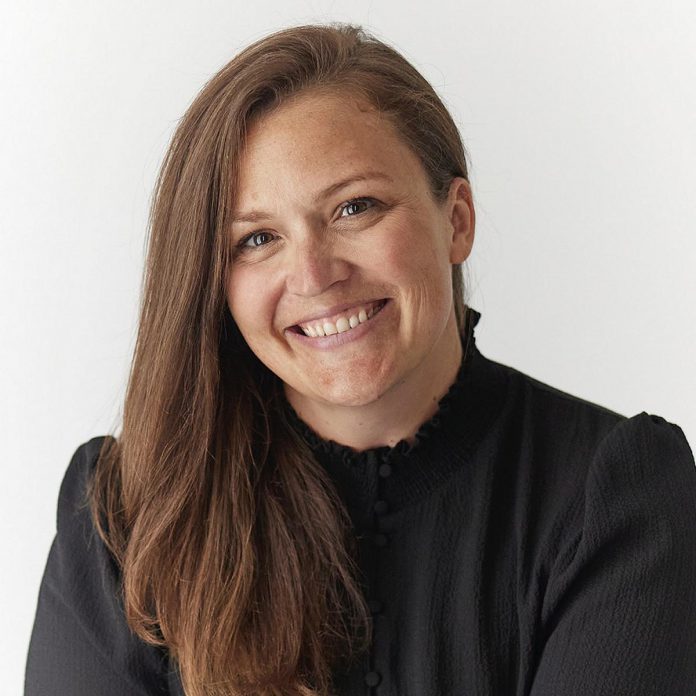 Despite the encouragement of work-life balance at Outpost379, there is still a perception in the advertising industry that women are disadvantaged in their careers when it comes to starting or growing a family. For example, a recently promoted female team member at Outpost379 said family members had told her she wouldn't get the promotion because she was due to take maternity leave.
According to the World Federation of Advertisers, 36 per cent of women who had taken parental leave in the last five years said it had put them at a disadvantage in their careers, compared to only eight per cent of men.
"We don't ever want anyone to feel that it's a disadvantage for them to start a family," Lai-Svirk says of Outpost379. "That's one of the most beautiful things in life to experience and your work here is going to support you on that. That doesn't just go towards women, too. I want our male staff members to know that if they have started a new family and have a new baby, if they want to take more time, (they) just have to talk to us and we're going to allow that as well."
In addition to her work at Outpost379, Lai-Svirk is board chair of the Peterborough Downtown Business Improvement Area, a board member of Five Counties Children's Centre, and a member of the advisory board for business students at Fleming College. She has noticed a hesitancy among women across different industries, not just advertising, about taking on leadership roles.
"I have had women come up to me and when I tell them they would be a perfect person for a certain role, I'm shocked when I hear them say 'No, I don't think so'. I stand back saying, 'But I see that you do have what it takes'. People do need to understand their value and they should not be shy about it."
Tweet this quote
With this in mind, Freeman says she didn't anticipate how much of an impact the announcement of Outpost379's new ownership team would have on other female team members.
"When our announcement was made internally to the company, all of our female employees were ecstatic — not just because of the opportunity and what this means for us as an agency, but because it was inspirational to them," Freeman explains. "I went into this not actually realizing the inspiration and that it could be handed down to our teammates."
"When I talk about my generation, I had zero female mentors and zero women that I could talk to and be inspired by," adds Lai-Svirk. "But that's what they see from us, and I think that is a responsibility that we're starting to get used to. Definitely we influence our internal agency and perhaps, moving forward, it's a bigger influence that we can have on the greater industry as well."
Smith agrees, adding how essential it is for all professional women to have role models.
"I think having a female mentor that you can talk to and rely on and coach — women helping women — is really important," says Smith. "Part of the motivation for me is to help the next generation of women who are so good at what they do and train, prep, and mentor them and give them the skillset they need. And maybe we will get to the point where it would never even occur to them that they couldn't lead a business or own a company because they're women."
Tweet this quote
Though the new owners each acknowledge that the industry is slowly accelerating to be more welcoming to women, they also express their hope to one day see a world where it's no longer "newsworthy" or "inspirational" to have women in an ownership position, because it's accepted as mainstream.
"Ideally it would get to the point where you're just leaders of an organization or a company," Smith notes. "Because you don't say 'male leaders' — you call them leaders. So at what point in time are we leaders and not female leaders?"
For more information about Outpost379, visit outpost379.com.
This story has been updated to correct some misspellings of Sacha Lai-Svirk's surname.