Artsweek Peterborough is always diverse, thought-provoking and helps to add to the artistic flavour of the city. Funding is awarded by a 5-person jury to collective art groups that come together to bring art to life. Over the years there have been many different formats and incarnations.
Artsweek 2012 runs from September 7th-14th with events and artistic endeavours throughout the downtown and beyond. It will feature films, workshops, stories, a mobile gallery and more.
There are 8 days during Artsweek and to shine a light on the events we present 7 important and interesting things to know about Artsweek. This list will help you make the most of what it has to offer.
1. Get to know the schedule
How can you enjoy art and its many forms if you don't know where to go to find it? With many different venues and events planned, everyone should take a glance here to find out what is happening, when it goes on and where it takes place. With this much art, you will want to plan ahead.
2. Opening and closing receptions
Attending the Opening Reception of Artsweek (7pm on Friday, September 7th at Market Hall) will allow you to fully understand how the artists and gallery curators tick. An opening, for instance, is an excellent setting to ask questions and solve the intrigue of art before it has been fully realized in front of the general public. It is also a great place to just be a part of Peterborough's artistic community.
The Closing Party (7pm on Friday, September 14th at ARTSPACE) is the perfect place to celebrate the experience that each of the 6 collective groups have brought forth throughout the week. Burning questions and discussion mingle with appreciation as you mingle with others who also took in Artsweek.
3. Multimedia meets Tom Thomson
Join local artists and musicians in a multimedia exploration of the eight days in July 1917 when Canadian painter Tom Thomson went missing in Algonquin Park. Check out Eight Days Lost with music composed by Wyatt Burton, Gerry Gregg and John Climenhage (The Burgess Shale), representing each of the eight days he was missing for. The music will be accompanied by a series of short films, shot on Canoe Lake, and will be projected while the band is performing. There are two possible evenings to see and hear this intriguing multimedia work performed: Tuesday, September 11th at the Spill, beginning at 8pm, and the next evening, Wednesday, September 12th at the Garnet, also at 8pm.
4. Art on the move
Gallery in the Truck
is an exciting project that will bring art to the community — literally. Annie Jaeger, Carolyn Code, and Liz Fennell worked together to select nine visual artists, one performance artist, and an "outside artist" on the theme of "time/travel". Their art will be featured on the truck, ready for viewing all over the city.
The location of the truck is mainly set, but not entirely. Stops will include the Market Hall (for the opening reception), The Silver Bean, The Riverview Park and Zoo, and many more. Later in the week the group will use Twitter to take their art to spontaneous locales. For the full schedule, visit our Artsweek column, check the Artsweek Peterborough website, or search for Artsweek on Facebook and Twitter.
5. Short films and short stories
Two distinct events will be chalked full of interesting stories, whether through film or the oral tradition of story-telling, or both.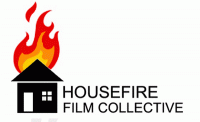 New short films will be on display from three local "micro-budget" filmmakers. Short Films with the HouseFire Film Collective will feature work from Michael Morritt, Sean Bruce, and Mike Moring. The event will follow the opening reception at Market Hall on Friday night, beginning around 8pm. Tickets are $10 in advance (Moondance or markethall.org) and $12 at the door.
On Saturday September 8th, ReFrame and REELkids Film Festivals will present Stories in the Park, a morning of storytellers and short films adapted from children's stories. Children will also be welcome to share stories. The event is beside The Silver Bean in the Millennium Park Events Room, beginning at 10am until 12:30pm.
6. ARTSPACE: New media lab and more
ARTSPACE used some funding for a new media lab, as well a workshop and a short film presentation for Artsweek. Check out what they have to offer:
The GIF (That Keeps on GIFing) is a workshop that brings to life the artistic possibilities of GIFs (small animated graphics found on the web). The medium will be discussed and participants will be guided in how to make them. It is suggested that those attending the workshop bring their own laptop if possible (recommended to have Adobe Creative Suite). The workshop will be facilitated by Vincent Chevalier and run from 2pm to 5pm on Saturday, September 8th.
Other ARTSPACE events include: a selection of shorts entitled Shorts: 85% non-human Animal; 100% Love Letter which begins at 9:15pm on Thursday, September 13th; and the Closing Party and "FutureTense" Exhibit Opening on Friday, September 14th, all beginning at 7pm.
7. Disability arts in the downtown
Curated by former Peterborough resident Jes Sachse, Kriptonite 2 will be showcasing a variety of disability arts (both local and international). Juxtaposing archetypes with self-representations, the stories sachse creates pervade public and private spaces to present the audiences with the invitation to look, and an opportunity for disability to be visible. Visual art in the form of murals, sculptures, and video will all bring forth different perspectives of being disabled. The showcase happens behind the YWCA Peterborough building beside the Greyhound station on Simcoe St. on Thursday, September 13th at 8pm.