All photos by Carol Lawless. Follow the links to read her stories.
Running to Crary Park at 6:30 am, despite record-breaking heat and humidity, to get up close with Breakfast Television hosts, Dina Pugliese and Kevin Frankish. Somehow I found myself directly in front of the lovely Ms. Pugliese and my cell started to ring. It was my mother, asking, was that me on television, and why was I wearing a running bra.
Interviewing chef, entrepreneur, mother, community advocate (and not in any particular order) Lisa Dixon of Black Honey Desserts on the expansion of her successful business and her new-found love for baking bread. I've had the pleasure of Q&A-ing this warm, funny and caring woman on many occasions, but every time still feels like a first.
Hearing United Way of Peterborough CEO Jim Russell's laugh. It is joyous, without hesitation and totally contagious. The best laugh ever. Hands down.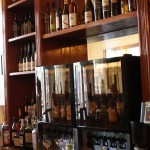 Arriving at Chasing the Cheese just before closing to find out the best pairing for a bottle of Stag's Leap a friend brought back from the Napa Valley. As owner Julie Austin researched cheese, I sat on a stool and watched the sun come down behind the beautiful, old buildings of Water Street, once home to Hot Belly Mamas, Fancies Dessert Café and Natural Threads; places I worked at and lived above, more than 20 years ago.
Listening to and watching sommelier and wine rep Christopher Wilton describe the first time he had a Sazerac, the quintessential New Orleans cocktail, at Le Petit Bar in downtown Peterborough. "Shannon and Roland are knocking it out of the park with the hand-crafted cocktails they're making using their own bitters. It's pretty exciting and rare to experience the possibility a drink, similar to a great wine, can hold."
Discovering internationally-acclaimed artist and local treasure Peer Christensen and I have something in common; we both think Mark Knopfler is one of the world's greatest musicians. "Lori and I saw him open for Bob Dylan, who, in my opinion, was just a bonus."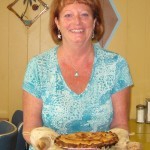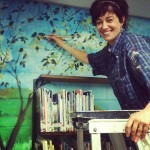 Watching owner Renee Robbins pour coffee and serve customers seconds of her famous coconut cream pie while Blackie and the Rodeo Kings blast from the tiny kitchen of The Full Cup Café in Bobcaygeon. Renee's warmth and love of life is evident in everything she cooks from scratch at the Café, what regulars describe as their "home away from home".
Dancing in the rain with my friend Elaine McCarthy and her daughters to The Sadies during the Hootenanny on Hunter Street.
Being present when the students of St. Paul's honoured and thanked artist Sylvia Ferreri-Saraceni for the incredible mural she voluntarily painted on the walls of the school's library. "Your gratitude inspires me to work harder and be a better artist."
Connecting with some of my favourite people including Paula Houde and Steve Kennedy of Two Dishes Catering, at the Wednesday Farmers Market. For some reason I was wearing the same dress every time I saw them. "It's cool," they laughed. "It's a really great dress".