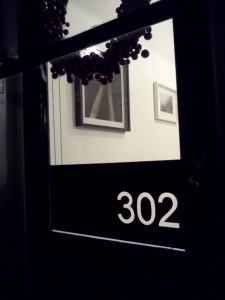 It's not exactly a crowded landscape. Visual art is certainly represented here in Peterborough, but you sometimes have to look for it, outside of the obvious locations.
We have publicly funded spaces like the Art Gallery of Peterborough. We have an artist-run centre which is Artspace. We have private galleries like Christensen Fine Art and Gallery In The Attic, among others (which includes the various cafés which feature local art), which are more commercial in nature. All in all, it's a smallish scene — but rich with talent and passion.
New to the local scene is a lovely space in The Avenues of Peterborough.

The main floor in a house on Pearl Avenue underwent some minor physical changes over the summer, and in September was launched as Evans Contemporary.
This charming space comprises three main-floor rooms painted brilliant white, and currently features some thoughtful photography in various shapes and forms.
The show is called Dots and Loops: Photographs from the Permanent Collection. "From the Permanent Collection" means from the personal collection of artist and gallery owner (and sometimes resident) Paul "Paolo" Fortin.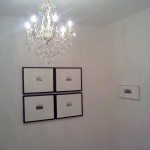 Paolo, a graduate of St. Peter's High School in Peterborough, has spent time at the Nova Scotia School of Art (MFA), the Ontario College of Art and Design, and the Maine College of Art. Paolo and his partner (whose mining work has them mostly centred in Norman Wells in the Northwest Territories) have split their time between Peterborough and Paolo's recent residencies in Spain, Utah, and New York. This means the house on Pearl Avenue was ripe for exploring as a gallery, as it was empty most of the time. Paul's main thrust is to utilize the gallery as a place to showcase national and international upcoming and unknown artists.
With no commercial bent, the art you will find on these pristine white walls is minimal is nature, but broad in scope. The current show is a juxtaposition of images of the North, alongside more edgy cut-photo pieces which prove far more abstract up close than they do from any sort of distance.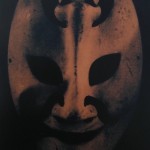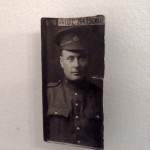 Over time, Paolo is working to host travelling exhibitions and also to publish catalogues of the shows which take place in the space.
Hoping to bridge what is currently offered within the local art scene, Evans Contemporary gives the city some balance. Art for art's sake. Not abiding by the rigid grant-based scene that drives most public galleries, Evans Contemporary shows through the very personal vision of its owners.
Add this unique location to your agenda — for seeing art in this unconventional location is a treat.
The neighbours like it too. The reception by locals in the area has been very positive, both from the adults and the kids in the 'hood. It's not every street that gets a small gallery such as this. What a treat for us all.
The current show runs until January 12th.
Evans Contemporary is located at 302 Pearl Ave. Outside of the opening of each show, the gallery maintains irregular hours. Viewings are by appointment — email evanscontemporary@gmail.com to set something up.