Peterborough is in for a rare treat on Sunday, April 28th, as one of Canada's great singer-songwriters and guitarists will grace The Spill with an intimate concert.
Stephen Fearing is touring his new record, Between Hurricanes — his first solo studio work since 2006, when he released the Juno Award winning record Yellowjacket.
The new album's title and theme are essentially one and the same: a culmination of Fearing's experiences and life changes over the past seven years.

"There's certainly been a lot that's gone on in my life in those years," Fearing explains, as he drives through the foothills of Alberta on his way to another show.
Since 2006, he divorced (after 14 years of marriage), changed record labels, parted ways with his long-time manager, moved from Guelph to Halfax, remarried, and became a father.


During this same time, he kept a relentless recording and touring schedule, including four albums and tours with roots supergroup Blackie and the Rodeo Kings, an album and tour with Irish singer-songwriter Andy White (Fearing & White) — and now he's touring his latest solo record.
"Between Hurricanes" indeed.
Fearing's description of how the record was named has an air of destiny about it. It's as though his songs and the intention and meaning behind them summoned the perfect title.
Living in Halifax, Fearing was working on new tunes with an eye to recording. At the same time, he was painting the outside of his house — something that has to be done during sunny breaks in hurricane season.
"There was a time when I didn't think I was going to get either of them done. Between hurricanes, as it were", Fearing says. "Upon writing that to a friend in an e-mail, he said it was a pretty good title for the record, and I agreed."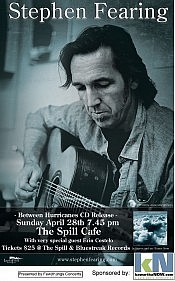 It all seems very serendipitous — the perfect combination for someone with keen musical and artistic sensibilities like Fearing.
Despite a somewhat hectic rush to get the songs readied for recording, Fearing used the time in between studio albums to hone his sense of what he was looking to create.
"I had a pretty clear idea of what I wanted to do with this record," he says, having learned from experience with his 2006 solo release Yellowjacket.
"I originally wanted it to be more acoustic," Fearing recalls. "However, when it came time to record, it felt like the songs wanted more instrumentation and a bigger band sound."
But Fearing reconsidered. He says that itch had been scratched after his long stint of recording and touring with Blackie and the Rodeo Kings, and this was a great opportunity to make a more acoustic record.
"When I was writing the songs for this album," Fearing says, "I wrote them with the idea of performing them solo as the focal point, and recorded them with that in mind as well."
Even so, he didn't want to make a folk album in the classic sense, so Between Hurricanes does include some (relatively minimal) accompaniment.
"I wanted something outside of my voice and the guitar that would create the space around me," Fearing explains. "I eventually chose keyboard."
Filling that role musically was renowned composer and arranger John Whynot, who is co-producer and engineer on the new record.
Whynot — who has also engineered and performed on several Blackie and The Rodeo Kings albums — played various organs and keys, depending on the tune and the sound that best fit.
There's also another connection with Blackie and the Rodeo Kings: the band's rhythm section of Gary Craig and John Dymond supply drums and percussion on some of the tunes.
The end result is a sparse musical backdrop that supports Fearing's skilled guitar work while allowing his resonant voice and eloquent songwriting to shine.
The intimate setting of The Spill is the perfect place to hear Stephen Fearing perform songs from his new record. There are only 70 tickets are available for this show, so get yours soon!


Stephen Fearing in The Woodshed Studio talks about recording Between Hurricanes
Halifax-based singer-songwriter Erin Costelo will open the show