"My First Art Show" by Jonathan Hall at Black Honey
The walls of Black Honey Dessert and Coffeehouse are covered in a pop-culture maelstrom that touches on Warhol and The Sex Pistols and even features visual cues to Shepard Fairey and the London Underground.

Jonathan Hall, of Spanky's and Trasheteria fame, is a modern-day renaissance man who can spin tunes, run a bar, book festivals — and create wicked visual art.
With a generous dash of cheese, Hall has created a fun body of work for his first official art show. If you follow him on Tumblr or Twitter @jonnytrash, then you know of his graphic work over the years.
Highly stylized, cut-and-paste, and collage themes run rampant through these works on canvas, wood, and paper.
Pop music influences are the common thread running through these wildly eclectic works. Texts, both in single words and phrases, are common and placed boldly throughout. Babes, fat and juicy lips, and comic book based visual textures also place highly and Hall uses these effectively.
The show runs to August 4 at Black Honey and deserves a look. It truly is summer, epitomized.
Black Honey is located in Peterborough at 221 Hunter Street West and on the web at www.blackhoneydesserts.com
---
"Word Games with Friends" by Meghan Morman and "If The Shoe Fits" by Judith Hyland at Artspace
Megan Morman is an American artist who, since finishing university, has been based in western Canada. Most recently, Lethbridge in Alberta has been her home.
Her exhibit "Words Games with Friends" in the Main Gallery at Artspace is exactly that: interactive wall art that's customized to each destination where the show resides, serving to engage the local community.
One wall of the main gallery features a giant word search that displays the names of each artist ever to show at Artspace throughout the years. If you look closely, you'll find names like Trusler, Alphonso, and more of that ilk. What fun it must be to have your name captured within the art on the wall!
Other pieces include crosswords that use colourful sticky notes across the wall. This is fun stuff.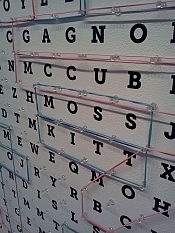 "If The Shoe Fits" by Judith Stirtzinger Hyland is featured in the Mudroom at Artspace.
The first thing you'll notice is the carpet that fills the room and encourages visitors to remove their shoes and sit down on the floor with the art. All the better to interact with these interesting hand-made figures.
This show asks questions around identity, through echoes of Cinderella and thoughts of hand-made objects as they may apply to the everyday. Hyland's hand-fabricated dolls are displayed around the room for visitors to pick up, interact, and play with. They defiantly err on the whimsical side — with odd faces, random colours and patterns. Each is very much an individual, just like you and me.
Both shows at ArtSpace run through August 17th, and make perfect fodder for casual summer viewing. There's also a great deal of appeal for both kids and adults. Drop by when you've got friends in town — there are no other shows in the area like these this summer.
Artspace is located in Peterborough at 373 Aylmer Street North and on the web at www.artspace-arc.org
All photos by Jeff Macklin.