The Peterborough Folk Festival stretches from the Joel Plaskett show at the Market Hall on Friday, August 23, to a lovely day of workshops at Millennium Park on Sunday, August 25.
That being said, the big show is on Saturday, August 24, at Nicholls Oval park. Everything gets underway at noon with music on multiple stages, along with the food and artisan village at the same time.
While the Peterborough Folk Festival is pretty music-centric, there's a lot more to look forward to than just the stellar musical lineup on the main stage on Saturday. The diverse day of music wouldn't be the same without the great vendors, food, and wellness, artisanal and community groups.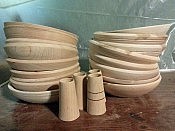 These wonderful folks provide information, insight and the chance to pick up some handmade goods to take home Saturday night, after the bands have done their part. Here are some artisans to watch out for as you stroll through Nicholls Oval on Saturday.
Wood-turning is a craft that artist Greg Saul take on with gusto. His bowls and art pieces are always a highlight of a visit to Gallery In The Attic.
Greg's been busy working the lathe in his Peterborough-based shop, preparing for the Folk Fest Artisan Village.
Make sure you stop by and support his interesting hand-made work. You can also check out Greg's site at www.gregsaul.ca.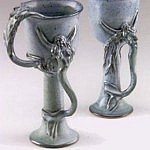 Mermaid Springs Pottery is the passion and work of artisan Lisa Marcus, who hails from Waterloo.
Thrown on a wheel, her works feature pagan culture, dragons, and mermaids. These interesting pieces come in the form of goblets, bowls, and cat plates.
Check her out at Folk Fest Artisan Village and visit her website at www.myartworks.ca/mermaid-springs-pottery-3/.
There are also a few soap-makers taking part in the Artisan Village.
Each creates distinctive work in this age-old craft, offering special scents and choices that you can take home and spoil yourself with.
As you make your way around the grounds, watch out for the following crafty soap-makers:
In addition to artists and artisans, you can also check out wellness vendors at the Folk Fest. For reiki, Bowen therapy and herbal-based products, drop by the booth of Elderberry Herbals. Owner Marianne Beacon has been on a healer's journey for more than 20 years, as she studied herbalism and various forms of therapy. It's a great chance to learn about alternative healing. Visit Marianne at the festival or check out www.elderberryherbals.ca
Also watch out for some great birdhouses, photography, sewing, glass, pottery, fabric arts, jewellery and many other fine works from local and regional artists and craftspeople.
Check out all the details about the Peterborough Folk Festival at www.ptbofolkfest.com. You can learn more about all the vendors at ptbofolkfest.com/pff/vendors/
There's a lot to take-in this weekend, so find yourself a piece of lawn, view some fine art, eat some local food, drink some local beer, and enjoy the music.
All images courtesy of the respective artists, except where noted.