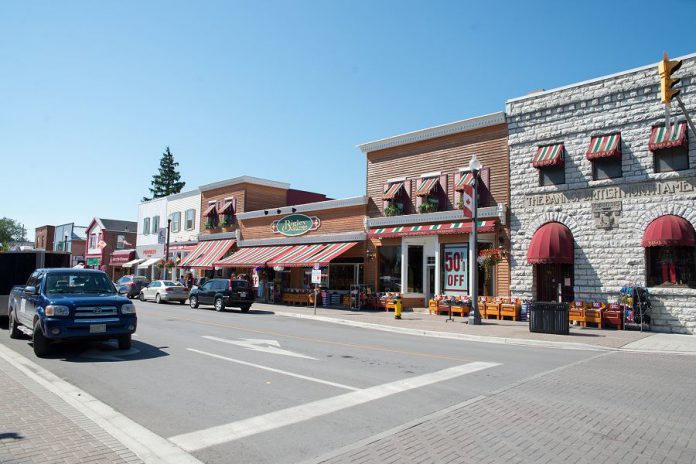 It was in Bobcaygeon, where I saw the constellations
Reveal themselves one star at a time.
— "Bobcaygeon", The Tragically Hip
When The Tragically Hip released Phantom Power I was 2,000 kilometers from my hometown, working and living in northwestern Ontario in a town similar to the one I grew up in.
"Bobcaygeon" was THE summer anthem of 1999.
Proudly, I was the only one who could name all the constellations in cottage country's favourite village.
Naturally, "Bobcaygeon" reminded me of summers growing up in one of the Kawarthas' oldest towns — lovely weather, friendly people, picturesque lakes and undeniably the country's best ice cream — making me promise myself that one day I'd move back.
Fifteen years later, my family now owns a cottage home in Bobcaygeon — and I couldn't be happier.
Settled by Thomas Need in 1833, Bobcaygeon has grown from its humble roots as a logging town to a village renowned for its collection of shops and services. Tourists and residents are torn between telling the world about the newest store in town and keeping it a secret.
Spreading the word always wins out! How can you not brag that world-class summer theatre can be enjoyed at Globus Theatre, innovative flooring and window coverings bought from Town and Country Decorating, or country-chic weddings hosted at Kawartha Settlers' Village — all in a picture-perfect place only 90 minutes from the GTA?
What I love most about Bobcaygeon is that it's a village that welcomes visitors as family, constantly changing to meet not only the needs of the tourists that keep businesses buzzing from May to October, but also its year-round residents.
Whether you're a foodie or a fashionista, you're guaranteed to find a Bobcaygeon business owner keen to help you find what you're looking for. Indeed, organic fair-trade coffee, grain-free pet food, locally raised meat and carefully curated home decor are all within walking distance of each other.
The three shopping areas of Bobcaygeon — Bolton Street, King Street and Main Street — each have unique personalities.
Bolton Street, thrumming with boaters over the summer, is where most out-of-towners start exploring.
But local residents will agree with that businesses on King and Main Streets are hidden gems where great treasures can be found (can you say handpicked vintage, sumptuous yarns and a restaurant serving only gourmet grilled cheese sandwiches?).
See, I told you — singing the praises of the Bobcaygeon is better than keeping it a secret.


All photos by Pat Trudeau, Trudeau Photography