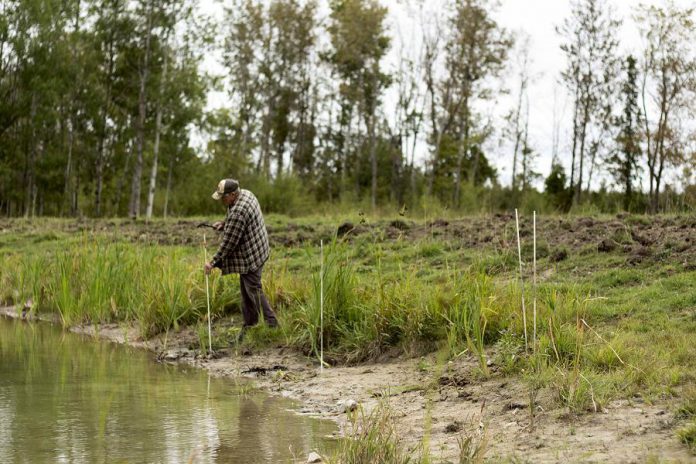 When we think about industries in the Kawarthas, agriculture should be one of the first that comes to mind. Farming is big in this region, and one of the main industries that keep our local economy going strong. Our farmers not only provide jobs, but also supply us with local foods.

The family farm has been an important part of our area for decades and, while farming is never easy, these hard-working people continue to persevere. Farmers face a long list of challenges on a daily basis. Economics, weather conditions, wild predators, and — of course — ensuring their farm operation has as little environmental impact as possible.
In the Kawartha region, a variety of organizations have come together with the common goal of assisting area farmers in taking measures to protect waterways and our natural environment.
Called the Kawartha Farm Stewardship Collaborative (KFSC), the group is composed of regional stewardship councils (Peterborough and Northumberland), conservation authorities (Otonabee, Kawartha, Ganaraska, Lower Trent and Lake Simcoe Region), and non-profit organizations (Ducks Unlimited Canada, Farms at Work, Ontario Soil and Crop Improvement Association, Community Stream Steward Program and Lakeland Alliance). Together these groups work to promote and implement important farm stewardship projects in east central Ontario.
Funding from the partners of the collaborative provides money for farmers making certain environmental improvements to their farms. Appropriate technical assistance is also provided, which aids farmers by giving them advice on how to carry these environmental projects through to completion.
Past projects have focused on water quality and habitat protection on farmland, as well as areas surrounding the farm. One of the most common type of project undertaken is installing fencing to prevent livestock from entering streams, wetlands and lakes.
As part of these projects, alternative sources of water are provided, which include solar systems. These systems are extremely important due to the fact that electricity generally isn't available in most pastures. Other projects the KFSC has assisted in include construction of proper stream crossings, restoring wetlands and controlling erosion, all of which improve water quality.
These projects are often thought of by farmers as "nice to have". They don't enhance the day-to-day business of the farm and they cost money. While cost is a large barrier, permitting is another. Many environmental improvement projects require permitting, engineered solutions, or technical knowledge that many famers don't have the time or resources to obtain. By offering support in getting through these barriers, the collaborative is able to accomplish projects that otherwise would not have been tackled at all, and providing a huge environmental benefit.
If you are interested in learning more about how your property and your farm could benefit from a stewardship project, the KFSC is holding its second annual Farm Stewardship Day on Saturday, March 1 at Crestwood Secondary School.
Those in attendance will hear from industry experts and local farmers about the benefits of trees on farms, pasture management, pollinator plantings and wetland restorations. Cost-share funding programs will also be discussed and farmers will be able to take part in project planning sessions with stewardship experts.
The workshop runs from 9 a.m. to 3 p.m. and the cost to attend is $27, which includes lunch. Pre-registration is required. For further information or to register, please contact Jay Adam from Farms at Work by phone at 705-743-7671. You can also register online at farmstewardship.eventbrite.ca. Registration is encouraged by February 15th.
This is a great opportunity for local farmers to learn about the many ways they can reduce their impact on the environment, and about project planning and funding possibilities. Farmers not only have the opportunity improve the quality of water on their farms, but also help preserve our lakes, rivers and streams for generations to come.
To learn more about the Kawartha Farm Stewardship Collaborative, visit their website at www.kawarthafarmstewardship.org.
Green Update: Kawartha Farm Stewardship Collaborative
http://youtu.be/XP62MaAEj2Q?t=14m16s